Wednesday, July 30, 2008
Ziznaa Restaurant Review
Short talk:


Trailer for Harry Potter and the Half-Blood Prince is out! Go check 'em out here!
If you are expecting something new from this entry, I'm sorry to disappoint you.
I went to eat at the
pasar malam
again last night.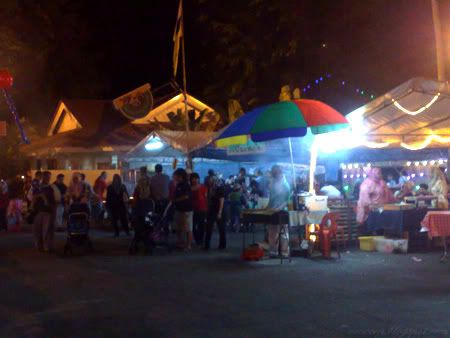 There were so many people, which is why there's a huge traffic jam out there.
I went to this restaurant called 'Ziznaa Restaurant' and most of the tables are occupied.
I thought the restaurant must have served some good foods because there are even some
ang moh
tourists eating there.
This restaurant looks very very simple from the outside but the most unique feature of this place that makes it different from all the other restaurants is that their waiters and waitresses wear straw hats.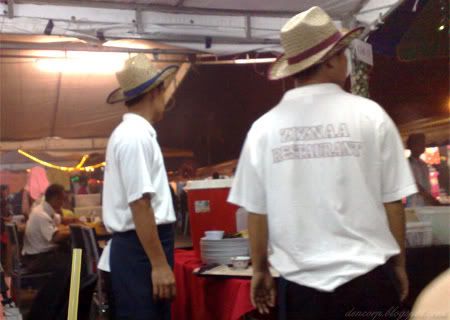 What are they looking at??
That is just.. so.. country-style.
Their menu is rather simple, a laminated color paper with a list of foods and drinks.
But don't be fooled by the restaurant's simple menu because they even sell
SHARK
es
!
And they come in many flavors!
Well, to say the truth, the foods they sell are not so bad actually. I like their satays very much but you'll get bored of it soon after eating so much.
They sells
Nasi Lemak
,
Lamb Chop with Fries
,
Chicken Satays
,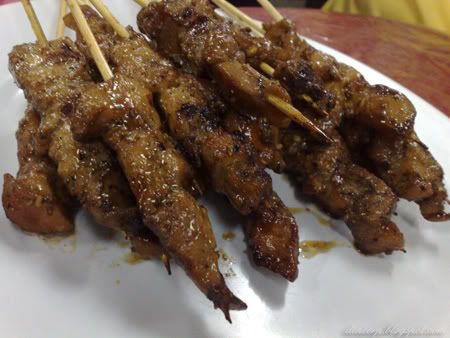 Lamb Satays
,
and
Ketupats
!
Their lamb satays are sooo good that I can't help but downed myself with not just 5 or 10, but
18
satays!
I think I'm really turning into Homer Simpson soon. Now my plan of keeping fit is all foiled.
And as I as about to get some tissue to wipe my mouth after eating, I saw something which leaves me disgusted for the whole night.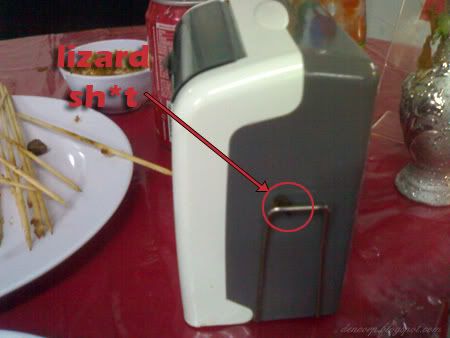 "That's a huge b*tch!"
Oh shit.
I'm not walking in that place again.
___________________________________________________________________
:: Posted by DENCORPORATION at
10:49 AM
|
0 comments
Monday, July 28, 2008
Hang Out At Bandar + Coffee Bean Review
This is kinda like a very delayed post.
So roughly about 2 weeks ago, I went to Bandar with the SOAS Faithfuls.
First of all, you might have read all about how much "fun" we had in C.A. Mohamed from James' and Syam's blog. Well, actually none of us had any idea on where to eat, so a few of us suggested to go C.A. Mohamed hoping to find something cheaper.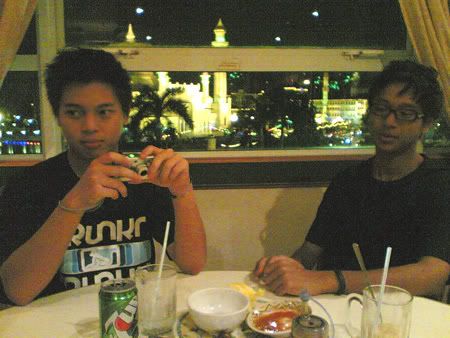 Picture courtesy of James.
I ordered Nasi Briyani with lamb, but in the end, I became $6 poorer and they gave me a bunch of lamb bones instead of lamb chops. How unfortunate. I can't even finish the whole thing.
While we're still in the restaurant, James and Syam became camwhores! They took tons of pictures before, after and right when we were eating!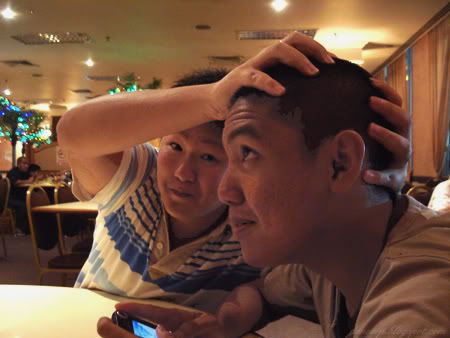 I have absolutely no idea what they're doing.
I think they even took photos of themselves.
Right after that, the boys went to the arcade. Thedoric, who brought his laptop along, parted ways with us as he preferred to go Coffee Bean to use some free wireless internet.
I never liked to go to the arcade. In my opinion, to go there is just a waste of time and money. I still go there but only sometimes!
So after staying at the arcade for only a short while, I can't stand it anymore but to go look for Thedoric at Coffee Bean.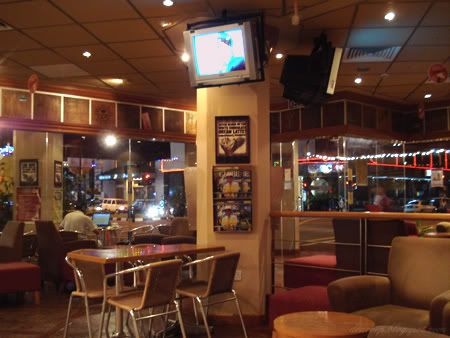 It was all quiet at Coffee Bean that time. There were only 1 or 2 tables being occupied. Thedoric was there, playing with his laptop already. Immediately I joined his table, but I was surprised to see that he hasn't order anything yet!
That leaves me scratching my head all night on how did he persuade the coffee bean staffs to allow him to use the wireless internet.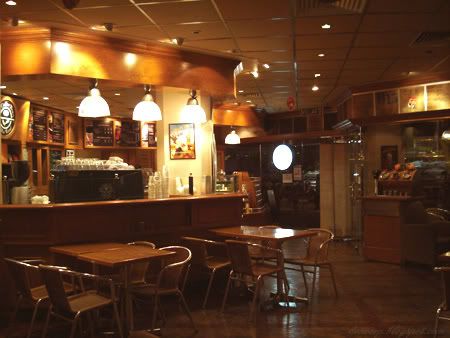 Right after I sit next to him, he said,
"Hey, let me buy you something to drink."
I didn't know what to say at first. Since he was so sincere to buy me a drink, I didn't stop him. Plus, I was also interested to see what kind of
drinks
I would be getting.
When he came with the drinks, my eyes almost popped out!
That is just so kind of Thed, he actually treated me to this B$5.90 Ice Blended Pure Chocolate. How generous of him. It feels like he owe me B$1,000,000 for me to get this kind of treatment.
So besides drinking, Thedoric was of course using his laptop.
Whereas I went on to read some fashion magazines.
Hey, that is a unisex magazine! P/S: I'm not gay.
It feels awesome. Reading magazines whilst drinking some ice blended pure chocolate at free of charge is just heavenly. Now I understand the good side of life.
It's been a long time since I had any drinks from Coffee Bean and the taste just feels great. So afterall, I still think Coffee Bean deserves to be one of the best coffee shop ever.
Which one do you prefer?
___________________________________________________________________
:: Posted by DENCORPORATION at
6:22 PM
|
0 comments
Friday, July 25, 2008
Pasar Malam Nights
A while ago, I went to the capital.
His Majesty The Sultan's birthday is no doubt one of the biggest 'festival' in Brunei, and it is during these festivals that the pasar malam is set up.
There are a lot of huge banners from different companies around, all expressing their well-wishes to His Majesty. The capital is now also brightly decorated with colorful neon lights, and at some point, I even thought I was at Las Vegas, but then I came back to reality and realised that this is Brunei and there will never be any casinoes here. :(
There are obviously lots of people coming to the capital during these nights.
Despite the heavy traffic and thunderstorms these days, there are still lots of people who didn't fail to make the trip to Bandar.
I myself had been to the pasar malam at least 3 times already since its opening day, each occasions with different people.
It's nice to see so many locals coming to Bandar every night to gather and celebrate this event. This market may not have a wide range of stuff for you to choose from, but if you like market foods like satay, then this pasar malam is definitely a trip not to be missed.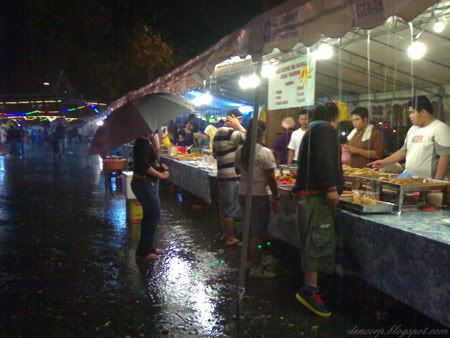 Things here are definitely not expensive, and the price are not too easy to negotiate either. In fact, I don't think you even need to ask for a bargain if you ever need to buy something here.
The market is small, and extends from the big parking space in front of Sheraton Utama to the little road next to Taman SOAS.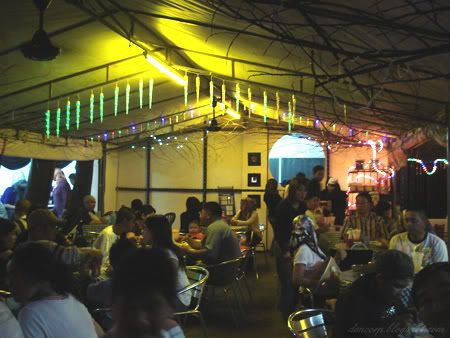 The main idea of coming to this market is to find something to eat, and I've been to one of the 'restaurants' in the market on the first day the market opened. Tell you what, the restaurants here are not so different from the real restaurants outside the market.
Because these restaurants are operated under camps, they earned a lot especially on rainy days.
Why?
Most likely, 'shoppers' who wanted to avoid the rain would come to these 'restaurants' for shelter, and then eventually order some food. I guess no one would be so thick-skinned to actually walk into these restaurants and get some shelter without ordering any foods, right?
Ok lah, there are actually some 'leakings' inside the restaurant. Part of the ground are flooded, which isn't good at all. But I didn't get wet.
Other than that, you would have to buy yourself an umbrella, which I did, and also explains why the umbrella business is doing pretty good.
Back to the foods, a plate of lamb chop rice will cost you $5 here, but the restaurant is so generous, the lamb chops they give are huuge.
Now that's something worth paying for, but I'm not so sure about the taste.
Anyway, I won't recommend eating at these restaurants. I reckon the stall foods are much much better, and yet, they're cheap!
You can buy yourself some crepes..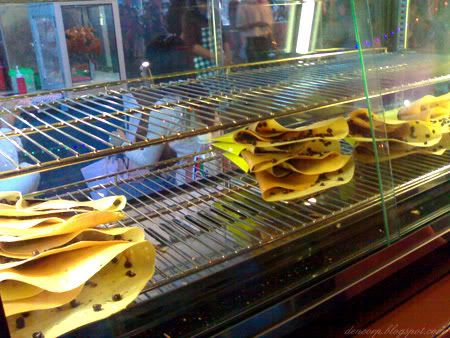 Some fishballs or sotong balls for $1..
Some fresh sugar cane drinks for $1 too..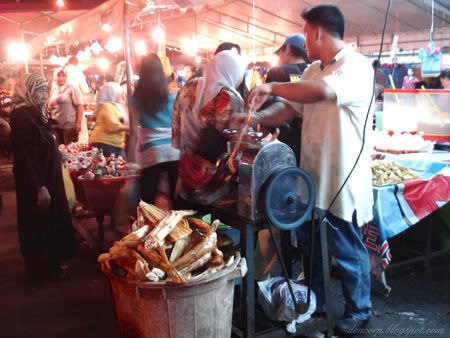 And some 'hammered sotongs' for $1 also..
In the other sections, there are also some weird stuffs for sale.
Bringing a kid here might not be a good idea because they'd want to get their hands on some toys.
There are also some masks on sale!
Halloween in coming in about 3 months time, and maybe these masks may enhance your 'looks' on halloween.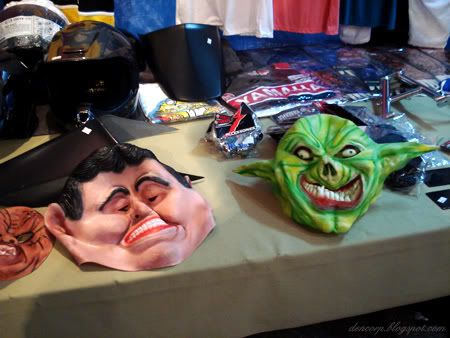 Can anyone please tell me if that's Mr Bean and Grinch? :p
___________________________________________________________________
:: Posted by DENCORPORATION at
7:21 PM
|
0 comments
Wednesday, July 23, 2008
Best Way To Protect Yourself From Dog Attacks
Have you guys read today's newspaper?
The recent news of a boy who got attacked by a stray dog became a huge concern among people in Brunei.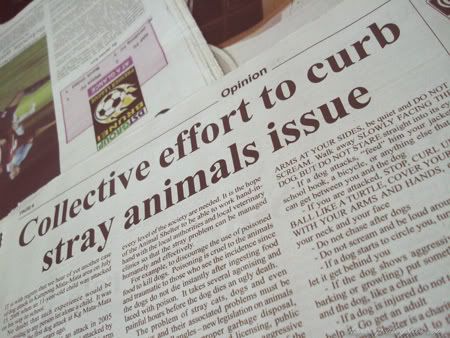 I have to applaud to one guy who voiced out his concern for those who got attacked by stray dogs.
Killing stray dogs just because there are dog attacks is definitely not right. The good thing the guy did was giving tips on how to protect yourself when there's a stray dog attack in the Opinions section of today's newspaper.
But the funny thing about the tips he gave is this.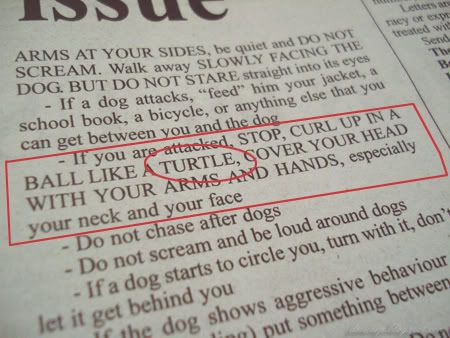 Curl up like a turtle???
I wonder who in the world would do that.
If I got attacked by a dog, the first thing I'd do is to run away immediately like there's no tomorrow. Not curling up like a turtle!
Maybe this method would work in a way that when you start curling up yourself like a turtle, the dog would think you're crazy and start to sympathize you.
I think everyone
should
now be ready and prepared for any dog attacks.
___________________________________________________________________
:: Posted by DENCORPORATION at
7:57 PM
|
0 comments
Friday, July 18, 2008
Chill Out At Coffee Zone
So right after Andrew's farewell party at Capers, me and Yap had a sudden urge of chilling out at Coffee Zone.
I've never been to Coffee Zone anyway, so I suppose it'd be a rather good thing for me to try something new.
Because I had just spent
an unnecessary
$17 at Capers, I was all turned on when Yap said he'll buy me a drink in Coffee Zone, but wtf, that guy is just pulling my leg, and it turns out that I even had to borrow a few dollars from him in the end.
It was around 10pm already and there were still quite a number of people there, most of them bringing out their laptops on the coffee table.
I had fun looking through their menu. The front page of their menu even tells you a dramatic fairy-tale story of how far they went to import the finest quality of coffee beans. All the way from high altitudes of volcanic mountains to lower parts of Africa and then to South East Asia.
They are quite a lot of coffees for you to choose, depends on how you want it.
As long as you got the money to pay, there will be endless choice of coffees for you to savour.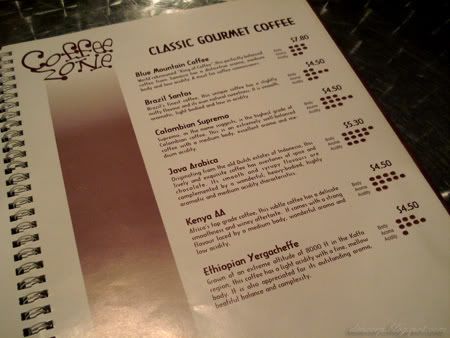 I like the idea of how they show the aromatic, acidity and "strongness" of the coffee on their menu so that customers can always know what type of coffee they want.
When I finally made up my mind, I tried to order a coffee called
'Kenya AA'
because the aromatic level has got
'5 coffee beans'
rating on it.
I also asked for a 'takeaway' because my car is coming.
But much to my disappointment, the waitress told me the coffee are to be prepared with hot water, so they cannot let me 'takeaway' the coffee.
I was then left with no choice but to order another beverage which may allow me to 'takeaway'.
As I flipped the page, something caught my attention.
They even got drinks named after football teams! Wth!
Being a die hard Man United fan myself, I wasted no time and ordered myself a
"Man U / Red Devil"
.
While waiting for the drinks to arrive, I tried to imagine just how the drink would look like.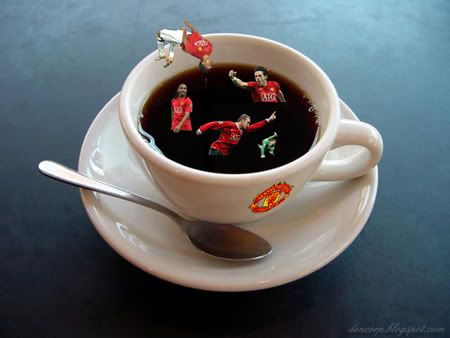 I even thought it was coffee at first.
But when the
'Man U'
came, I almost had a heart attack.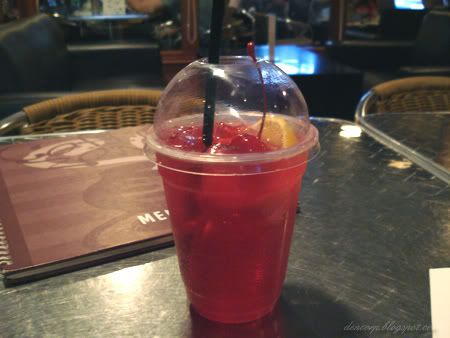 I nearly said
'what the f*ck'
out loud, because the drink isn't how I expected it to look like.
This, my friend, is something you would get from Kokoberry for less than $3, but I paid $4.90 for this red devil!
Oh well, I shouldn't complain much. Anything related to Man U should always be a good thing.
Plus, it has soda, cherry and lemon in it.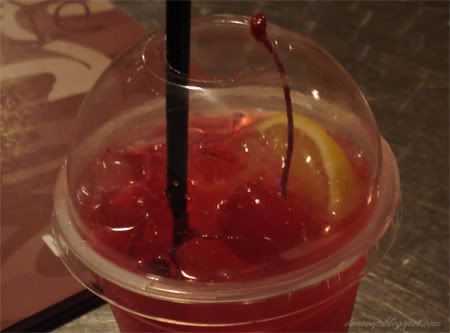 'Man U'
, anyone?
___________________________________________________________________
:: Posted by DENCORPORATION at
1:28 PM
|
0 comments
Wednesday, July 16, 2008
Andrew's Farewell Party At Capers
A few weeks ago, I was informed by Yap that Andrew will be leaving Brunei to UK for good.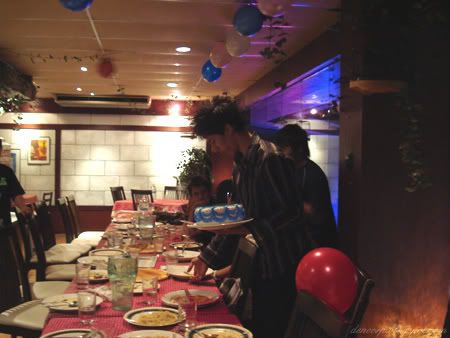 Now, if you don't know who Andrew is, Andrew is a long lost
ang moh kia
Caucasian friend of mine who speaks fluent English, Mandarin and perhaps even Bahasa Melayu. We were from the same class in Primary 3 and were good friends. But after Primary 6, we lost contact and I have no idea which school he went. I have never met him since then.
Yap also told me that the farewell party is actually a surprise party for Andrew, organised by his girlfriend. This also means a lot of his friends from JIS would be going to the party, and heck, I don't even know Andrew is in JIS all these years!
Anyway, the party that night is definitely not the party I'd enjoyed the most.
Why?
Because there were too freaking many JIS people and I totally feel out of place!
Even Yap, who reached there as early as 6.30pm did not dare to walk into the restaurant himself, and had to wait until I arrive.
Initially, Yap told me that there would be other people from CHMS joining the party. But none of them came. Even Raffy ditched us. I also thought of PPK Yap, but I decided not to.
As we walked into the restaurant together, I was shell shocked. There were already more than 15 unfamiliar faces sitting on the same table that I'd eventually share with.
Yap then
'
introduced
'
me to Andrew's girlfriend. She greeted me with a smile and said nicely,
"
$17 please,
"
. My jaw almost dropped. Shouldn't the capers
all-you-can-eat
dinner costs only
$14.80
? I did not pause any further to prevent embarrassing myself, so I took out my wallet and paid Andrew's girlfriend.
And then, Andrew's girlfriend gave me this.
That, if you're wondering, is a 'form' asking you to answer 3 questions,
"
What do you think of Andrew?
"
,
"
What do you think is the coolest thing about Andrew?
"
and
"
The greatest things you can ever say to Andrew before he leaves
"
.
To me, that paper is even more difficult to answer than the AS Papers, especially when I haven't met Andrew for so long.
More and more people then came. There are probably more than 25 people there already by that time. As more people sat on the table, I felt even more awkward. There's no one I could talk to except Yap and another guy from MD called Jason.
At some point of the night, I was even asked questions like,
"
I'm sorry but, did you pay just now?
"
. Another girl then came and when she saw me and Yap, the first question she asked was,
"
Who are these guys?
"
.
I have never felt so humiliated in my whole life.
Who are these people??
After waiting for so long, Andrew finally came, escorted by his girlfriend all the way from downstairs. Everyone expected him to be surprised but no, he knew it all along. I was partly to blame because Andrew saw the little reminder of the farewell party on my phone a few days ago when we were playing futsal at Harun's Gym.
Soon, we were allowed to order our foods. This is the most unsatisfying part of the night. I ordered lamb shanks and lasagna for myself but it never came until I reminded the waitress more than 3 times.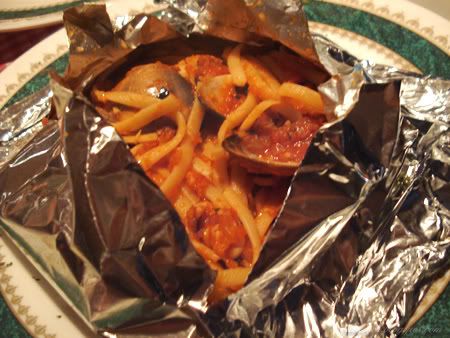 The foods take
very very looong
time to arrive. Trust me, I'm actually the last person to eat that night! Everyone else was gobbling their pastas already except me. What
grudge
do the waitresses have against me??
Surprisingly, the pizzas came a bit faster. Throughout the night, I only get to eat 3 pastas and a slice of pizza. That's way too little compared to how much I'd usually eat at Capers.
Then, one of the girls (
whom I presumed to be the one of the organisers
), requested everyone to stand and gave a toast to Andrew using water in place of beer or wine.
And when we toast, we don't say
'
Cheers
'
,
'
Amen
'
or
'
To Andrew
,'
. So what do we say?
Yaaaaaaaaaaaaaaaaaaam Seng
!
I almost thought the farewell party turned into a wedding dinner.
And then, there's also a cake! Upon seeing the cake, it is easy to forget that we were actually attending a farewell party because someone even tried to sing the
'
farewell song
'
in the tune of the birthday song.
Nevertheless, I still feel happy enough to be able to attend Andrew's
'not-so-surprising'
farewell party. At least I still get to eat with him for the last time before he leaves for UK.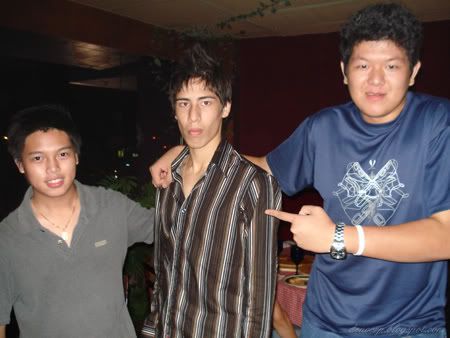 From
L
to
R
: Me the Short Guy, Andrew the Ang Mo Kia, Yap the Big Friendly Giant.
To Andrew, buy a Manchester United jersey in the UK and be a lifelong supporter of the Red Devils, okay?
___________________________________________________________________
:: Posted by DENCORPORATION at
2:29 PM
|
0 comments