Wednesday, July 23, 2008
Best Way To Protect Yourself From Dog Attacks
Have you guys read today's newspaper?
The recent news of a boy who got attacked by a stray dog became a huge concern among people in Brunei.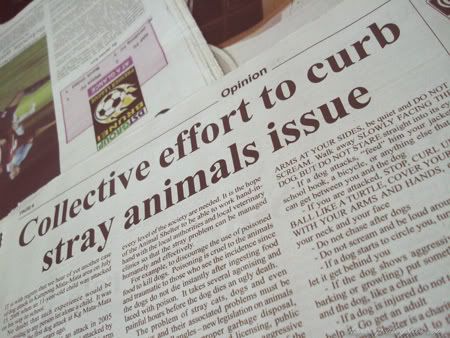 I have to applaud to one guy who voiced out his concern for those who got attacked by stray dogs.
Killing stray dogs just because there are dog attacks is definitely not right. The good thing the guy did was giving tips on how to protect yourself when there's a stray dog attack in the Opinions section of today's newspaper.
But the funny thing about the tips he gave is this.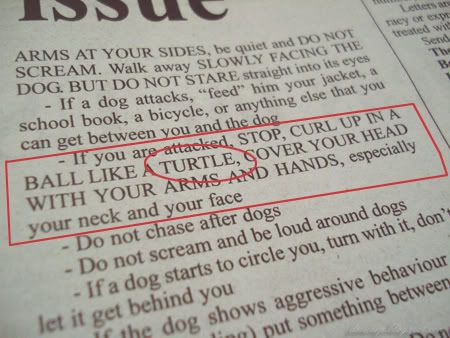 Curl up like a turtle???
I wonder who in the world would do that.
If I got attacked by a dog, the first thing I'd do is to run away immediately like there's no tomorrow. Not curling up like a turtle!
Maybe this method would work in a way that when you start curling up yourself like a turtle, the dog would think you're crazy and start to sympathize you.
I think everyone
should
now be ready and prepared for any dog attacks.
___________________________________________________________________
:: Posted by DENCORPORATION at
7:57 PM
|
<< Home