Thursday, March 26, 2009
Earth Hour
NOTE : REMEMBER, IT'S TODAY AT 8.30PM!! Send your pictures to

ryuken262@gmail.com

instead of nazrin26.2@gmail.com. Sorry for the inconvenience. The picture should include your surroundings, not your face only xD Also, include your name and village where you live in. Support Earth Hour yea ;)



If you guys are unaware yet of the global event, "Earth Hour", it's not really your fault. It seems like Brunei Darussalam is not gonna be involved (I hope I'm wrong). If I'm not mistaken, only HSBC and Sheraton will participate. Note that they are not even Bruneian firms.


Therefore, as a person who stands up for a change in global climate, I urge every single one of you out there to get yourself involved!

But what is Earth Hour?




Earth Hour is an annual international event created by the WWF (World Wildlife Fund), held on the last Saturday of March, that asks households and businesses

to turn off their non-essential lights and electrical appliances for one hour

to raise awareness towards the need to take action on climate change.
It's simple. All you need to do is to switch off your lights (and electrical appliances, if you want) for one hour from 8.30pm this coming Saturday. You've got nothing to lose! It's just for

one hour

every year.
You might probably say, "Cehhh, Brunei is just a speck of dust compared to the whole world, got make any changes one meh??" If you're really thinking like that, then you're an idiot. I mean, why are you so worried about how small Brunei is? You should worry about the effects of Global Warming. Now stop complaining and start acting.



One hour of saving energy may be insignificant if you're doing it alone. But if we do it together, we will definitely make a difference.

I'm gonna do it. Will you join me? =)
If you've decided to get involve, show your support by tagging at the tagboard and then spread the word =) Also, take a picture or two during the Earth Hour, and email it to nazrin26.2@gmail.com! I'll upload all your pictures in my future entry. This is open for everyone! Friends, enemies, and strangers alike =D You don't need to send the pictures with your face in it, if you feel

malu

. Just your surroundings will be enough =) Please include your name when you send the pictures. If there are more than 20 pictures, Desmond will cut

botak

! ;p
For more info:
Earth Hour Official Website
Earth Hour Wiki Entry

___________________________________________________________________
:: Posted by DENCORPORATION at
5:54 PM
|
1 comments
Sunday, March 22, 2009
DPMM FC vs Woodlands Wellington
I've been to the
DPMM FC vs Woodlands Wellington
match 2 weeks ago and it was awesome!
After supporting Manchester United for so long, I never thought I'd support any local team.
Actually I wouldn't support them if DPMM FC still play in the local B-League, but currently, they are playing in the Yeo's Great Eastern's S-League, which makes them the only Brunei team to play in that league.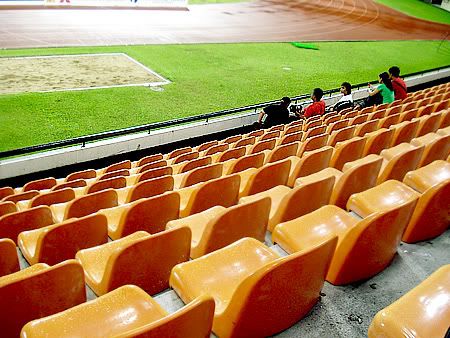 DPMM FC started to play in foreign leagues when they first played in Malaysia's TM Super League in the 2006-07 season.
DPMM FC had a great season and reached 3rd place in the end. Local striker Shahrazen Said was the joint top goalscorer that season with 21 goals, but his achievement wasn't recognised.
The other top goalscorer got the honour instead. Blardy hell.
Anyways, back to the match.
This is actually my second time watching DPMM FC play for full 90-minutes.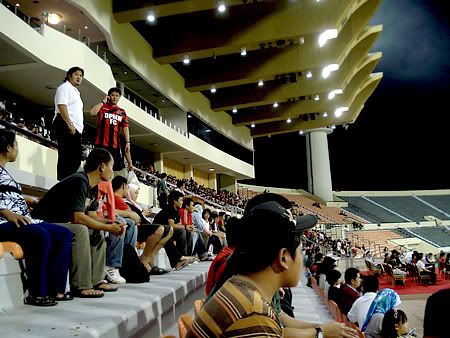 There weren't that much people when we first came, which is good, because that way, we are free to choose our own seats.
When we came, players from both teams are out training on the field.
Even the referees are making the run on the field.
And whenever they ran towards the direction of the crowd, they got cheered.
Enthusiastically!
The area where we sat is roofed, which shelters us from the rain, but it costs more expensive that the ordinary tickets.
I was lucky enough to be sitting at the roofed area because it rained that night as well.
While waiting for the match to begin, we actually got a little surprise when
Carlos Teves
came out of nowhere and became a spectator of the match too!
After the match officials and the eleven starting players from both teams came out from the tunnel, lined up and shook hands, the match promptly begin.
First Half:
Just 4 minutes after the game had started, DPMM FC conceded a free kick when
Ismadi Mukhtar of Woodlands guided his freekick towards the box in which the ball bounced in to put the visitors in a 1-0 lead.


DPMM FC 0 - 1 Woodlands Wellington



Check out this video to see the goal.





The goal has dampened the spirits of most DPMM FC fans but just after another short 4 minutes, Brunei DPMM FC turned the fans' spirit from emo to crazy as they got the equaliser from a headed goal by Sairol Sahari!



DPMM FC 1 - 1 Woodlands Wellington



The remainder of the first half doesn't seem to be promising as the match ended 1-1 at half-time.


Half Time:

I then took this chance to walk out of the stadium to buy something to drink from the stalls at the parking area.

I learnt my lesson before not to buy any bottled drinks, because you weren't allowed to bring them inside the stadium, which is what I did when I came for the previous match.

The only thing we can do is to leave the bottle outside and then collect them back after watching the match, OR, finish up the drinks and then go inside. Me and Tiah left our bottles outside, which is still full and 'un-drinked', only for us to find out that it has been stolen when we tried to look for it after the game.

But this time, I became smarter and bought a cup coconut juice!






When I came back to the stadium, it was already raining.






There were now people using umbrellas and hoods.






Our area is not totally waterproof after all. As the wind blew, droplets of rain fell onto us too, but not much. Just droplets.


Second Half:

Minutes after the second half had kicked off, DPMM had a penalty kick given after
Singaporean centreback Precious
Emuejeraye
tripped Oh Ddog Yi in the box in the 47th minute.





However, midfielder
Rosmin Kamis wasn't able to convert the penalty after his effort has been saved by the opposing team's goalkeeper
Rezal Hassan.

Woodlands were also threatening later in the second half but couldn't get back the lead.

Later in the 86th minute, another penalty kick was given to the home team when Englishman
Daniel Hammond clumsily tripped Algerian import
Abdel Hamid Berguiga as he tried to squeeze through the defence.

Croatian Ivan Jerkovic made sure Brunei DPMM FC got all 3 points from this match as he fired home the lead from the spot kick.

FT: DPMM FC 2 - 1 Woodlands Wellington

The matched ended

with victory for DPMM FC.

DPMM FC coach Vjeran Simunic said,
"I don't think it was a freekick (which led to the goal). The game was quite open and I'm surprised that we are in third position. Now we have to focus on our next game (Geylang United) and forget about this match and move forward."



After watching DPMM FC won at home twice in the most fashionable way, I would now be more than happy to watch them play at home again on

24th March

against

Sengkang Punggol

who now lies in the 10th place with just 4 points.

So what's your

prediction

for the next game? ;)

___________________________________________________________________
:: Posted by DENCORPORATION at
9:58 PM
|
0 comments
Friday, March 20, 2009
This Blog Has Finally Been Updated.. Again
What's up guys?
Okay, first of all, I think I really owe you guys an apology for not updating this blog for so long.
I'm glad that the school holiday has finally came, which came at a very good time indeed.
The first school term has just ended and I'm barely coping up with my studies.
Added with all the holiday homeworks assigned to me, I have to say, the 'real' holiday has not even started yet for me, unless I can finish all my homeworks as soon as possible.
I've decided to participate in the PYRO Club basketball tournament and also the MD Football League this year.
I guess all of you already know that the team I joined got pwned badly in MD League last year.
I'm joining Zulhf's team this year. ;)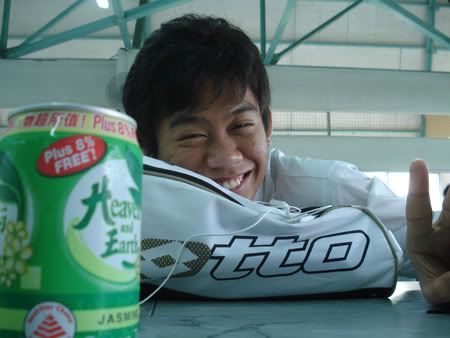 I know I've mentioned in this blog before that I won't be joining again because I'm so
n00bz
when it comes to sports, but oh well, who cares.
And also, I might be joining the hostellite team in the basketball competition, although I'm not a hostellite.
I'm joining these tournaments so that my 'activity report' will not be totally empty. And I do hope I'll be able to lose some weight by joining these tournaments.
I'm not trying to sound anorexic, but yes, diet is one of my biggest resolution for this year. Why?
That's because I don't wanna look like Jimbo.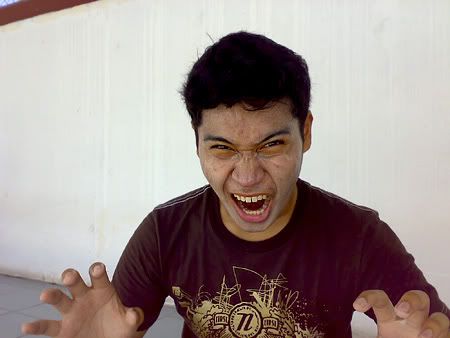 Jimbo trying to grab some imaginary boobs.
But wait, don't misunderstand. I didn't mean to say that just because of what happened in the 'Tasmond saga'.
There's a reason why I say that.
Sometime around last year, I was standing somewhere in school with some friends.
And then a girl came and she recognised all of my friends, called their names right except me. When she saw me, she paused for 1 or 2 seconds, and said, "Azim?"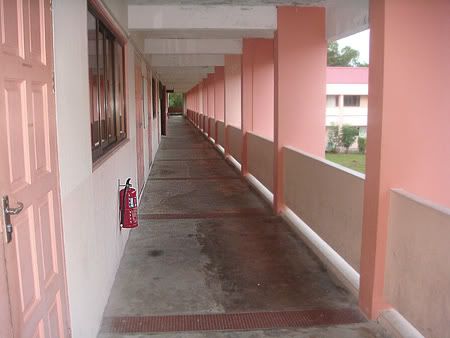 The feeling was horrible. My mood fell from the top floor to the basement immediately. I almost cannot recall the feeling of happiness again. It felt worst than when erm.. Man U didn't win against.. Loserpool.
Okay, that was too much. It wasn't that horrible, but being mistakenly recognised as Jimbo is definitely not a good news, for me.
Therefore, I'll make myself look COMPLETELY different from Jimbo by losing weight, which is by far the most practical way to distinguish between me and him.
Same meh??
Do we even look the same anyway?
And how can that girl made such a mistake?
RIDICULOUS.
I can even remember who that is, but let's not mention her name, shall we? =p
Nevertheless, the things I'll be doing in the holidays are:
1. Gym.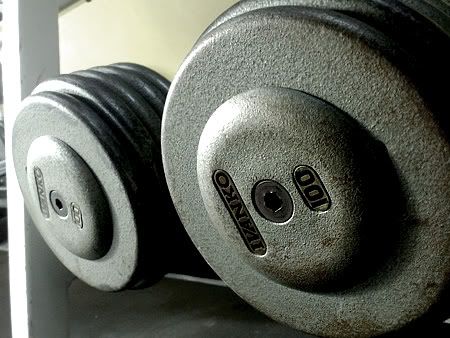 2. Hiking/Jogging/Jungle Trekking.
3. Swimming?
4. Tuition.
5. FINISH all my homeworks.
6. I Don't Know.
(any suggestions?)
~~~

I'm sad to report that I won't be travelling anywhere this holiday, although it's just a short 10 days till school reopens.
I'd happy to be able to travel anywhere though, even if it's Limbang.
So what will you guys be doing this holiday?
___________________________________________________________________
:: Posted by DENCORPORATION at
11:02 PM
|
0 comments
Friday, March 6, 2009
Microsoft Surface
Introducing Microsoft Surface, as envisioned in 2019..



Two words : Kick Ass!

___________________________________________________________________
:: Posted by DENCORPORATION at
10:52 PM
|
0 comments
Monday, March 2, 2009
Glory Glory Man United!
Just before the start of the 2008/2009 season...


FA Community Shield 2008/2009


Manchester United vs Portsmouth
Winner : Manchester United



Halfway through the season...

FIFA Club World Cup 2008/2009

Manchester United vs LDU Quito


Winner: Manchester United
This morning...

Carling Cup 2008/2009


Manchester United vs Tottenham Hotspurs

Winner: Manchester United



Won't you agree that we might just be able to sweep the Premier League, FA Cup & the Champions League trophies too? :p

Glory Glory Man United~~

___________________________________________________________________
:: Posted by DENCORPORATION at
5:13 PM
|
0 comments