Friday, July 18, 2008
Chill Out At Coffee Zone
So right after Andrew's farewell party at Capers, me and Yap had a sudden urge of chilling out at Coffee Zone.
I've never been to Coffee Zone anyway, so I suppose it'd be a rather good thing for me to try something new.
Because I had just spent
an unnecessary
$17 at Capers, I was all turned on when Yap said he'll buy me a drink in Coffee Zone, but wtf, that guy is just pulling my leg, and it turns out that I even had to borrow a few dollars from him in the end.
It was around 10pm already and there were still quite a number of people there, most of them bringing out their laptops on the coffee table.
I had fun looking through their menu. The front page of their menu even tells you a dramatic fairy-tale story of how far they went to import the finest quality of coffee beans. All the way from high altitudes of volcanic mountains to lower parts of Africa and then to South East Asia.
They are quite a lot of coffees for you to choose, depends on how you want it.
As long as you got the money to pay, there will be endless choice of coffees for you to savour.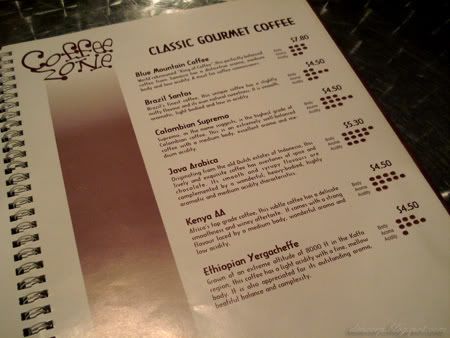 I like the idea of how they show the aromatic, acidity and "strongness" of the coffee on their menu so that customers can always know what type of coffee they want.
When I finally made up my mind, I tried to order a coffee called
'Kenya AA'
because the aromatic level has got
'5 coffee beans'
rating on it.
I also asked for a 'takeaway' because my car is coming.
But much to my disappointment, the waitress told me the coffee are to be prepared with hot water, so they cannot let me 'takeaway' the coffee.
I was then left with no choice but to order another beverage which may allow me to 'takeaway'.
As I flipped the page, something caught my attention.
They even got drinks named after football teams! Wth!
Being a die hard Man United fan myself, I wasted no time and ordered myself a
"Man U / Red Devil"
.
While waiting for the drinks to arrive, I tried to imagine just how the drink would look like.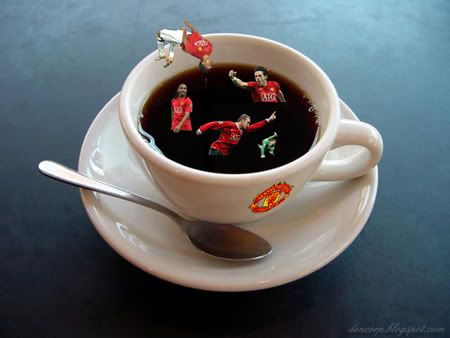 I even thought it was coffee at first.
But when the
'Man U'
came, I almost had a heart attack.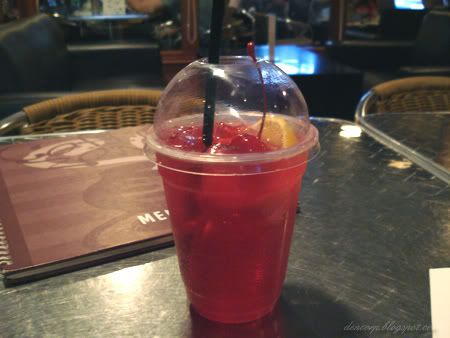 I nearly said
'what the f*ck'
out loud, because the drink isn't how I expected it to look like.
This, my friend, is something you would get from Kokoberry for less than $3, but I paid $4.90 for this red devil!
Oh well, I shouldn't complain much. Anything related to Man U should always be a good thing.
Plus, it has soda, cherry and lemon in it.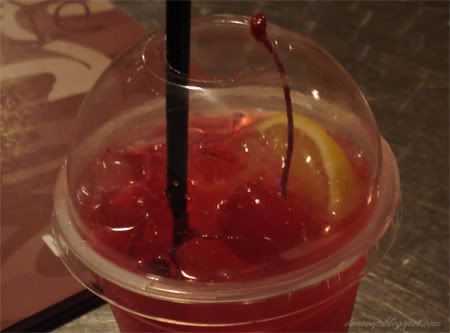 'Man U'
, anyone?
___________________________________________________________________
:: Posted by DENCORPORATION at
1:28 PM
|
<< Home