Saturday, September 26, 2009
Can't Sleep
in⋅som⋅ni⋅a
–noun
inability to obtain sufficient sleep, esp. when chronic; difficulty in falling or staying asleep; sleeplessness.
Everybody has experienced it. Everybody hates it. Even Craig David's singing about it. If that's not enough, he's even got Korean singer Whee Sung to sing a Korean rendition of it.
Thinking about the word
"insomnia"
, it reminded me of how REnzo sang the song at the mall's karaoke box. Did REnzo chose to sing that song to make the meaning come through? So that we hear his singing and can't sleep too? Well, for good or bad reasons, it's up to you to decide.
Okayyyy, I was just joking, REnzo, so please don't be
mad
. I gotta write more stuffs to make this entry
not-so-short
right? See, it's really tough to be a blogger. Now, let's cut the crap, and head straight to the point.
I very recently had it. Twice?
I'm sure nobody likes the feeling of being unable to sleep. Those hours you spent staring at the ceiling, rolling around your bed, trying to adjust the best position to sleep could've better off be used to doing something else.
But I do have to say, I'm not the kind of person who'd fall asleep easily. Like my dad for example, everytime he lies on the bed, he would usually take less than 30 seconds to sleep, and then I would hear him snore.
Sometimes, I only get to sleep for only a few hours, and then the next day, I'll be having headaches and getting sleepy for the whole day.
I'm not like those kind of extreme
"insomniast"
.
(for e.g. Wafi, Najaah, REnzo, Syam and etc.)
Those people can sleep really really late that sometimes they don't even sleep at all and still behave like a normal person the day after.
How did they manage to do that, I have no idea.
But I need your help. How can I put myself into sleep more easily? My eyebags are getting heavier everyday.
I do know there are tons of solutions out there in the internet, but I need to hear from you guys.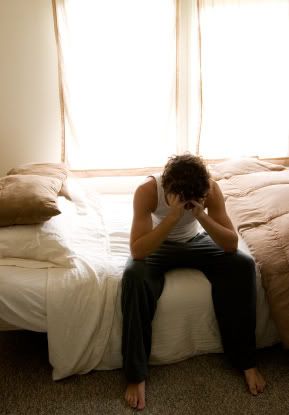 So? How? Cemana?
___________________________________________________________________
:: Posted by DENCORPORATION at
6:59 PM
|
0 comments
Sunday, September 20, 2009
Aidilfitri
As Andy had pointed out, Hari Raya Aidilfitri celebration here in South East Asia is slowly transmerging with Chinese New Year celebration.

He listed out 3 factors:



1) The Introduction of Green Packets.




The Chinese invented the Ang Pow (Red Packet) a long time ago (dated back to the Qing Dynasty even). The Malays in this region didn't want to lose. So they copied it several years ago, and changed the colour green to mark it their own.
2) The Firecrackers!
Traditionally, firecrackers are common during Raya and Chinese New Year celebrations. However, on one occasion, Andy sworn to have seen his neighbour lighting up a Chinese firecracker (pictured above) during the fasting month. To confirm his suspicion, the firecracker exploded with a deafening explosion to reveal a scroll with the words "Gong Xi Fa Cai!" at its climax!



3) The Recent Introduction of Syawal Mooncakes.




'Nuff said.


I'm not saying it's wrong to copy others. It's actually nice to see Malays and Chinese suddenly become so united. You will never know how similar Raya and Chinese New Year will be in the future!

Imagine a malay version of the Lion Dance!



Hari Raya celebration in Brunei will officially commence tomorrow! Representing DENcorp, we wish everyone a Happy Hari Raya!
I'm taking this opportunity to seek forgiveness if I had ever hurt, offended or simply annoyed the crap out of you =)


Selamat Hari Raya Aidilfitri everyone!!
___________________________________________________________________
:: Posted by DENCORPORATION at
7:09 PM
|
0 comments
Wednesday, September 16, 2009
BRIDEX 2009
Sorry for this late late entry.
More than a month ago, me, Gary, Nazrin, Guan and Faiz went to biggest military event in Brunei which is none other than the Brunei International Defence Covention and Conference (BRIDEX 2009).
The first BRIDEX was held back in 2007 and I've never released it back then.
We didn't really know how big this exhibition is until we experienced a HUGE traffic jam along the Jerudong highway that got us stucked for more than 1 and 1/2 hours!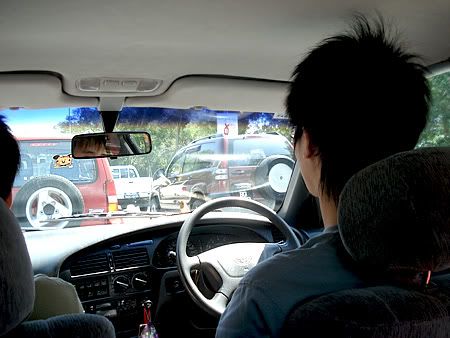 And I'm not even exaggerating.
We actually set off at 2pm and only reached the site at 3.50pm! I kid you not!!
The traffic jam takes forever and what's worse is that me and Guan suddenly had the urge to use the toilet while waiting in the traffic jam.
No, we did not get out of the car and take a piss by the roadside, but had got to hold on until we find the toilet at Jerudong Park Food Court.
The traffic jam was only the minor hard part. When we reached Jerudong Park, the second hard part came, that is, to finding a free parking spot.
Gary then dropped me and Guan to the nearest toilet at the Jerudong Park food court and went off to look for a parking spot.
After me and Guan were done with the toilet, we met up with Gary, Faiz and Nazrin only to find Nazrin holding just 4 tickets on his hands and accidentally left the other one in the car!
And Gary actually parked his car at somewhere so so far out. We had to run all the way back to his car, just to retrieve the other ticket.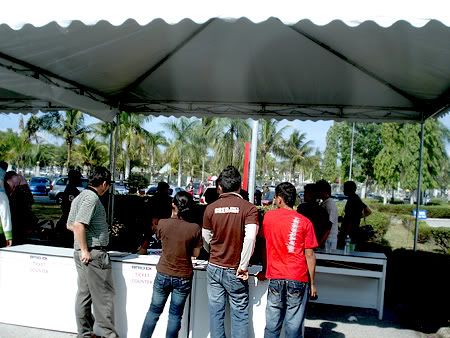 Without wasting any more time, we head to one of the pondoks, and luckily, a vacant shuttle bus was already there, ready to drop us to the BRIDEX site.
The government actually built these sites and buldings mainly for BRIDEX. We were held at the first bulding for a temperature check, only then we get to proceed to the real BRIDEX exhibition hall.
The buildings were not like any other buildings you've seen in Brunei.
Immediately I was reminded of 2 things.
Beijing's National Indoor Stadium, The Water Cube.
...and CERN Globe.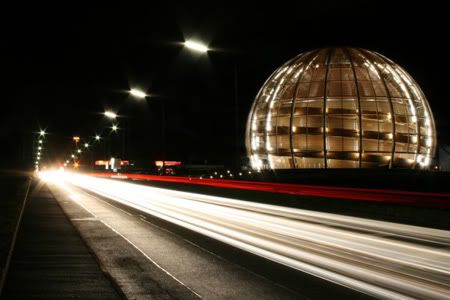 We learned that the exhibition is divided into 2 sections, the East Wing and the West Wing.
Both exhibition hall showcases more or less the same thing actually.
At least we find exhibition hall 1 a better place. We were awestrucked by the sight of two hot and tall Korean ladies at the Daewoo booth.
Most of the booths display miniature models of military vessels..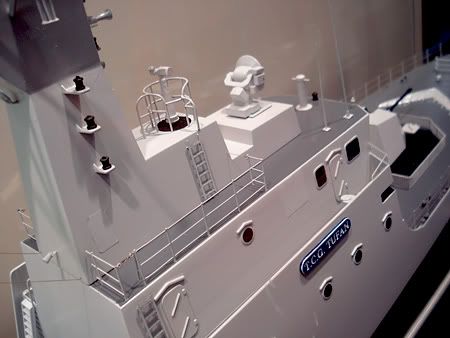 planes..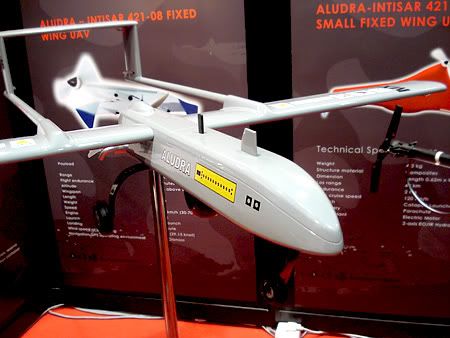 tanks..
..and so on.
They even have this thing which Andy called the "military BBQ grill".
To my surprise, there are even food, snacks, or candies at some of the booths. At this particular booth, where there's chips, Guan's been eating non-stop.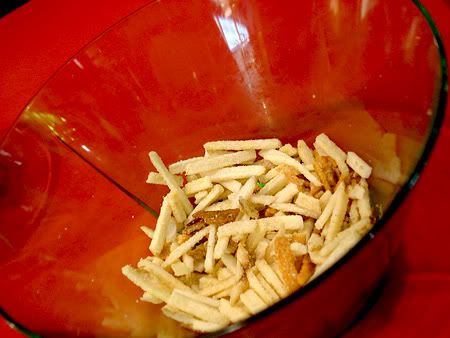 And believe it or not? He actually gained 2kg that day!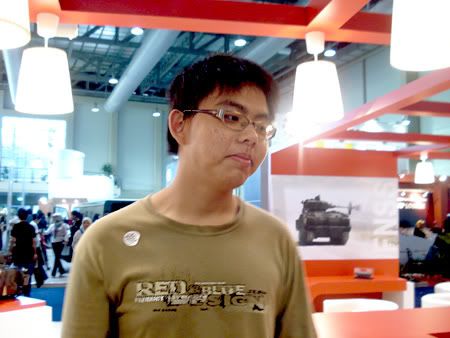 Nah, just bluffin'.
Located at the middle of the hall are two Land Rover military vehicles.
I find it annoying that people actually went into the vehicle to yank the horn.
Suddenly, we heard a loud blast! It sounded as if we were attacked by terrorists! There were black smokes! Not inside the hall lah, but somewhere out near the beach.
Looking out through the window, it's just a demonstration after all.
What I find rather surprising is that there's a Coffee Bean booth inside one of the halls.
What lah.. Why is there a Coffee Bean booth inside here?
I'm not sure if Coffee Bean would make profit by setting up a booth there but there are some cheaper options around.
Like Vitasoy for example. Why?
Because Vitasoy got Zul HF cheap!
Look at the picture. There are two other kids drinking packet drinks too!
Exhibition 2 showcases something which are more "hardware-related".
Like this stuff here.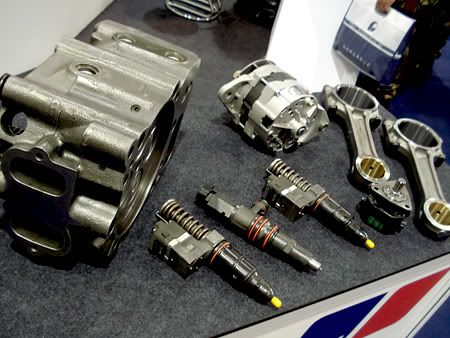 I don't even know what this is.
They also got this gigantic spanner which none of us were able to lift with one hand.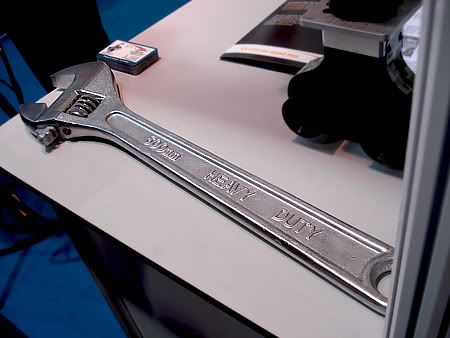 I thought it'd be rather cool to keep one of those in my car next time, so it'll come in handy whenever people are trying to pick a fight. But it's too heavy for me to lift. =(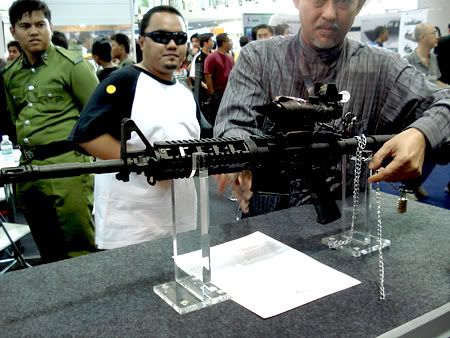 M16? Too bad BRIDEX does not have a firing range where they can let us try our hands on some real guns. They would've earned lots from this I guess.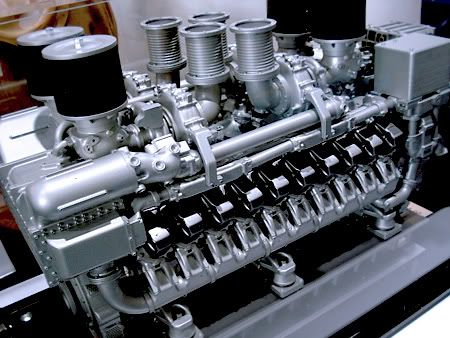 MTU Series 4000 M03 engine. An engine for planes. Has high power (4300 kW/5797 bhp), low operating costs and low emissions.
Heck, how do I know all these spec stuffs? =p
The G.I. Joes.
Military Sniper suit. Good for camouflaging.
Rifle bullets.
A delegate giving a small briefing.
We then head outside after we feel there's nothing else to see on the inside.
Outside here, there were quite a number of military vehicles.
For instance, this.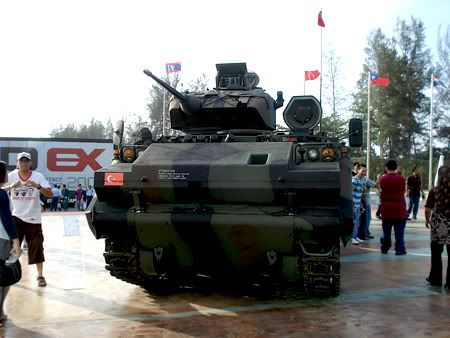 This is what they call Infantry Fighting Vehicle or Armored Fighting Vehicle . It's from Turkey.
I finally had the chance to sit on one of the military vehicles.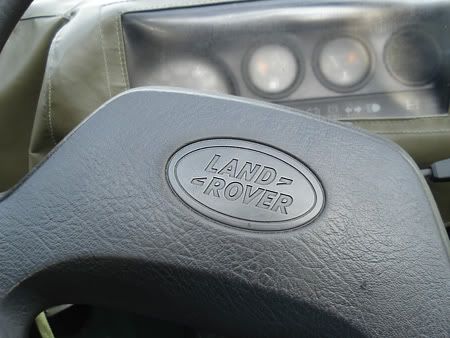 Again, it's a Land Rover.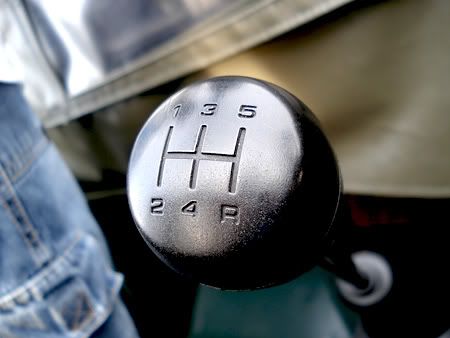 It was awesome. Sitting on the driver's seat, it seems as if I was driving along a battlefield whereas Lieutenant Zul HF was behind me, shooting down the enemies.
And that concludes our BRIDEX journey.
It was VERY tiring.
We even have to wait for the bus at the end and there was a bit of traffic.
Overall, I think this exhibition is worth visiting.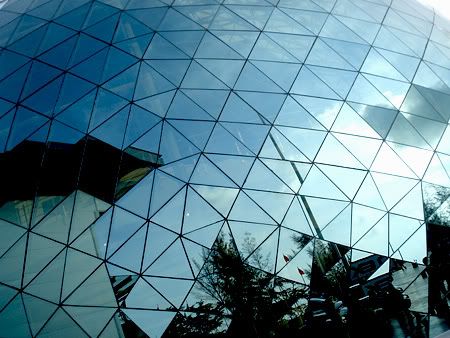 I might come back again in 2011.
___________________________________________________________________
:: Posted by DENCORPORATION at
1:50 PM
|
0 comments
Thursday, September 10, 2009
What's With It With Some People?
I wouldn't want to post stuffs about this, but I simply couldn't help it.



My mum worked as an assistant cook in a primary school. So one day, there's this small primary school girl came to the kitchen and asked for a cup of water. My mum gave, but to the disapproval of this particular old lady. The primary school girl looked very weak and sallow-faced that my mum had to ask her what happened.



She came from a very poor family. Her family hadn't been eating for a few days, and had to rely on warm water to satisfy their stomachs. Her story may be confirmed from her weak appearance.

However, I don't know what's wrong with this particular old lady. Every time she saw this girl, she

laughs

at her while saying, "

Anak Si Lapar!

" (English translation: "

Child of Hunger

"). Is this necessary? She disapproves her of asking for free water, that is bad enough. But why the insult?



I still got alot of other things that will definitely discredit her even more, but let's just stop here.

Seriously, if I am rich, I will definitely help this girl out more. But as for now, my mum will support her by giving her $1 everyday in school ;) Proud to have my mum!=D



The nerve of spoilt people.

___________________________________________________________________
:: Posted by DENCORPORATION at
2:08 PM
|
0 comments
Sunday, September 6, 2009
Career Path
I'm all relieved that MD's qualifying exam is now done! I hope I did enough to earn myself a satisfying overall grade.

There's only about 2 more months to A Level. Perhaps this is probably the most toughest period yet in our form 6 life, if not our life as a whole. The decision we are gonna make will influence our future totally. So what are we gonna do in the future?

Seeing Brunei, I don't think there's a lot of jobs that you may pursue. For example, jobs like archaeologist, astronomer, politician, artist, musician, psychologist, forensic doctors, actuarial science-based jobs, either do not exist here, or at the very least, won't do well. Of course, if you plan to work abroad, then that wouldn't be the case.


The image is uploaded solely to make Desmond go crazy with the word "success" :p (Refer to previous post)

On the contrary, it is a privilege for Bruneians to have so many scholarship opportunities. There's the impossible Yayasan scholarship and MinDEF scholarship (I heard AAA is a must), the moderate BSP scholarship, to the regular MoE scholarship.


As for me, I'm all out for...BSP scholarship!

My reasons for choosing BSP:
i) One of Brunei's highest income earners (Only second to MinDEF I think)
ii) Exposure to the outside world (therefore rejecting the idea of going to UBD)
iii) Field jobs are more to my liking
iv) Jobs are guaranteed (0% chance of being jobless once graduated)

Do correct me if I'm wrong, but from what I heard, BSP scholarship grants many benefits. Not only that you may choose your preferred University destination, you are also entitled to allowances (Up to 1000 pounds in the UK!). They will also sponsor air tickets to return home each year, and will immediately give you an attachment to work for a few weeks to gain experience (while also earning real salaries too :p). Those are what I heard from people only
la
. Hopefully it's real.

In short, it's all about earning good money xP
If I really do get BSP scholarship, then I will most probably choose

Electrical and Electronical Engineer

as my career. I've checked out wikipedia in order to study more about this job. These are some of what wikipedia has to say about this job:


------------------------------------------------------------------

i)
From the Global Positioning System to electric power generation, electrical engineers have contributed to the development of a wide range of technologies.
ii) For example, they may work on the design of telecommunication systems, the operation of electric power stations, the lighting and wiring of buildings, the design of household appliances or the electrical control of industrial machinery.
iii) Today most engineering work involves the use of computers and it is commonplace to use computer-aided design programs when designing electrical systems.
iv) For many engineers, technical work accounts for only a fraction of the work they do. A lot of time may also be spent on tasks such as discussing proposals with clients, preparing budgets and determining project schedules.
v) During their working life, electrical engineers may find themselves supervising a wide range of individuals including scientists, electricians, computer programmers and other engineers.


------------------------------------------------------------------

To summarise above, my first impression of Electric and Electronical Engineers will be of it's seeming superiority. See how it even overpower scientists :p
Assuming I fail to get BSP scholarship (touchwood!!), my second option is to pursue physiotherapist as my career. More specifically orthopaedic physiotherapist. It involves diagnosing, managing, treating, and rehabitilize post-surgery patients. Meaning, if one patient just had a knee sugery, orthopaedic physiotherapist will guide the patient back to walking ability. I thought this job is rather simple, I hope!

All in all, the way I choose my career path is heavily based on physics, maths, and money.


So what will it be for you guys?
[I now declare that DENcorp will resume back its operation]
___________________________________________________________________
:: Posted by DENCORPORATION at
12:53 PM
|
0 comments