Monday, December 31, 2007
Review of 2007 in SOAS
2007 is a year full of up and downs.
So now, I think I'll just write down a review of the best of year 2007 in SOAS.
Starting with..
New Premises of the Year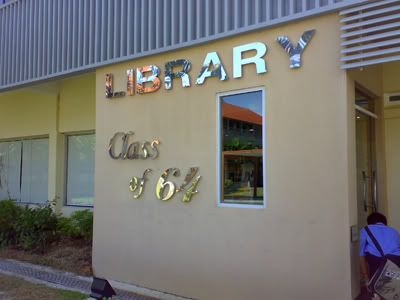 The new Class-of-64 Library.
Teamwork of the Year
This is when we were moving our tables and chairs to our new classroom.
Most Tiring Day of the Year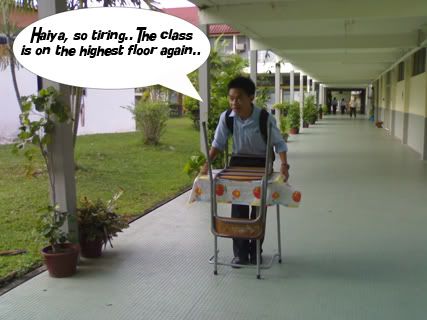 This is also when we were moving our tables and chairs to our new classroom.
Punishment of the Year
This is when most of the people in our class failed to hand in homeworks.
Classroom of the Year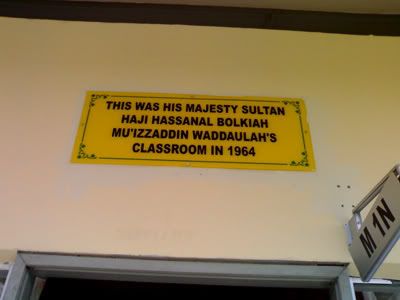 This classroom is specially renovated in conjunction with the launching of the new Class-of-64 Library.
Medical Check-up of the Year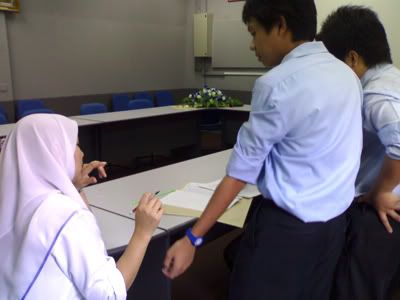 This is when there is an alleged outbreak of tuberculosis in our school.
School Trip of the Year
This is when we went to Maktab Sains for some Career Day Talk.
Foreign Visitors of the Year
This is when students from Victoria School, Singapore visits SOAS.
"Break-outs of School" of the Year
This is when Edison Tiah tried to climbed out of the school's fences to get to STPRI for their Jubilee Celebration.
Bravest One-on-One Stand-up Challenge of the Year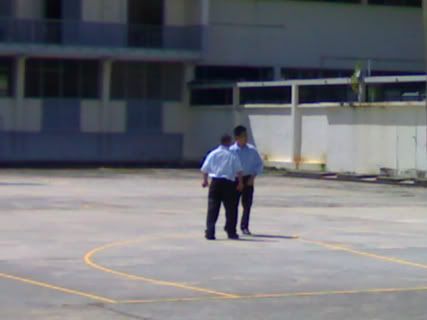 This is when a Pre-Vocational student are trying to fight another classmate of his.
Most "Emo" Guy of the Year
This is when a "low-class pianist" started singing sad songs to himself and then asked to stop singing by another teacher.
Biggest Event of the Year
This is during the Borneo Global Issues Conference held in ICC.
Grandest Event of the Year
This is when His Majesty the Sultan came to SOAS to officially launch the new Class-of-64 Library.
Disaster of the Year
This is when someone got rampaged and attacked our classroom.
Classroom Game of the Year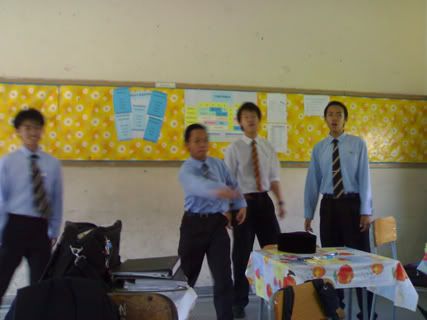 This is the game we usually play during recess time.
Everyone's Most Favourite "Playable Canteen Food" of the Year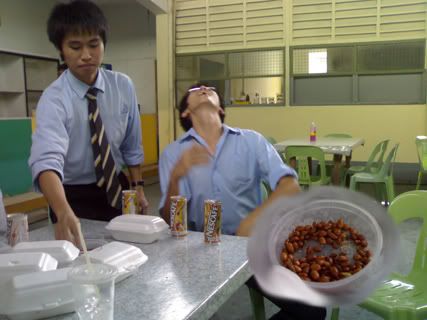 These are the nuts we usually used to toss around and catch it with our mouths.
Banknote of the Year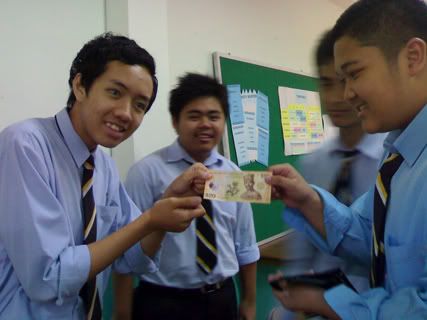 This is the new $20 note that everyone keeps talking about.
"Il Divo" of the Year
This photo is taken at the tunnel connecting Yayasan Complex and Ideal.
Most Favourite School Trip of the Year
This is the school trip held at Centrepoint, Gadong, where we bought Jollibee fast foods back to school at the end of the trip.
Jackasses of the Year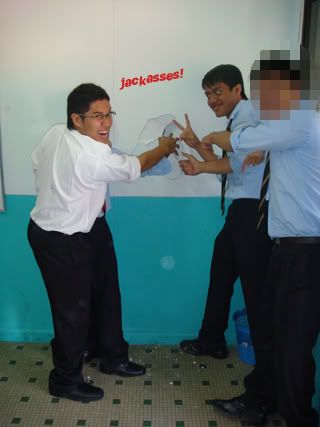 This is when students of the next class broke the classroom's wall and were so happy to take pictures with the newly-found hole.


And lastly,


Celebration & Happiest Moment of the Year
___________________________________________________________________
:: Posted by DENCORPORATION at
5:40 PM
|
0 comments
Sunday, December 30, 2007
At World's End
Short talk from the slightly known:
Haaiz, Manchester United just lost…I expected a draw. Oh well, it's no big deal. That doesn't mean I'm not a loyal United fan. It's just that I'm not expecting them to win the league this season (Kicking Liverpool's ass would be enough); I expect them to excel in the Champions League. Of course, it would be a bonus if they do win the league.
Moving on…
Let's give our last respect to Benazir Bhutto, who just passed away…Al Fatihah…
After all that has been happening around the world, I'm sure many of us had thought about what would happen in the future. Continuous terrorism? Relentless poverty? Major global warming? Doomsday?

An example of terrorising a good looking Vincent


Doomsday…Could it be triggered by the unthinkable minds of humans? Let's see…


1. People are getting nuts these days. Some governments of the world think the Harry Potter series is causing a threat to all readers.
They claimed that the readers will be entranced by its magical world and ultimately promotes the rise of witchcraft. Nuts. Absolutely nuts.
I mean don't these people realizes that there are something more important than creating a fuss about a small thing like this? It's just a freakin' book, for goodness sake!
2. The death of Benazir Bhutto is just another example. She's trying to unite Pakistan! And she was killed for that. It's amazing how some people think. Again, absolutely nuts.
3. Poverty. No one seems to care about it. Pitiful.
Well, if you have lots of money, instead of worrying which car should you buy next, it's better if you donate to charity. To tell you the truth I'm not exactly the charity type too. But if I am a successful man one day, I'll donate. I feel like somebody else need it more than I do (Wayne Rooney taught me that).


4. Terrorism. Almost forgot about that. I don't get those Al-Qaeda dudes. I don't even know what their intentions are. I didn't know they existed in the first place until my friends told me. I thought they were some kind of boy band from the Middle East.

But no they aren't really that different. They are actually a group of Spartan warriors from the Middle East!



All and all, this is just another example of the end of the world. Nuts.

5. Remember my previous post about Malacca? Remember Ronald McDonald? Yea, he's just another example of Doomsday…in a way. He depicts a helpless man who can't do what's left to save the world. He can only wait for fate to decide his destiny. Poor Ronald…

Well actually I was just using this reason to upload the above picture. It has nothing to do with a helpless man or whatever crap. Or maybe.





Just thinking about Doomsday sends a chill through my spine. Oh well…Be sure to comment! Or tag!

___________________________________________________________________

:: Posted by DENCORPORATION at

8:12 PM

|

0 comments

Friday, December 28, 2007

Malacca - My Second Home
My Grandma's home.

Yeap, truly my second home. My Mum's a Chinese Malaccan whereas my Dad's a Malay Bruneian. I guess that makes me a Chi-lay. Or a Ma-Nese. Or…whatever…
Anyways, I spent the last few days in Malacca after a restless week in KL. It was way quieter than KL. Peace, at last.
Malacca is the most historic state in Malaysia. I've got proofs too. I visited the oldest Buddhist temple in Malaysia, which is located in Malacca.
This temple was built in the 15th century (in the 1600s). That's how old it is. Simply amazing.
Though I might not be Buddhist, I respected the religion. Heck, I respected all the religions in the world. Unlike some typical Bruneian Malays (although I'm Malay myself. Or Chi-Lay. Or…you get me)…
Looks spooky...

I didn't see any tortoises...and there wasn't any pond, to start with (it dried up)

After that, we stopped by Dataran Pahlawan. If you're expecting another ancient barrack or the sort, then you're wrong. It's a relatively small shopping mall actually. Just about the size of 2 Jaya Hypermarts.
The things inside aren't that interesting though. It is more like a souvenir mall. There are a hell lot of antique stuffs inside.
Antique stuff...

Well anyways, outside that mall is Taman Merdeka.
Here are some pictures I took.
Arsenal!

The following day, during the Raya Haji celebration (which coincides with the Tang Yuan Festival…I think), we went to Perigi Hang Tuah (Direct translation: Lucky's Well). Told you, Malacca is historic.
That's my first time seeing a well up close.
Later that night, we went to Jusco.
Guess what? I saw this behind the complex…
…Ronald McDonald!! He's not supposed to be treated like that! Where is the justice in this world?!
The next day is my departure day. I saw 'them' on the way to the highway…
Haha! It's a freaking Kereta Lembu (Translation: Err…Cow's car?)!!
Well then…that's about it. My whole epic adventure in Malaysia has now come to an end…
Not to worry, I'll still continue posting entries! Until then, have a nice day!
___________________________________________________________________
:: Posted by DENCORPORATION at
10:19 PM
|
0 comments