Monday, May 31, 2010
Jobs
This post is originally written by Nazrin, the 'N' from the 'DEN'. I found this post saved as a draft and when I asked Nazrin about it, he said he's not planning to post it up anymore. Say whaaaat?
After reading this entry, I thought it'll be a waste to just abandon it like that, especially when he has written something so long. I reckon this post will be worthwhile to read especially for those of us who are still pondering about our career in the near future.
So I decided to rewrite it a bit, and maybe just add a little something from my own point of view.
Anyway, the topic of this entry is all about the dream jobs that are currently not achievable in Brunei. Or at the very least, jobs that will not be very successful.
Nazrin says he's as hell as sure everyone dreamed of being something else other than what they are currently (or will be) doing. Nobody wanted to be an accountant or say, quantity surveyor when they were a kid. Nobody ever dreamed of wanting to work as a government servant when they were young.
I have to fully agree with Nazrin. As for me, my dream is to be a movie star, but oh well, I can only a dream because I'm a Bruneian, right?
So, what are the jobs that are idealistic but not successful in Brunei? My fellow blogging partner Nazrin has constructed a partial list of them here below.
Musician/Singer:
According to Nazrin, there was this story his mum told him a few months back. See, the school his mum worked in introduced new intakes for fresh new teachers. So, there was this one guy that was awfully good looking and had a great voice. Sure enough, he became the school's musician, and he actually composed a choir song which later won him an award. The funny part lies with his mum's innocence.
After the teacher's talent was acknowledge by everyone, Nazrin's mum approached him and said, "Oh wow your voice is so good! Why didn't you become a singer?"
He just smiled. Actually, he is already a singer. Everyone knew him by his name, but not his face. Sadly, Nazrin's mum had no idea. The singer's name is never revealed to save his face.
He is now a part time teacher and singer. His album can only be purchased through him directly. Very sad.
Could have been a successful singer elsewhere. Just look at how successful Wu Chun is.
I think the problem here lies with Brunei's population and market. We've only got a population of 388,190, according to Wikipedia. So basically, if a singer/artist manages to sell off 388,190 albums to the whole of Brunei (which is not very possible), it's not even enough to grant him a 'Gold' certification on the album in which you need at least 500,000 units sold.
That's the awards certification of Recording Industry Association of America though. I don't think Brunei even has one.
I'm estimating that the most number of albums a Bruneian artist can sell is not more than 500. Furthermore, 98% of our population would rather buy pirated CDs than original genuine CDs. That said, I don't think an artist in Brunei would benefit from sales of album.
Footballer/Pro Athlete:
Ahh the dream of every normal male human. Being footballer is not only about the game. It's also about the money. Look at Cristiano Ronaldo. He earns what? About 100,000 pounds per week? He crashed a Ferrari and he can just buy another one with ease.
All he has to do is to kick a ball. Doesn't sound like the most stressful job in the world.
Although not many footballer earns as much as Ronaldo, the majority of footballers in Europe still earn crazy money. However, being in South East Asia, the feat is unattainable. BEING in Brunei makes it worse.
According to Nazrin, rumors has it that Bruneian footballers are also part-timers. They will never survive with the amount of wages they got from playing football. Not that they are playing a great deal amount of football either.
Look at DPMM FC. They were so successful in Singapore last term. But what happened? We can't even form a good, proper and recognisable football governing body and had to break a FIFA regulation. DPMM FC got disbanded from playing in the Singapore S-League.
But the most painful experience as a Bruneian is that there were NOT EVEN a single representative from Brunei in the Beijing Olympics 2008.
I watched the live Olympics opening ceremony telecast and waited for Brunei to march past but it never happened.
In conclusion: Don't be an athlete.
President/Prime Minister/Head of State: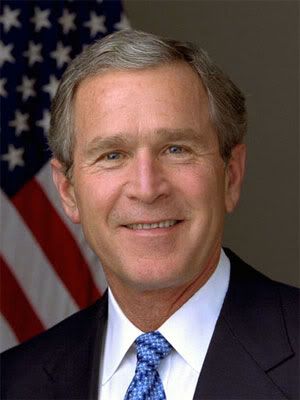 Don't even think about it.
Policeman/Fireman/Army:
As a child, it seems like a cool thing to do to shoot and catch criminals. But in Brunei, Nazrin thinks most Bruneian police ends up being a police traffic who rides in some nice Suzuki or BMW bikes.
So much for shooting and catching criminals. This is probably due to the low crime rate in Brunei which is actually a good thing! Hahaha. So it's actually a pretty good deal to sacrifice being a cool policeman to have peace xP
I guess that's also true for firemen. I wouldn't say there's not much fires or search & rescue in Brunei but I wonder what are the daily routine of our firemen on a quiet, peaceful day where there's no fire. Sliding down the pole seems fun.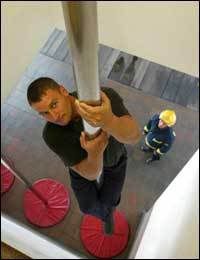 And so what about the armies?? In Brunei, the most successful public security workforce is probably the army. They've got the best privilege. Heck, they even got their own holiday named after them.
I don't know about you people, but I haven't heard of any war that Bruneians are currently involve in. So why do they earn a lot? And have you ever seen a Chinese enrolling into the army in Brunei?
In conclusion: Enroll yourself in the army. You'll get pensioned after your retirement in any of these 3 jobs anyway.
Astronaut:
Although Akademi Fantasia is lame, sometimes you gotta admit the Malaysians are trying their best to give out opportunities to pursue a different career. They even got this whole new reality show called "Imam Muda" in Astro Oasis. Hmmm...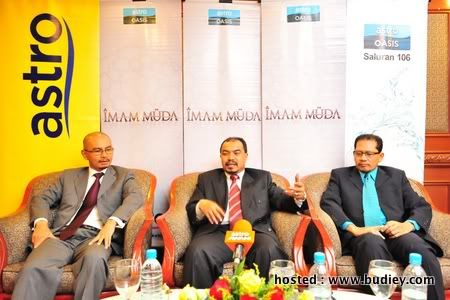 Anyway, about 2 years ago I think, the Malaysians hold an audition for astronauts. The winner gets to be a full-time astronaut. Sounds pretty good. That's what happened to Sheikh Muszaphar, who turned out to be the first Malaysian to go to space.
This guy is actually very successful. Not only was he a surgeon, he was also a part-time model. And now he's an astronaut! What luck!
The only one Bruneian who can actually achieve this is Hamid! Let us all hope he will be an astronaut ;)
Pirate Captain: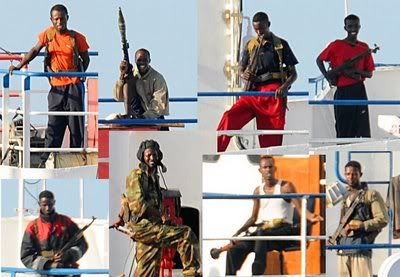 Only Somalian citizens can be a pirate.
Movie Star:
Again, if you wanna be in the entertainment industry, you gotta find a part-time job for security. A teacher in my ex-school is a Bruneian actor. Not the blockbuster movie star standard, but just one of the few good Bruneian television actors. Still, no matter how successful an actor in Brunei is, no one is ever gonna watch RTB.
Pilot:
I think this is the only dream job in Brunei that is both achievable and successful! If you can speak good Malay and English, and has a good eye-sight (wait, eye-sight can now be fixed with a simple laser surgery these days!), then you're eligible to be one!
Speaking of pilot, I realised Brunei do have female pilots! So go for it girls!
Not only will you get to travel around the globe, you will also be rewarded with high pay! And it's not like you're to fly every flights. This means, unless you're on duty, you'll have your own holiday!
Video Game Tester:
That would've been every guy's dream job.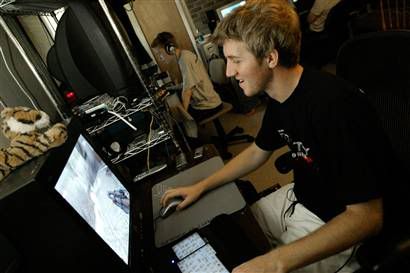 You get paid just to play or test the game, check for glitches and then make a report to determine whether the game would be a success or not. Not achievable in Brunei.
And lastly....
The Best Job In The World: Island Caretaker
Okay, this is something quite a while ago. In 2009, Tourism Queensland promoted the Great Barrier Reef as a global tourism destination with a website encouraging people worldwide to apply for "The Best Job In The World:", to be a "Caretaker of the Islands" to "house-sit" the islands of the Great Barrier Reef for half a year, based on Hamilton Island.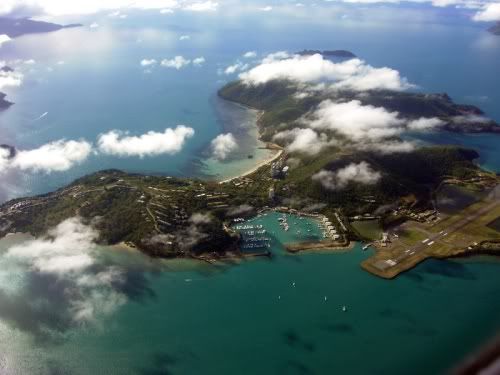 You'd get a pay of A$150,000, live in a multi-millon dollar villa and free transportation around the island.
But you gotta submit a video for their consideration purposes.
A man from UK, Ben Southall won the job!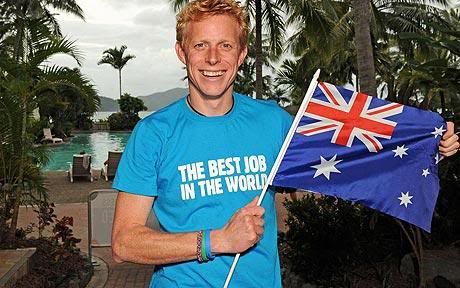 He got The Best Job In The World, in contrast to the job that someone got, which is to look through all of the 34,000 videos submitted for the application.
Let us all hope our government will give a similar job offer to people around the world and promote our forests in Temburong!
So what are your dream jobs?
___________________________________________________________________
:: Posted by DENCORPORATION at
2:34 PM
|
0 comments
Friday, May 21, 2010
Liquered Flavoured Chocolate
Anyone up for chocolates lately?
Well, one day, I was walking around at a popular supermarket in Gadong. Then I thought of buying chocolates as snacks.
So basically I just went over to the chocolates section.
I've noticed the price of chocolates has increased compared to before! But that's not the point of writing this entry.
As I kept on looking for the bar of chocolate that I want, I saw this!
This, my friend, is a
Liqueur Flavoured Chocolate
.
Doesn't this mean it's alcohol flavoured?
Out of curiosity, I checked the ingredients and I found this!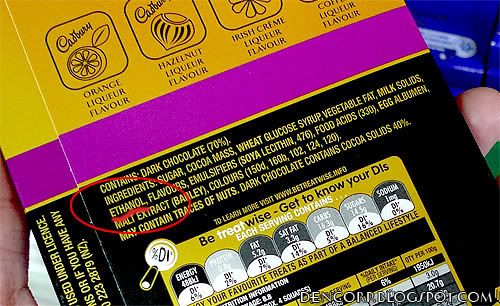 Ethanol!
Just to make sure again, I tried to look for the halal logo.
But it is nowhere to be found!
Other varieties such as the
Peppermint Flavoured Chocolate
has the
Halal
logo printed on it, but not this.
Anyone here willing to volunteer and try out the chocolate to see if it's real alcohol?
___________________________________________________________________
:: Posted by DENCORPORATION at
3:11 PM
|
0 comments
Sunday, May 16, 2010
Say No To Racism
*This post is merely a lame joke and do not necessarily reflect what I think should have been made happened or done. Any offenses that has been made from this post would be regretted. Having posted this, I do hope it will not become a sensitive issue.
I think perhaps Brunei should form an Anti-Racism body to curb and minimise problems of racism.
It seems as though Brunei has never had any effort to even try to stand up against racism. If there is so, please do forgive and correct me.
This idea came to my mind when me and my friend were at somewhere and got treated badly by a guy (not of the same race as us). He was "shouting" at us while his accomplices were of the opposite. He did not spat out any racism comments though but I didn't feel comfortable.
Racism can happen to anyone, anywhere and anytime.
We always see developed countries and our fellow neighbouring countries doing tremendous work in curbing racism.
Even in sports, football for example, there are efforts to kick racism out. FIFA dedicates a day in its event calendar for the FIFA Anti-Discrimination Day every year.
I wish Brunei would've done something similar. Create an Anti-Racism Day perhaps?
Anyways, my idea of a good Anti-Racism body is that it would work the same way as the Narcotics Control Bureau and Anti-Corruption Bureau added together.
It'll then be called the great "Anti-Racism Bureau" or "Racism Control Bureau", with the vision of "To Create A Racism-Free Nation" and the ambitious mission of "To be the leading agency in driving our country free from racism for Make Benefit Glorious Nation of Brunei Darussalam".
Occassionally, you'd receive text messages from the Biro Mencegah Rasuah or Narcotics Control Bureau asking you to report to them any suspicious act of corruption or drug-related cases. My idea of a perfect Anti-Racism body would do the same by sending people text messages asking you to report any acts of racism too!
Every once or so, NCB will hold talks in primary and secondary schools or held a road show in a big Expo showcasing and telling people the bad effects and danger drugs would post. The Anti-Racism body would do the same by holding talks and held a road show in big Expos too!
Every week, NCB officials would patrol, hide and raid places suspected to be areas where drug trafficking is highly active. My idea of a good Anti-Racism body would have anti-racism officials hiding somewhere in the dark and then jump out, ambush and RAID places where racism occurs!
If you mention something like "Melayu itu blah blah", you die.
If you mention "Itu Cina sangat blah blah", you also die.
If you mention the 'N-word', you also will die.
But if you mention the word "K****g", hmmmm.. I think maybe..
you also will die. I think lah.
So what do you think? Can form or not? Will laku?
___________________________________________________________________
:: Posted by DENCORPORATION at
2:39 PM
|
0 comments