Monday, January 28, 2008
Latest Horror Movie In Town
Pulau Hantu is one of the latest Indonesian horror movie in town.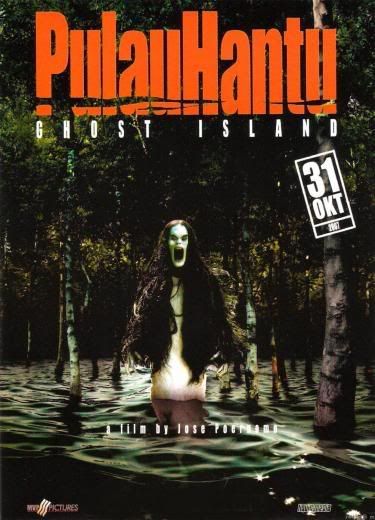 The poster of the movie seemed quite scary to me actually. And I once even thought it might be the scariest one ever.
But after taking a closer look at the poster, the ghost actually reminded of something.
I think the ghost has a little resemblance to Ronnie James Dio from the metal band Dio.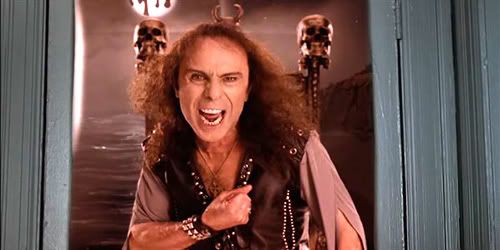 Hmm....
Don't think so?
Well, I just find some similarity between them.
Do you think they look alike now???
___________________________________________________________________
:: Posted by DENCORPORATION at
8:35 PM
|
0 comments
Sunday, January 27, 2008
Australian Open 2008
This is my first time watching a tennis tournament from the start until the end! Before, I was too lazy to do that, and only looked at the results every morning from
Euro Sport News
.


My favorite male tennis player was Andy Roddick (6). After watching a few of his performances these days, I don't think I like him anymore (except for his aces xp).

Since his elimination in the 3rd Round (I think) by Phillip Kohlschreiber (29), I started to support Novak Djokovic. ;-)

My favorite female tennis player is Ana Ivanovic (2).

Oooo yea!
Australian Open 2008 has just ended with a surprise! I predicted Federer (1) and Henin-Hardene (1) to win the men's single and the women's single respectively.
But woah, how wrong was that?

Men's Single Final

Djokovic hmmmm…lying down (?) after winning the championship point.


Novak Djokovic (3) 4-6, 6-4, 6-3, 7-6 (7-2) Jo-Wilfried Tsonga (18)

Yea! I'm right by supporting Djokovic! His performance in the tournament is simply superb! He had never drop a single set in this year's tournament (except for the Final)! Even Federer failed to steal a set from him! Really wipes the smile of Roger's face!
I said wipe the smile of his face!


Yea, that's more I like it! That will make Djokovic go hitting his chest rapidly, and showing his really intimidating face!


"ARR!HEHEHEHEHEHEHEHEHEHEHEHEHEHEHEHE"

Anyways, he played quite bad in the first set. I thought Tsonga would actually win! I guess Novak's fitness and experience has got something to do with him winning the championship.

Well I've got more to talk about the new rising tennis star, Tsonga! This Frenchman had beaten some of the top 15 world players, most notable, beating the world number 2, Rafael Nadal! And he's unseeded! He was number 338 two years ago. After beating Nadal, his rank jumped up crazily by 300!! Then, after losing the Final, he is now officially world number 18. o.O

Women's Single Final

Sharapova celebrates after winning the championship point.
Maria Sharapova (5) 7-5, 6-3 Ana Ivanovic (2)
Ivanovic didn't quite get her touch during the match. I was quite disappointed actually…But all and all, she did a great job in the tournament. She beat Venus Williams for the first time after 5 meetings (I think, lol) with her. Her rank has risen from 4 to 2 now.
Maria Sharapova was really consistent throughout the tournament. She thrashed Justin Henin-Hardene (1), beat Jelena Jankovic (3) and Lindsay Davenport. All in straight sets! Simply impressive!
I didn't really watch the other tournaments in this grand slam. If you happened to watch any, you would notice how empty the court is. Even in the finals too.

By the way, did you guys notice that Jo-Wilfried Tsonga look like Boxing legend, Mohammad Ali??
So…what do you think? Same, eh? Haha
___________________________________________________________________
:: Posted by DENCORPORATION at
9:33 PM
|
0 comments
Tuesday, January 22, 2008
2008 Africa Cup of Nations
The 2008 Africa Cup of Nations has just started!

Well, here are the current group standings:

-----------------------------------------
GROUP A


1. Morocco 3 pts
2. Ghana 3 pts
3. Guinea 0 pts
4. Namibia 0 pts
------------------------------------------




Latest results:

Ghana 2-1 Guinea
Namibia 1-5 Morocco




Men to watch:

Ghana's Michael Essien (Chelsea) and Sulley Muntari (Portsmouth);

And Morocco's promising young talent who scored a hat-trick against Namibia, Soufiane Alloudi.

My prediction:

Ghana will top the table, followed by Morocco.






------------------------------------------
GROUP B

1. Ivory Coast 3 pts
2. Mali 3 pts
3. Benin 0 pts
4. Nigeria 0 pts
------------------------------------------





Latest results:

Nigeria 0-1 Ivory Coast
Mali 1-0 Benin





Men to watch:

Ivory Coast's Didier Drogba and Salomon Kalou (Both Celsea). Man, Chelsea is good at producing talented African players!

Nigeria's Jon Obi Mikel (Chelsea, again) and Obafemi Martins (Newcastle United).




My prediction:

Ivory Coast will go number 1 and number 2 will be filled in by Nigeria.





---------------------------------
GROUP C

1. Zambia 3 pts
2. Egypt 3 pts
3. Cameroon 0 pts
4. Sudan 0 pts
---------------------------------

Latest results:


Egypt 4-2 Cameroon
Sudan 0-3 Zambia



Men to watch:

Cameroonian Samuel Eto'o, who now plays for Spanish giants, Barcelona;

Egyptian Mohamed Zidan (Hamburg SV)! He scored a brace against Cameroon!!o.O

My prediction:
I think Egypt will fill the top spot while Cameroon goes second.
---------------------------------
GROUP D
1. Angola 0 pts
2. Senegal 0 pts
3. South Africa 0 pts
4. Tunisia 0 pts
---------------------------------
No latest results yet.

Men to watch:
El-Hadj Diouf (Bolton) who plays for Senegal;
A promising youngster who plays for Everton in the BPL, Steven Pienaar (South Africa);
And Angolan Manucho Goncalves (Manchester United), a future potential. He has yet to display his gaming style. Fergie describe him as tall, agile and a quick forward.
Sorry, I can't find his picture.


My prediction:
South Africa will go top while Senegal will move into the second spot.

KNOCKOUT STAGE
Quarter Finals:
Group A winner vs Group B runner-up
Group D winner vs Group C runner-up
Group C winner vs Group D runner-up
Group B winner vs Group A runner-up

According to my predictions above, it will go like this:

Ghana vs Nigeria
South Africa vs Cameroon
Egypt vs Senegal
Ivory Coast vs Morocco

My next prediction goes like this:

Ghana 3-1 Nigeria
South Africa 1-2 Cameroon
Egypt 0-1 Senegal
Ivory Coast 2-1 Morocco

Let's proceed to the semi-finals. These are my next predictions xp:


Ghana 1-0 Cameroon
Senegal 0-3 Ivory Coast


Third place:

Cameroon 3-1 Senegal


And the finals:


Ghana 1-2 Ivory Coast

Hehe! Let's see if I'm right or not!
___________________________________________________________________
:: Posted by DENCORPORATION at
12:04 PM
|
0 comments
Friday, January 18, 2008
The Tasek Lama Journal
Maybe you guys are probably sick of my journey in Tasek as I've blogged about it before.
As I've said
before
, I wanted to do more outdoor activities like hiking and so on. So I went to Tasek a few days ago, with the intention of keeping fit and to increase my stamina.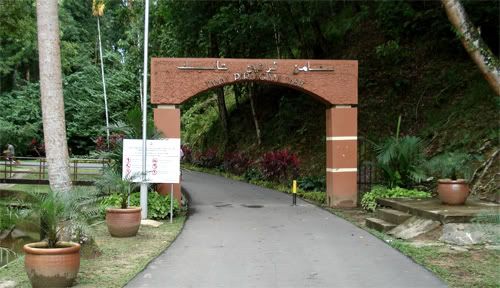 For many people in
Brunei
, Tasek Lama has always been the right place to keep fit, stay young and increase your stamina. However, for
rich
people in Brunei, the right place to keep fit, stay young, workout, increase your stamina and also to entertain yourself is
Fitness Zone
.
As early as 3.30pm in the afternoon, there were already so many cars parked at Tasek, which means a lot of people were already there.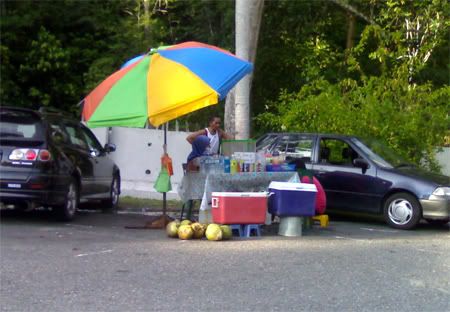 I wouldn't suggest buying the coconut juice and bringing it along with you while you're jogging or hiking.
Luckily, there are also vendors selling drinks like isotonic drinks, soft drinks, coconut juice, mineral water and so on at the car park area, just in case you've forgotten to bring your drinks from home along with you. So what if you've forgotten to bring your drinks and money from home?
Quite surprisingly, most of the visitors at Tasek are mainly elderly people, as well as middle-aged people. And what these elderly and middle-aged people usually did is, come to these foot massaging stones area, take off their shoes, and start walking on it.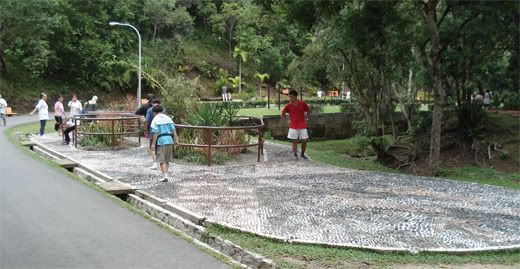 I can't even survive 30 seconds while stepping on these stones but these people can actually spend their whole day walking on it.
Some parents would normally take their enthusiastic kids along with them too, but then, none of these kids are actually jogging nor hiking.
Well, can't blame the kids. So what these kids usually do in Tasek is basically just having some fun at the playground. Makes me wanna join these kids and play too, but then, maybe I am too fat, so probably I would get stuck inside while trying to get down riding the slide.
As I was about to go to the toilet, I found out that their two huge water tanks behind the toilet was seriously overflowing, and the water just keep flowing out of the tank nonstop.
At this moment, I feel like doing something as long as it would help stop the water from overflowing, but realistically, there's absolutely nothing I'm able to do to stop it.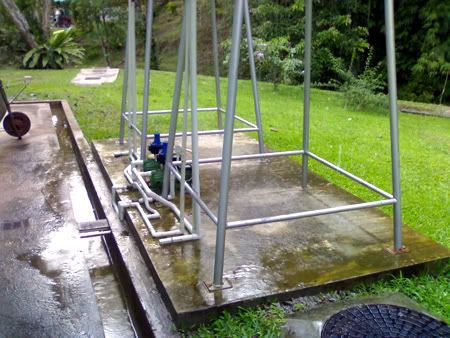 The water here are so wasted. I even wonder if the two water tanks has been fixed by now.
I first made a few runs around Tasek, which is my actual purpose of going there.
Much to my disappointment, I can't even run around the park nonstop. Not even one lap. I have to stop running for a while at most times to catch my breathe, and then continue again.
When I realise I've done enough running, I head down to the most popular waterfall in Brunei.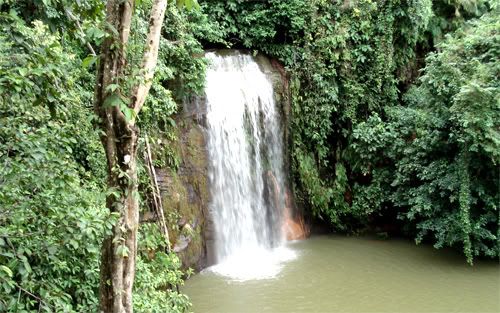 Going to Tasek without seeing the waterfall is like going to Gadong without going to The Mall.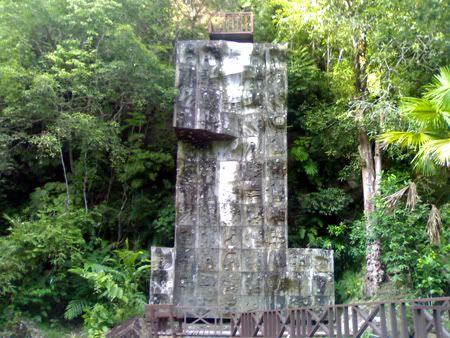 Rock-climbing has been inactive as ever.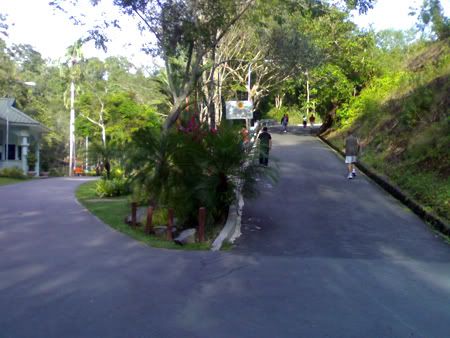 So after I've been to the waterfall, I then take a walk up near the hills.
There were also many people walking around here. Some went on to climb the hill but I opted to remain on the jogging track.
This part of the road seems like a road down from a huge mansion.
I know I'm playing futsal on the following day, so I preferred not to climb the hill as it would make my feet fatigue again.
At the top of the track, there's nothing much. The reservoir is located up here, but there's also tight security around.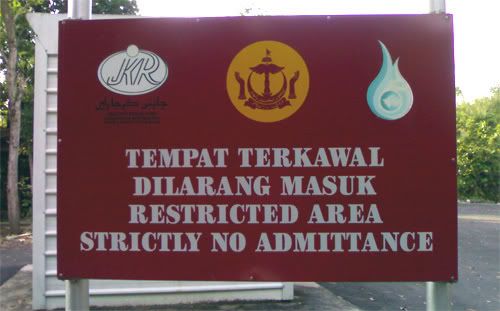 Not very tight actually but there are fences and gate to prevent people from entering. Just in case some kid accidentally piss on the river and poisoned it, y'know?
But even if anyone, not just kid, feels like taking a piss when they're up here, they'll probably be able to do it too!
I actually saw an uncle who were up here and went to the back of these wooden huts. To the
back
of these huts, okay?
So it's rather obvious that the uncle is taking a piss. Maybe it's because the uncle feels better to piss in the great mother nature rainforest or maybe it's because that uncle feels lazy that he resorted to take a piss in the wild.
But of course, taking a piss in the wild is always a risk. Risks of your little brother kena bitten by red ants. That actually happened to one of my long lost friend who survived the incident to give the tale.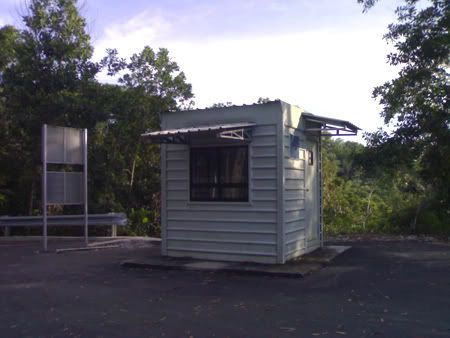 There were no watchmen nor any security guard, so taking a piss there may be a bit safer.
I also learnt about where the new jungle trekking route starts from and leads to where.
I've never tried these new route before, there were so new to me.
A couple who was ahead of me tried the new jungle trekking, but then, in around just 3 minutes, they came out again. If you look closely in the picture, you might be able to see them trying to get out.
The good thing about this new jungle trekking is that the exit is just near the entrance of Tasek. So after the jungle trekking, you can just go back home right away! But I didn't go for it.
Maybe I should try the new jungle trekking next time. But I'm afraid I might get lost on the way.
Anyone wanna join me next time?
___________________________________________________________________
:: Posted by DENCORPORATION at
1:24 PM
|
0 comments
Wednesday, January 16, 2008
Monster vs. Ghost
Which do you fear most?
A monster whose favorite dish is 'man' chop;
Or…
A ghost that haunts mankind for a living?
I've recently watch The Eye 10 with Desmond at his place. Well, it wasn't that scary, actually. It was just a bit disturbing. I've got a habit of being paranoid after watching ghost movies. What a wimp, no?
Remember the original The Eye? I think it was premiered sometime in 2000, was it? It was the scariest movie I've ever watch. I had to think twice whenever I ride an elevator…alone. But that was last time.
Desmond, however haven't watch it, yet.
So we thought it would be a great idea to watch some scenes from the movie at youtube. I remembered the movie quite well. So I know when to get ready whenever the scary scene is about to show up. Turns out, the scary scene isn't that scary anymore.
The ghosts weren't that ghostly anymore too. They were more human-like to me…now. The Eye is definitely not the scariest movie I've ever watch anymore. Present day technology and superb movie effects played some part in this influence too. Compared to the horror movies today, The Eye is like the movie Borat. Even the not-so-scary The Eye 10 wins over the original scary-like-hell The Eye.
That's why I can't wait for the remake of The Eye to premier in cinemas this February.
Jessica Alba, my favourite female celebrity, in her role in The Eye.
Everyone here agree Asian horror is way more horror than Western horror, right? Hopefully this remake of The Eye will be worth watching.
Okay that's the ghost's part. Let's move on to the monster's part.
Man-eating monsters. Man-hunting monsters. Zombies, vampires, aliens, etc. Any kind of monsters. So long as they are not categorized under spiritual beings.
A stupid poster I found in the net -_-"
Between a ghost that do you no harm except to freak you out and a monster that only thinks about meat, I would prefer monster over ghost. At least, most monsters can't think, as far as I know. Something that can think is very scary, except for humans, of course.
Oh, you can kill them monsters too. Unlike ghosts, if you shoot them, the bullets will just whistle pass through them without them actually getting hurt (according to movies). It would be weird to see a ghost clutching its stomach, and crawling on all fours, due to an injury sustained from a gunshot.
So if I'm trapped with a man-eating monster in a small room...I probably still won't survive to tell the tale. But still, there's a chance for me to 'think' of a strategy to survive. There you go the thinking theory again. From what I've heard, human survival instinct is very powerful and the adrenaline pumped, helps you to make good survival decisions. I must have been crazy to choose monsters over ghosts. Oh well.
You see, if a ghost appears right before you, you will most probably freak out and take a run to the opposite direction. Then, when you look back, the ghost is not chasing you anymore. Heck, it will most probably disappear! Then you stop running to catch your breath. When you look up, pee-ka-boo! The ghost is now right in front of you! The point is, they think! They let you run away so that you will get tired, only to appear right before you again. That's the theory I got from most ghost movies. =.=
Oh, one more thing, I don't believe in ghosts. Still I won't risk finding evidence to their existence!
So what do you think? Monsters or ghosts?
Please drop some comments, if possible (tagging also can, but commenting is better)!
___________________________________________________________________
:: Posted by DENCORPORATION at
12:05 PM
|
0 comments
Monday, January 14, 2008
The SOAS Mosque
It was around last week when I was at Bandar with Nazrin in the early morning. We were there to play futsal at Harun's Gym later in the morning.
As we went there early, Nazrin had the idea of going to somewhere for breakfast. We then eat at a typical "Indian restaurant/cafe". We both ordered Teh C. Nazrin also ordered Roti Kosong for himself. I didn't eat as I didn't have the appetite that time.
As we eat, Nazrin claimed that the curry being served is too sweet. Their Teh C also tastes very sweet! This then led us to suspect the restaurant is using expired milk. Hmm..
It was barely 7am when we left the restaurant, so I suggested to give the SOAS Mosque a little visit as I've never been there. Halfway walking to the mosque, we started feeling something bad about our stomach. Darn.. It must've been the food from the restaurant..
So we quickly made our way to the SOAS Mosque, just to use their toilet, and to take a dump. But hey, at least I know I'm taking a dump at a cleaner place!
But no, taking a dump is not the first thing we did. We looked around the mosque, took some pictures before we found the toilet.
I wanted to go inside the mosque and have a look, but I was stopped by this sign.
So, to give the religion a little bit respect, I opted not to go in. Well, just like the signboard has stated, we can go in there when there is no religious activity taking place right? I also don't want to have an angry imam chasing me all around Bandar Seri Begawan! (Just joking)
I'm really impressed with the architecture of the mosque here. I mean, normally you wouldn't expect a building built more than 50 years ago to still look this nice right? But this mosque seems very well maintained. Hmm, that's very good I guess. I also found out that my mum has visited here roughly about 30 years ago!
The mosque is also undergoing renovation, so obviously there are foreign workers around. Some part of the mosque are also out-of-bounds to us due to renovation work.
I've always wondered what is inside this ship.
As me & Nazrin does not come to this mosque very often, we even have to ask one of the foreign workers the location of the toilet.
Two Bruneians asking a foreigner for location in Brunei = Fail.
Surprising, the toilet isn't very big. There are a lot of rooms for another 10 persons or more though, but surely, not more than 5 person can walk around the toilet. It'll be too crowded by then.
So that concludes my first ever real visit to SOAS Mosque. Renovation works will complete soon I guess..
I wonder if that will make any difference to the mosque.
___________________________________________________________________
:: Posted by DENCORPORATION at
4:39 PM
|
1 comments