Thursday, June 26, 2008
Swimming Chronicles
I guess most of you must have probably felt sick and tired about reading entries of me going to swimming with some friends of mine already so this might be one of the last entry about me going to swimming, okay?
Barely just recovered from sunburns days ago, Chi How and Jimbo have been craving about going to swimming again!
So since I've not suffered that bad from my previous sunburn, I decided to join them.
We first met at the stadium's swimming pool. Me and Nazrin were the first to arrive. Then came Chi How. And then, James. And finally, Chee Wei.
As we were about to pay the $2 fee and enter, we were told by one of the female attendant that we can only swim at the pools which were at least 2m to 5m deep and that the swimming pool which were much shallower (0.5m - 2.0m) were closed due to technical problems.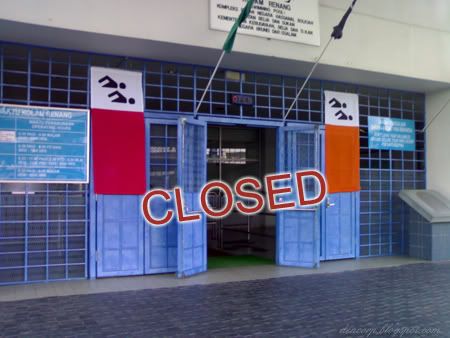 Of course we felt upset. James did not have any problems swimming at the deeper pool, but some of us were hesitant, especially me.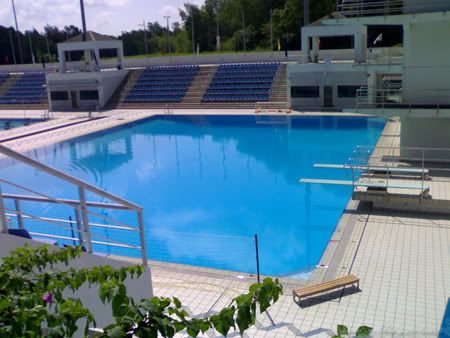 Stadium's pool, at least 5m deep.
Because I am so
noob
in swimming, swimming in deeper pools are too risky for me, so I strongly suggest we walk to the Anggerek Desa swimming pool which is just near by.
I'm already feeling so lazy to have to walk to Anggerek Desa. What's more, the weather is damn hot, ok?!
Since the stadium's swimming pool is closed, there must be a lot of people at Anggerek Desa.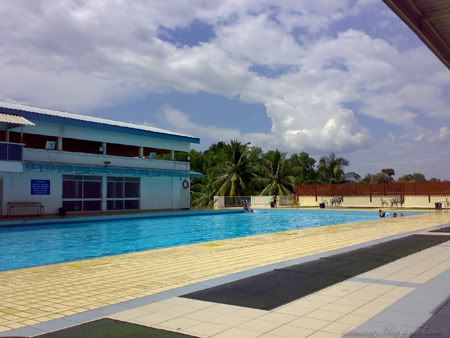 Actually not so many people..
So the first thing we did after paying the $1 fee at Anggerek Desa is to go to the changing room, apply sunblocks and change into our swimming outfit.
Guys applying sunblock may seem feminine to you guys, but hey, preventing another sunburn from happening is still better than having to cure it.
Something actually did not feel quite right at the changing room. As Nazrin was about to wash his hands at the sink, he saw something extremely disgusting at the trash bin.
My god, what is that, you tell me!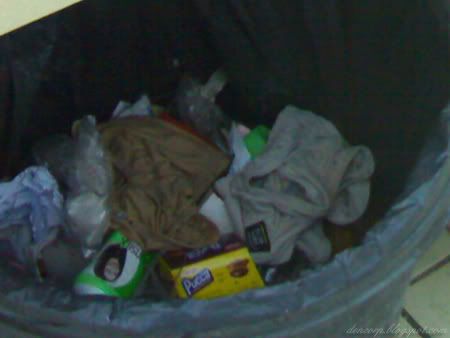 That is not just one, but two underwears, allegedly thrown by someone who doesn't want it anymore!
It might have been better if those were designer brand underwears but they're not, and they are obviously an eyesore! I'm sorry if you were eating or having your meal while reading this, hopefully you don't puke everything out onto your monitor. :)
Anyways, apart from that unwanted underwear, everything seems fine yesterday.
Too bad they weren't any girls wearing bikinis yesterday, instead, most of the girls who went swimming yesterday actually wore normal t shirts and pants. Some of them even wore jeans! That is just... plain.. hardcore.
And then I saw this kid.
'WOW!' is my immediate reaction after seeing this kid! I suppose that is just one of the grandsons of the Michelin tyres' mascot! Can you actually count the number of fat layers?!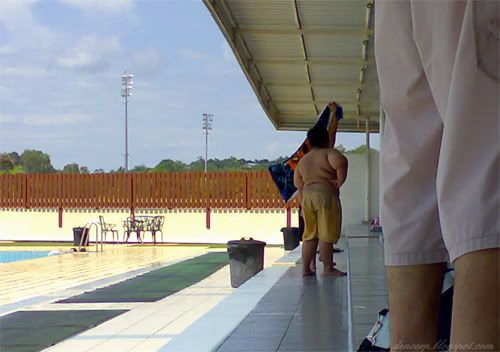 You might think he had too much Big Mac from McD but I reckon he had too much Ayamku Spring from Ayamku, don't you think so? :p
Later, Khairil and Jimbo came, and that's it. Our party yesterday consisted of only me, Nazrin, Chi How, James, Chee Wei, Khairil and Jimbo. It's not much for a gathering between friends, but seriously, it's more than enough for a swimming session. At least we were able to play a 4-on-3 water rugby. ;)
From

L

to

R

: Chee Wei, James, Jimbo, Chi How, Kharil and Nazrin.
We had our lunch at the pool's canteen which is also the vendor itself.
Luckily we got served by a young lady instead of the anrgy-looking guy I mentioned in the previous post.
Jimbo dancing to the tune of the radio.
I got myself a king burger this time and I can say, it is more satisfying than any other burgers they can prepare. Sorry for no pictures of the burger. I ate the burger as soon as it arrives, then Jimbo keep seducing me by singing songs to me.
James ordered Nasi Katok at first, and then, ordered ring donuts.
It seems tasty in the picture, but you can check James' 'review' from this picture below.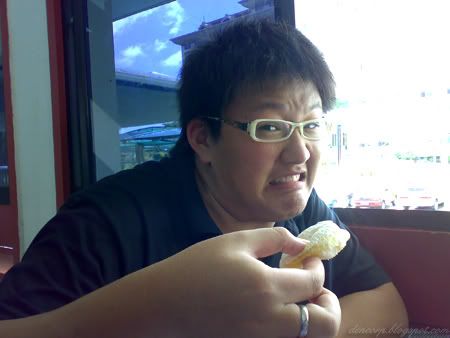 Don't be fooled by his looks, he actually enjoyed the donuts very much.
After we had eaten, some of us applied our sunblocks again because the instructions of the sunblock advised us to use it in every 2 hours.
Jimbo applied some sunblocks on his face too, but then, it made him look like a white demon.
After applying sunblocks for the second time and everything, James happily dived into the pool.
And then, our ball accidentally fell into the deeper side of the pool.
None of us dared to jump down the 4.5m deep pool and even when Jimbo tried to swim in this deeper part of the pool, he have to keep on holding to the ledge at the edge of the pool all the time.
Jimbo's traumatic look after swimming in the 4.5m deep pool.
So what we can do is wait for the ball to flow to the edge and then collect it.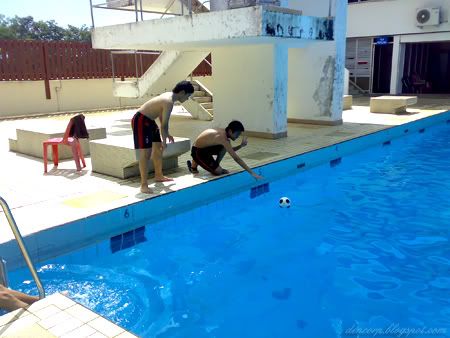 At the same time, James also discovered another area where you can also take a shower.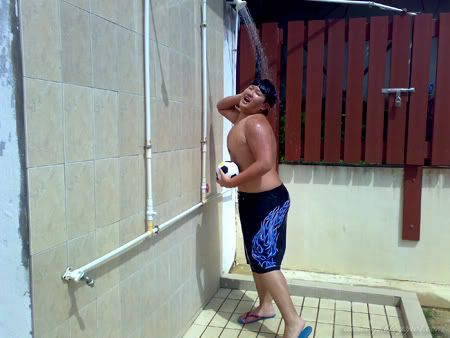 Well, it is of course up to you to either take a shower here or at the changing room, but I would prefer to shower in the changing room.
After we all got tired of swimming, we got out of the pool and went to the changing room to get all washed up in the shower.
And some of us got hyper and danced while having shower.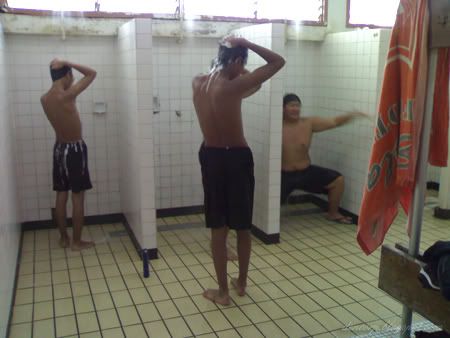 And then I caught Khairil doing this.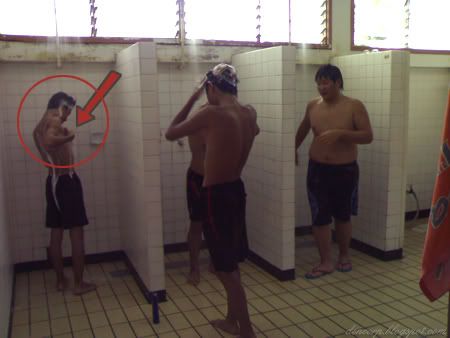 Ooops..
Don't worry, Khairil. It may seem odd, but everything is perfectly normal.
We all have our own secrets too. :p
___________________________________________________________________
:: Posted by DENCORPORATION at
4:00 PM
|
0 comments
Sunday, June 22, 2008
Futsal and Swimming in One Day
Recently, we had a futsal match against some friends of Nazreen at Harun's Gym.
Our team consisted of only Wafi, Nahri, Nazrin, Me, Zul H Faiz, Nazreen, Fathul, Jimbo and Izzat.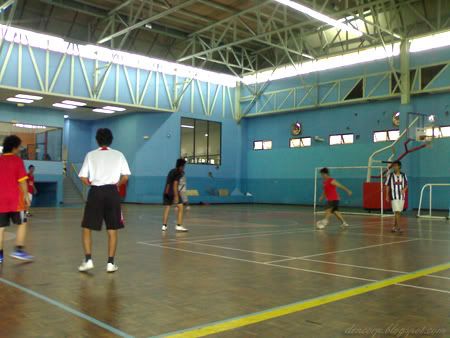 It was a six-a-side match, and we won 13-10, much to our delight.
After the futsal match, we are supposed to go to the National Sports Complex Swimming Pool, but unfortunately, James told us that the National Swimming Pool is closed due to some technical problems, so we had no choice but to change our swimming destination to Anggerek Desa.
Sigh~ How I wish the National Swimming Pool wasn't closed, because the National Swimming Pool can surely kick Anggerek Desa's arse hard anytime in terms of cleanliness and safety.
The reason why I hate Anggerek Desa is mainly because Anggerek Desa has only got one pool.
One pool shared between kids, teenagers, adults, and elderlies!
Okay, I know there is another small pool in Anggerek Desa specially made for the kids, but it doesn't seem like any kids would swim there.
Another reason why I don't like Anggerek Desa is that, they don't sell good foods.
I bought a Chicken Burger with Cheese, a Baby Roti John and a can of 100 Plus Lime from the vendor in Anggerek Desa and I don't feel full and satisfied at all.
What's more, the man from the vendor who served us has an extremely angry-looking face.
Everytime I told him what I want to order, the guy would stare back at me with his angry-looking eyes, and say "Apa?!".
The other bad thing about Anggerek Desa is that there isn't much shelter and the pool is directly under the hot sun.
I've swam here before and I got sunburnt. I swam here yesterday and now I got sunburnt again! Not only me, I bet the rest of the guys who swam yesterday must've suffered as bad as me too!
Apart from all these bad things about Anggerek Desa, there were actually quite a lot of people there yesterday.
We even see girls wearing bikinis! Now that's something we don't see everyday.
None of us were "really" swimming that day, as most of us were merely playing in the pool. We also played rugby in the water using Wafi's futsal ball. It was fun, and not easy to play too especially in the pool.
James trying to be vain.
That day, only me, Nazrin, Wafi, James, Thedoric, Chi How and Edison came. Edison came late whereas Wafi went home early.
The weather turned from good to bad yesterday as the rain fell so suddenly.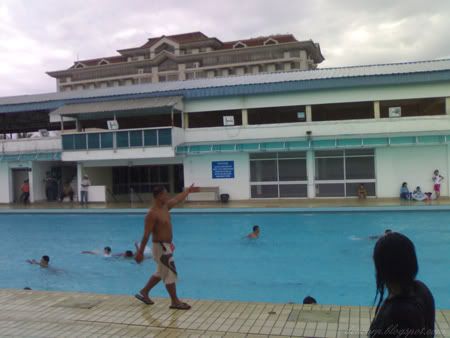 For safety reasons, the lifeguards came and ordered everybody out of the pool.
Jimbo, who hung his sweaty futsal clothes earlier on the chairs provided to dry would then collect his clothes in a less-drier state.
Since the rain has spoiled our mood for swimming, we then opted to go to somewhere to eat.
Since we have already eaten at the swimming pool's vendor earlier, we all then chose to go Orchid Garden Hotel's Goldiana Cafe. The rain has stopped already, by that time.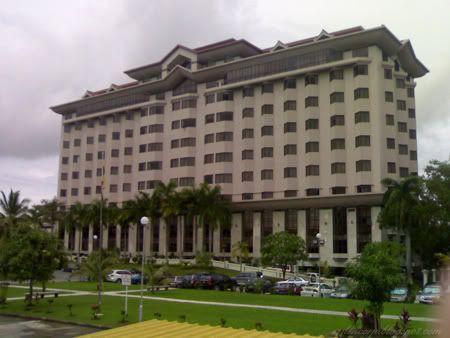 I have been to Orchid Garden Hotel before for some wedding dinners and huge events, but I've never been to Goldiana Cafe before.
As we all stepped into the restaurant, we saw a huge projector screen being held up showing highlights of previous Euro 2008 matches.
I then realised Goldiana Cafe operates until late hours so that hotel guests or customers can come and watch Euro 2008 matches live during this Euro 2008 season.
There are even LCD screens placed on the side of the walls if the projector screen is too far away for you to see.
My first impression of Goldiana Cafe was that everything here seemed so lavish to me. I wasn't really sure at first whether I could pay for the foods here.
At first, we even thought the staffs at Goldiana Cafe might chase us away because we were wearing slippers instead of shoes. I was wearing a sleeveless shirt, a short pants, slippers and carrying a huge bag that time. So does that make me the first one to get chased away?!
There wasn't much people eating by the time we arrive. The only customers at that time are an old English couple presumed to be the hotel guests and another woman sitting next to the English couple.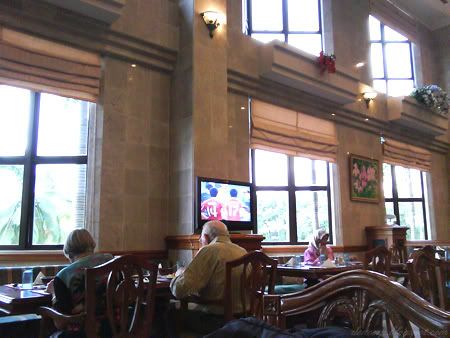 It took us quite a while to look for our seats as there were 7 of us, and only a few of the tables in Goldiana Cafe can accommodate up to 7 of us.
The waitress showed us the menu, and I think we really took our time to order the foods because everything here seems so expensive. At least not in our budget anyway.
We ordered Pizza du Chef for all of us to share, Tiah ordered Assorted Sandwiches for himself and I ordered Spaghetti Bolognaise for myself.
I did not order any drinks to save money. What's more, I still got a bottle of water with me at that time.
I also learned that there will be International Buffet dinner of different styles every night, but sadly, the buffet starts at 6.00pm and neither of us would be staying later than 6pm.
Shortly, our pizza arrived.
For just $9, we get this 8 pieces of pizza so full with cheese. We had a hard time trying to divide the last piece of pizza though, as all of us had our share.
So James volunteered to cut the last piece of pizza into 7 smaller pieces so that everyone can have an exact share of this pizza, while others also tried to help.
Watch the guys trying to cut the last piece of pizza.
So after everyone had their 1 and a half piece of pizza, we then sat down and talked for a bit, after a very tiring day.
The weather turned cold and windy while we're eating. I then called up my dad to pick me up.
Who would've thought the pizza could be this cheesy?
Overall, I think Goldiana Cafe is not a bad place to eat, if you're looking to eat good food at a nice, and quiet environment.
Sure, this place may not be as luxurious than Empire Hotel or Sheraton, but it is still worth a try especially when you're feeling hungry after swimming at Anggerek Desa rather than eating at the vendor itself.
___________________________________________________________________
:: Posted by DENCORPORATION at
7:51 PM
|
0 comments
Friday, June 20, 2008
Seria the Oil Town
I had a small family trip to Miri last Tuesday, but before that, we stopped at Seria before embarking our journey to Miri.
The journey started as early as 6.00am, and whenever we had a long journey like this, it is always advisable to stop somewhere, have a rest, and continue the journey.
Seria is an old town which has been developing over the years. It is the heart of the oil industry in Brunei.
So basically, if it's not for Seria, there wouldn't be any free education in Brunei and studying in MD wouldn't be this cheap either.
UNI Arcade in Seria.
For me, the best part of this whole journey to Miri has to be eating at Seria's foodcourt.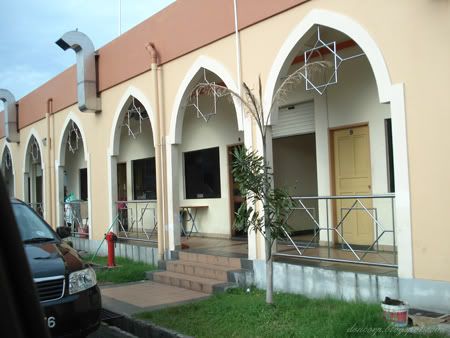 The foodcourt here is quite new, and surprisingly, there are even stalls selling non-halal foods here! So basically, the food court is divided into 2 sections, halal foods on one side, and non-halal foods on the other side.
As soon as I stepped into this food court, I felt that everything here are very different from the food courts we have at Brunei-Muara District.
For instance, the food courts in Brunei have stalls named 'Excellent Taste', 'Jollibee', 'Machi Eating House', 'Singapore Chicken Rice' and so on.
But in Seria, you get food stalls named after their boss.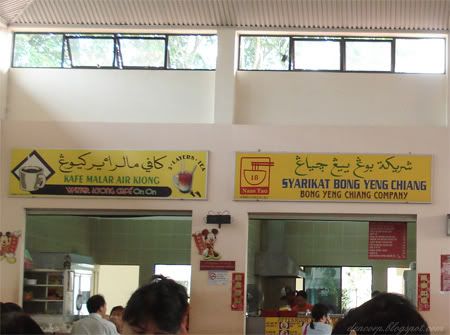 Kafe Malar Air Kiong. Syarikat Bong Yeng Chiang.
Gerai Makan Wong. Restoran Liza Ana.
Gerai Makanan Phang Bun Hin.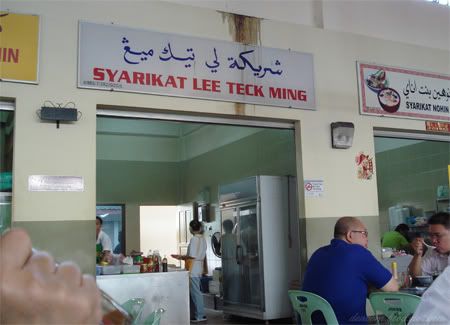 Syarikat Lee Teck Ming,
and so on!
So, what if the boss has a funny name?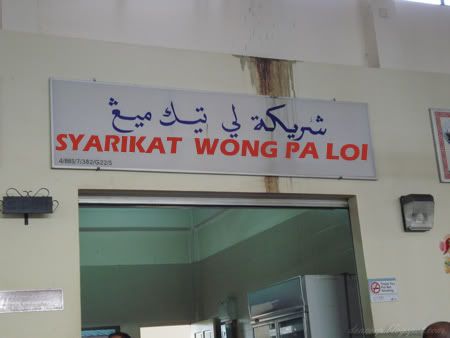 Ever heard of the name 'Wong Pa Loi'?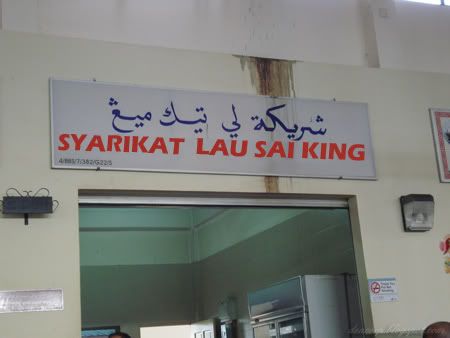 How bout 'Lau Sai King'?
Ok, maybe I went a bit too far.
But if you ever get the chance of eating in this foodcourt, there's a stall called 'Syarikat Lee Teck Ming' which you definitely have to try, at least IF you've never eaten here anyway.
Don't be fool by the stall's name, the stall here serves Fried Kuay Teow, which the taste is so unique that I'll always have to ask the waitress to give me a bigger portion aka "kuay teow tambah".
Sadly, this kuay teow is not from the halal section, therefore my Muslim friends are unable to give it a try.
Dubbed by people as "Seria Kuay Teow", restaurants all over Brunei has been trying to mimic the fried kuay teow served here because it tastes so nice that you won't be able to find any stalls selling kuay teow as tasty as this outside of Brunei.
Yes, for me, the recipes are worth dying for.
I admit I'm not a kuay teow lover. In fact, I hated it. But when it comes to this stalls Fried Kuay Teow, nothing can stop me from eating it.
The bad thing about eating here is, the waitress begin to serve you as soon as you arrive, even before you can find a place to sit!
The other bad thing about eating here is, there's no toilet.
Unfortunately for me, I suddenly had this little stomachache while waiting for my kuay teow to arrive, and I was told by one of the waitresses that the nearest toilet is located at the plaza building next to the food court!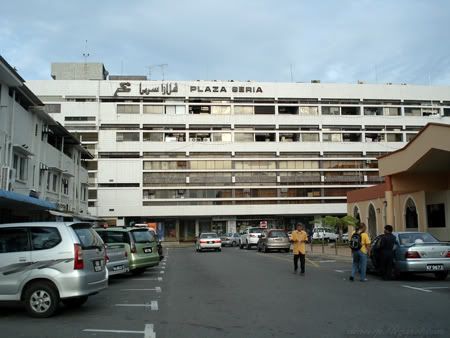 Because the time is still so early, none of the shops in the plaza were open. Every entry to the plaza are being locked down by the gates.
So, I had no choice but to 'tahan' my stomachache, finish my kuay teow, and then go to some public toilets nearby.
After paying $0.20 and had a good time releasing toxins in the public toilets, I then saw this.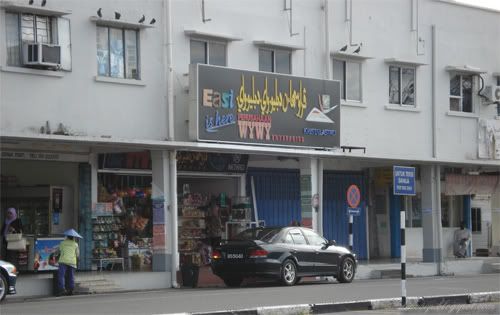 WYWY Enterprise operating as a small
kedai runcit
!
WYWY stores in Brunei sells "
high-tech gadgets
" now, but the WYWY in Seria serves as a
kedai runcit
.
Hmm.. I won't be surprised if there's a kedai runcit named "
Dee Jay Enterprise
" or "
QQeKediaRuncit
" in Seria.
___________________________________________________________________
:: Posted by DENCORPORATION at
1:43 PM
|
2 comments