Friday, July 25, 2008
Pasar Malam Nights
A while ago, I went to the capital.
His Majesty The Sultan's birthday is no doubt one of the biggest 'festival' in Brunei, and it is during these festivals that the pasar malam is set up.
There are a lot of huge banners from different companies around, all expressing their well-wishes to His Majesty. The capital is now also brightly decorated with colorful neon lights, and at some point, I even thought I was at Las Vegas, but then I came back to reality and realised that this is Brunei and there will never be any casinoes here. :(
There are obviously lots of people coming to the capital during these nights.
Despite the heavy traffic and thunderstorms these days, there are still lots of people who didn't fail to make the trip to Bandar.
I myself had been to the pasar malam at least 3 times already since its opening day, each occasions with different people.
It's nice to see so many locals coming to Bandar every night to gather and celebrate this event. This market may not have a wide range of stuff for you to choose from, but if you like market foods like satay, then this pasar malam is definitely a trip not to be missed.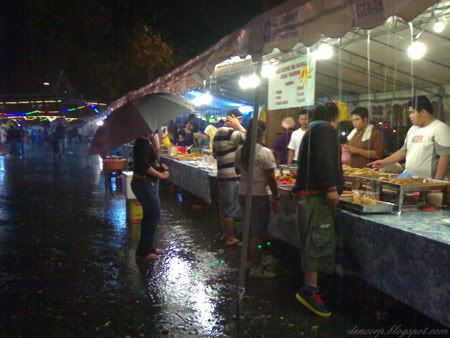 Things here are definitely not expensive, and the price are not too easy to negotiate either. In fact, I don't think you even need to ask for a bargain if you ever need to buy something here.
The market is small, and extends from the big parking space in front of Sheraton Utama to the little road next to Taman SOAS.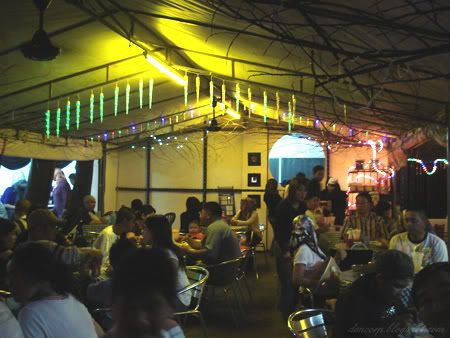 The main idea of coming to this market is to find something to eat, and I've been to one of the 'restaurants' in the market on the first day the market opened. Tell you what, the restaurants here are not so different from the real restaurants outside the market.
Because these restaurants are operated under camps, they earned a lot especially on rainy days.
Why?
Most likely, 'shoppers' who wanted to avoid the rain would come to these 'restaurants' for shelter, and then eventually order some food. I guess no one would be so thick-skinned to actually walk into these restaurants and get some shelter without ordering any foods, right?
Ok lah, there are actually some 'leakings' inside the restaurant. Part of the ground are flooded, which isn't good at all. But I didn't get wet.
Other than that, you would have to buy yourself an umbrella, which I did, and also explains why the umbrella business is doing pretty good.
Back to the foods, a plate of lamb chop rice will cost you $5 here, but the restaurant is so generous, the lamb chops they give are huuge.
Now that's something worth paying for, but I'm not so sure about the taste.
Anyway, I won't recommend eating at these restaurants. I reckon the stall foods are much much better, and yet, they're cheap!
You can buy yourself some crepes..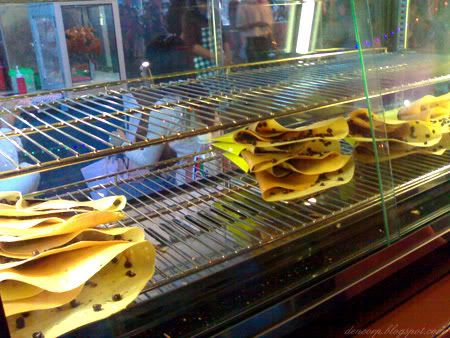 Some fishballs or sotong balls for $1..
Some fresh sugar cane drinks for $1 too..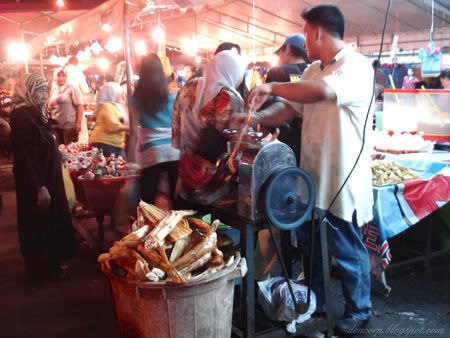 And some 'hammered sotongs' for $1 also..
In the other sections, there are also some weird stuffs for sale.
Bringing a kid here might not be a good idea because they'd want to get their hands on some toys.
There are also some masks on sale!
Halloween in coming in about 3 months time, and maybe these masks may enhance your 'looks' on halloween.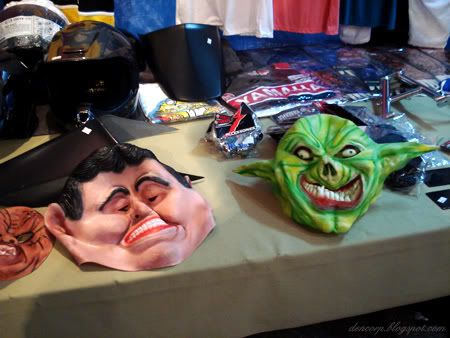 Can anyone please tell me if that's Mr Bean and Grinch? :p
___________________________________________________________________
:: Posted by DENCORPORATION at
7:21 PM
|
<< Home