Thursday, June 26, 2008
Swimming Chronicles
I guess most of you must have probably felt sick and tired about reading entries of me going to swimming with some friends of mine already so this might be one of the last entry about me going to swimming, okay?
Barely just recovered from sunburns days ago, Chi How and Jimbo have been craving about going to swimming again!
So since I've not suffered that bad from my previous sunburn, I decided to join them.
We first met at the stadium's swimming pool. Me and Nazrin were the first to arrive. Then came Chi How. And then, James. And finally, Chee Wei.
As we were about to pay the $2 fee and enter, we were told by one of the female attendant that we can only swim at the pools which were at least 2m to 5m deep and that the swimming pool which were much shallower (0.5m - 2.0m) were closed due to technical problems.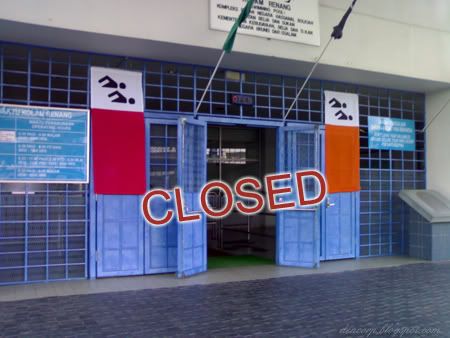 Of course we felt upset. James did not have any problems swimming at the deeper pool, but some of us were hesitant, especially me.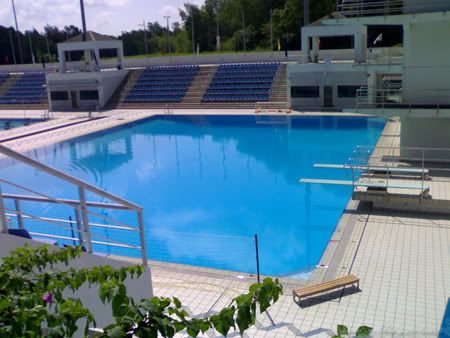 Stadium's pool, at least 5m deep.
Because I am so
noob
in swimming, swimming in deeper pools are too risky for me, so I strongly suggest we walk to the Anggerek Desa swimming pool which is just near by.
I'm already feeling so lazy to have to walk to Anggerek Desa. What's more, the weather is damn hot, ok?!
Since the stadium's swimming pool is closed, there must be a lot of people at Anggerek Desa.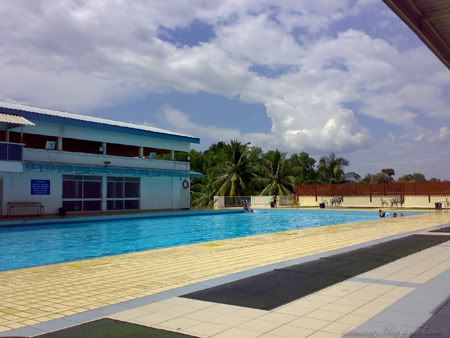 Actually not so many people..
So the first thing we did after paying the $1 fee at Anggerek Desa is to go to the changing room, apply sunblocks and change into our swimming outfit.
Guys applying sunblock may seem feminine to you guys, but hey, preventing another sunburn from happening is still better than having to cure it.
Something actually did not feel quite right at the changing room. As Nazrin was about to wash his hands at the sink, he saw something extremely disgusting at the trash bin.
My god, what is that, you tell me!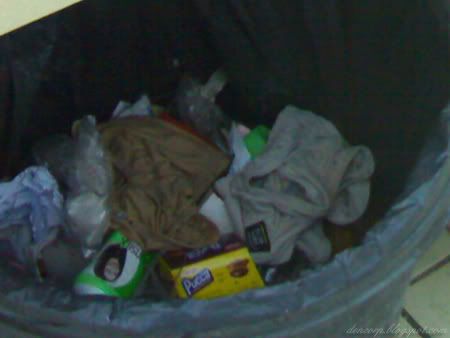 That is not just one, but two underwears, allegedly thrown by someone who doesn't want it anymore!
It might have been better if those were designer brand underwears but they're not, and they are obviously an eyesore! I'm sorry if you were eating or having your meal while reading this, hopefully you don't puke everything out onto your monitor. :)
Anyways, apart from that unwanted underwear, everything seems fine yesterday.
Too bad they weren't any girls wearing bikinis yesterday, instead, most of the girls who went swimming yesterday actually wore normal t shirts and pants. Some of them even wore jeans! That is just... plain.. hardcore.
And then I saw this kid.
'WOW!' is my immediate reaction after seeing this kid! I suppose that is just one of the grandsons of the Michelin tyres' mascot! Can you actually count the number of fat layers?!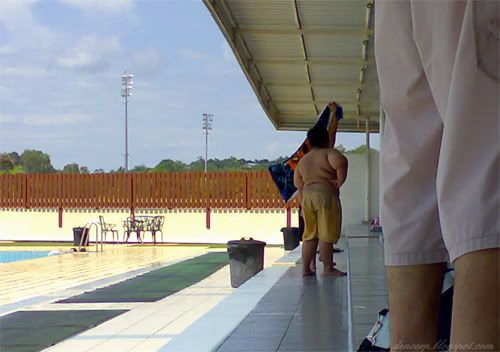 You might think he had too much Big Mac from McD but I reckon he had too much Ayamku Spring from Ayamku, don't you think so? :p
Later, Khairil and Jimbo came, and that's it. Our party yesterday consisted of only me, Nazrin, Chi How, James, Chee Wei, Khairil and Jimbo. It's not much for a gathering between friends, but seriously, it's more than enough for a swimming session. At least we were able to play a 4-on-3 water rugby. ;)
From

L

to

R

: Chee Wei, James, Jimbo, Chi How, Kharil and Nazrin.
We had our lunch at the pool's canteen which is also the vendor itself.
Luckily we got served by a young lady instead of the anrgy-looking guy I mentioned in the previous post.
Jimbo dancing to the tune of the radio.
I got myself a king burger this time and I can say, it is more satisfying than any other burgers they can prepare. Sorry for no pictures of the burger. I ate the burger as soon as it arrives, then Jimbo keep seducing me by singing songs to me.
James ordered Nasi Katok at first, and then, ordered ring donuts.
It seems tasty in the picture, but you can check James' 'review' from this picture below.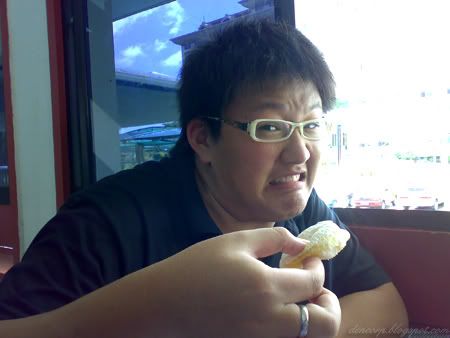 Don't be fooled by his looks, he actually enjoyed the donuts very much.
After we had eaten, some of us applied our sunblocks again because the instructions of the sunblock advised us to use it in every 2 hours.
Jimbo applied some sunblocks on his face too, but then, it made him look like a white demon.
After applying sunblocks for the second time and everything, James happily dived into the pool.
And then, our ball accidentally fell into the deeper side of the pool.
None of us dared to jump down the 4.5m deep pool and even when Jimbo tried to swim in this deeper part of the pool, he have to keep on holding to the ledge at the edge of the pool all the time.
Jimbo's traumatic look after swimming in the 4.5m deep pool.
So what we can do is wait for the ball to flow to the edge and then collect it.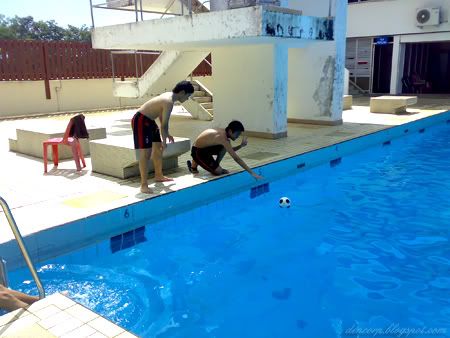 At the same time, James also discovered another area where you can also take a shower.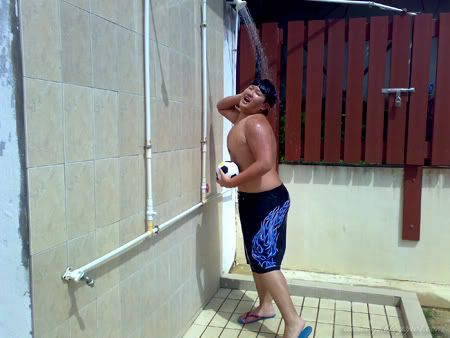 Well, it is of course up to you to either take a shower here or at the changing room, but I would prefer to shower in the changing room.
After we all got tired of swimming, we got out of the pool and went to the changing room to get all washed up in the shower.
And some of us got hyper and danced while having shower.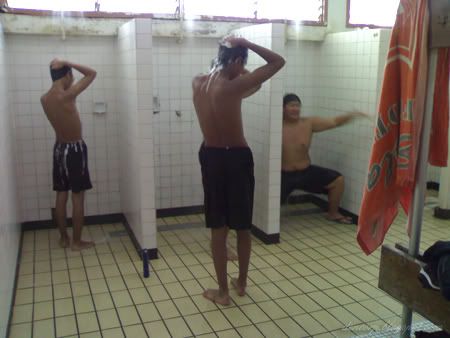 And then I caught Khairil doing this.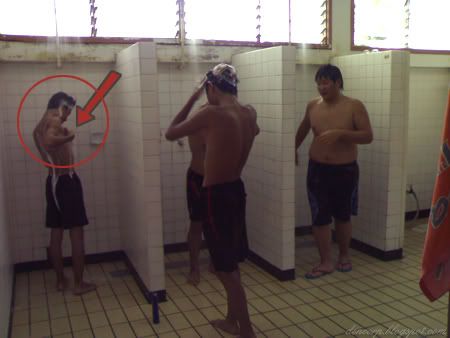 Ooops..
Don't worry, Khairil. It may seem odd, but everything is perfectly normal.
We all have our own secrets too. :p
___________________________________________________________________
:: Posted by DENCORPORATION at
4:00 PM
|
<< Home