Sunday, June 22, 2008
Futsal and Swimming in One Day
Recently, we had a futsal match against some friends of Nazreen at Harun's Gym.
Our team consisted of only Wafi, Nahri, Nazrin, Me, Zul H Faiz, Nazreen, Fathul, Jimbo and Izzat.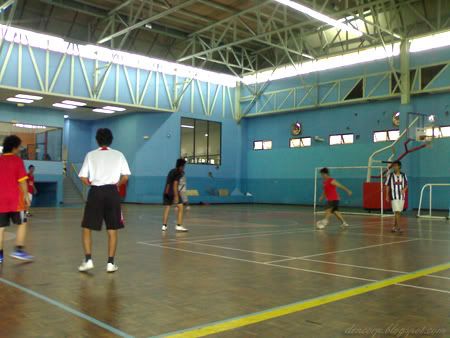 It was a six-a-side match, and we won 13-10, much to our delight.
After the futsal match, we are supposed to go to the National Sports Complex Swimming Pool, but unfortunately, James told us that the National Swimming Pool is closed due to some technical problems, so we had no choice but to change our swimming destination to Anggerek Desa.
Sigh~ How I wish the National Swimming Pool wasn't closed, because the National Swimming Pool can surely kick Anggerek Desa's arse hard anytime in terms of cleanliness and safety.
The reason why I hate Anggerek Desa is mainly because Anggerek Desa has only got one pool.
One pool shared between kids, teenagers, adults, and elderlies!
Okay, I know there is another small pool in Anggerek Desa specially made for the kids, but it doesn't seem like any kids would swim there.
Another reason why I don't like Anggerek Desa is that, they don't sell good foods.
I bought a Chicken Burger with Cheese, a Baby Roti John and a can of 100 Plus Lime from the vendor in Anggerek Desa and I don't feel full and satisfied at all.
What's more, the man from the vendor who served us has an extremely angry-looking face.
Everytime I told him what I want to order, the guy would stare back at me with his angry-looking eyes, and say "Apa?!".
The other bad thing about Anggerek Desa is that there isn't much shelter and the pool is directly under the hot sun.
I've swam here before and I got sunburnt. I swam here yesterday and now I got sunburnt again! Not only me, I bet the rest of the guys who swam yesterday must've suffered as bad as me too!
Apart from all these bad things about Anggerek Desa, there were actually quite a lot of people there yesterday.
We even see girls wearing bikinis! Now that's something we don't see everyday.
None of us were "really" swimming that day, as most of us were merely playing in the pool. We also played rugby in the water using Wafi's futsal ball. It was fun, and not easy to play too especially in the pool.
James trying to be vain.
That day, only me, Nazrin, Wafi, James, Thedoric, Chi How and Edison came. Edison came late whereas Wafi went home early.
The weather turned from good to bad yesterday as the rain fell so suddenly.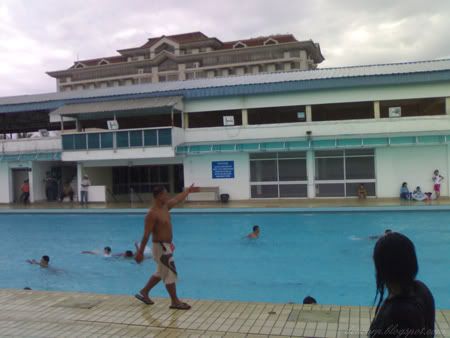 For safety reasons, the lifeguards came and ordered everybody out of the pool.
Jimbo, who hung his sweaty futsal clothes earlier on the chairs provided to dry would then collect his clothes in a less-drier state.
Since the rain has spoiled our mood for swimming, we then opted to go to somewhere to eat.
Since we have already eaten at the swimming pool's vendor earlier, we all then chose to go Orchid Garden Hotel's Goldiana Cafe. The rain has stopped already, by that time.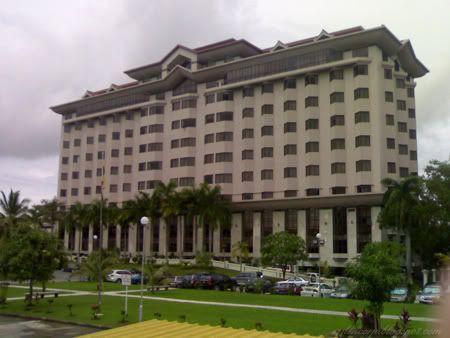 I have been to Orchid Garden Hotel before for some wedding dinners and huge events, but I've never been to Goldiana Cafe before.
As we all stepped into the restaurant, we saw a huge projector screen being held up showing highlights of previous Euro 2008 matches.
I then realised Goldiana Cafe operates until late hours so that hotel guests or customers can come and watch Euro 2008 matches live during this Euro 2008 season.
There are even LCD screens placed on the side of the walls if the projector screen is too far away for you to see.
My first impression of Goldiana Cafe was that everything here seemed so lavish to me. I wasn't really sure at first whether I could pay for the foods here.
At first, we even thought the staffs at Goldiana Cafe might chase us away because we were wearing slippers instead of shoes. I was wearing a sleeveless shirt, a short pants, slippers and carrying a huge bag that time. So does that make me the first one to get chased away?!
There wasn't much people eating by the time we arrive. The only customers at that time are an old English couple presumed to be the hotel guests and another woman sitting next to the English couple.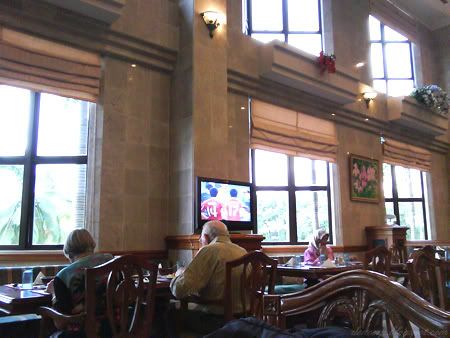 It took us quite a while to look for our seats as there were 7 of us, and only a few of the tables in Goldiana Cafe can accommodate up to 7 of us.
The waitress showed us the menu, and I think we really took our time to order the foods because everything here seems so expensive. At least not in our budget anyway.
We ordered Pizza du Chef for all of us to share, Tiah ordered Assorted Sandwiches for himself and I ordered Spaghetti Bolognaise for myself.
I did not order any drinks to save money. What's more, I still got a bottle of water with me at that time.
I also learned that there will be International Buffet dinner of different styles every night, but sadly, the buffet starts at 6.00pm and neither of us would be staying later than 6pm.
Shortly, our pizza arrived.
For just $9, we get this 8 pieces of pizza so full with cheese. We had a hard time trying to divide the last piece of pizza though, as all of us had our share.
So James volunteered to cut the last piece of pizza into 7 smaller pieces so that everyone can have an exact share of this pizza, while others also tried to help.
Watch the guys trying to cut the last piece of pizza.
So after everyone had their 1 and a half piece of pizza, we then sat down and talked for a bit, after a very tiring day.
The weather turned cold and windy while we're eating. I then called up my dad to pick me up.
Who would've thought the pizza could be this cheesy?
Overall, I think Goldiana Cafe is not a bad place to eat, if you're looking to eat good food at a nice, and quiet environment.
Sure, this place may not be as luxurious than Empire Hotel or Sheraton, but it is still worth a try especially when you're feeling hungry after swimming at Anggerek Desa rather than eating at the vendor itself.
___________________________________________________________________
:: Posted by DENCORPORATION at
7:51 PM
|
<< Home