Friday, May 21, 2010
Liquered Flavoured Chocolate
Anyone up for chocolates lately?
Well, one day, I was walking around at a popular supermarket in Gadong. Then I thought of buying chocolates as snacks.
So basically I just went over to the chocolates section.
I've noticed the price of chocolates has increased compared to before! But that's not the point of writing this entry.
As I kept on looking for the bar of chocolate that I want, I saw this!
This, my friend, is a
Liqueur Flavoured Chocolate
.
Doesn't this mean it's alcohol flavoured?
Out of curiosity, I checked the ingredients and I found this!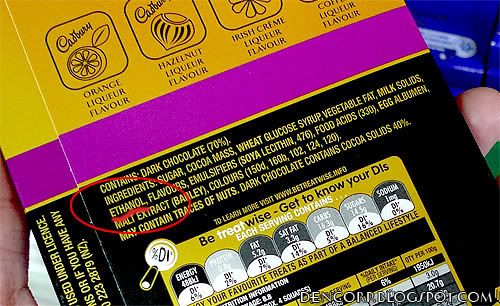 Ethanol!
Just to make sure again, I tried to look for the halal logo.
But it is nowhere to be found!
Other varieties such as the
Peppermint Flavoured Chocolate
has the
Halal
logo printed on it, but not this.
Anyone here willing to volunteer and try out the chocolate to see if it's real alcohol?
___________________________________________________________________
:: Posted by DENCORPORATION at
3:11 PM
|
<< Home