Saturday, December 19, 2009
Crap By The Roadside
Have you ever had this experience of wanting to take a dump on a long car road trip but couldn't find a toilet anywhere near?
Well, as human beings become more and more intelligent nowadays, we now have solutions for almost everything! Yes, that includes taking a dump on a long road trip and you don't even have to find a toilet!
What I'm talking about is a portable yet disposable cardboard lavatory, which is also called the 'Shit Box'.
Because it is made of cardboard, it's incredibly light and can easily be added to camping gear or simply be kept in your car.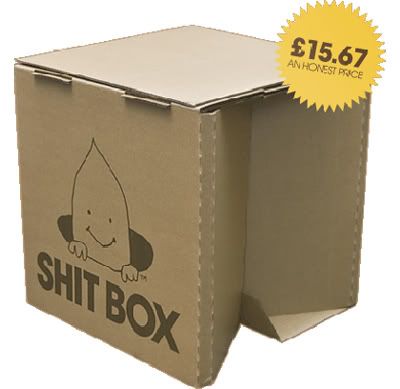 You can fold it up, erect it, and it becomes a lavatory with a seat. Mind you, go easy when you're sitting on it because I think there has got to be a weight-limit.
If you sit on it with full force, you're surely to break the box and eventually you'll find yourself sitting right on your shit.
Not only it can be can be folded back up for more manageable transportation, it is also re-usable!
Yes, re-usable. Sounds like a disgusting idea but nothing to be worry about because the Shit Box comes with customised plastic poo bags, so technically your shit goes into the plastic bag and not the cardboard which means you can just dispose the plastic bags away leaving no shit stains on the box.
At £15.67 (BND35.4296 in today's market), it's definitely not cheap. However, it may be able to save you from crapping in your own pants.
Not sure if it's legal to crap by the roadside in Brunei though, but would you buy it?
___________________________________________________________________
:: Posted by DENCORPORATION at
7:09 PM
|
<< Home