Friday, June 19, 2009
Gwen's Birthday Bash!
So we went to Gwen's potluck BBQ birthday party at her place last Saturday night.
Special thanks to Gary as he took the trouble of having to pick up me, Nazrin, Guan and Thedoric from our houses respectively.
We had trouble trying to locate Gwen's house because we were all so unfamiliar with the roads at her kampong. We eventually made a few wrong turns and ended up in a basketball court up a very tall hill where a group of semi-naked foreign workers were playing basketball and they all looked so fierce.
We didn't bother to ask them for directions because we thought they might challenge us to a game of basketball before they could point us the address to Gwen's house.
We made another few more rounds and finally found the right place. It turns out that we've missed her house initially and went further instead.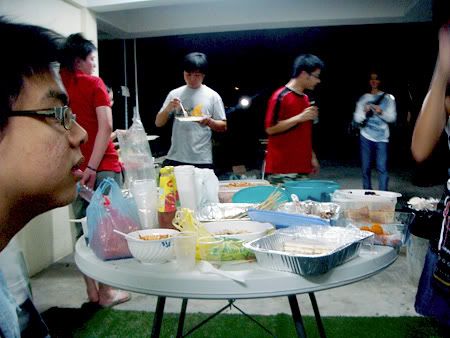 Anyway, as the invitation card had suggested, this is a 'potluck' BBQ party. I had no idea what it meant until Nazrin and Gary told me.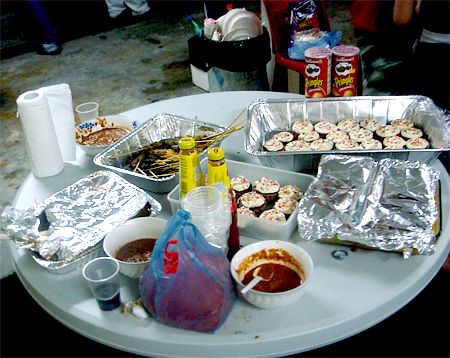 Ironically, everyone except Thedoric brought foods instead of presents whereas Thedoric was the only one who bought present instead of foods.
Nazrin brought sausages, Gary brought fried sotong balls, Guan brought soft drinks and me crab sticks. Very petty of me I know.
Someone more generous brought fried noodles.
Some brought macaronis.
And cupcakes!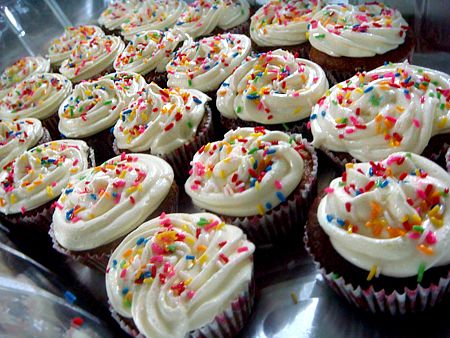 Guan thinks the cupcakes are nice, and so do I. =)
There were people who brought beers and liquors as well. That's not a bad idea. Why didn't I think of that before? =p
Other than us, the attendees include Gwen's brother's friends, maybe a few of her relatives, and her ex-STPRI friends.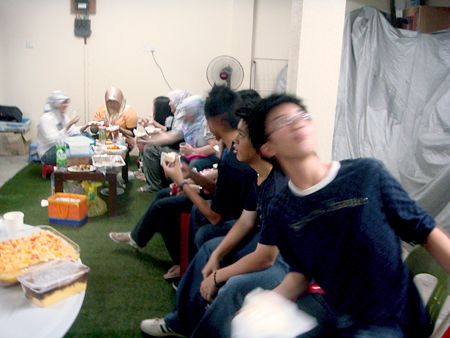 One of Gwen's ex-STPRIan friend brought a very canggih type of Rubik's cube.
And Guan was crazy about it.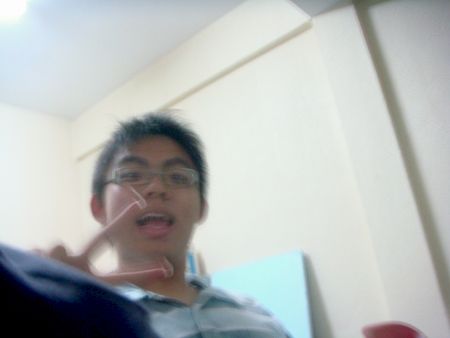 Happy Guan.
After BBQ-ing and eating and so on, of course, it is time to cut the birthday cake.
There should be more candles on cake, don't you think so?
And then, after blowing out the candles from the birthday cake, Gwen popped a bottle of champagne which resulted in some of the guys daring her to finish the remaining quarter of the champagne left.
She was very hesitant to do so.
But with all the "encouragements" from some of the guys, she had no choice but to drink..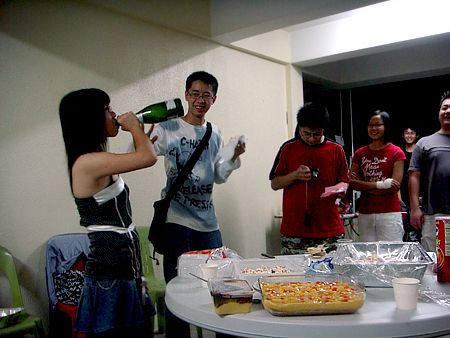 Almost finishing...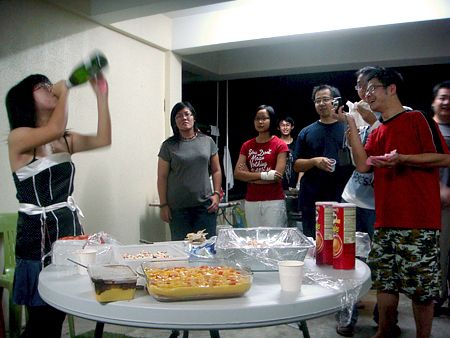 Ta-daa!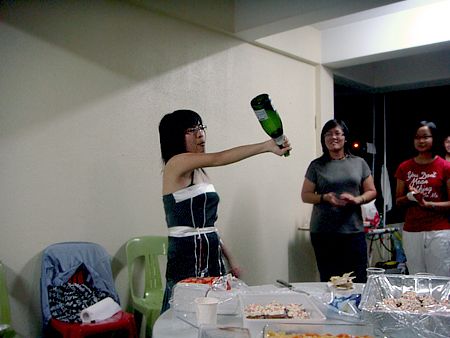 I'm not exactly sure how much wine was left in that champagne bottle because Gwen did not show any signs of drunkenness.
Turns out, Nazrin is the one who became drunk.
Just kidding. Nazrin is a good Muslim and doesn't drink.
On the same night, we've made friend with a guy named Jason.
He's our senior in MD last year and if I'm not mistaken, I think I've met him at Andrew's birthday party last year.
He may look like a decent bookworm who remembers every line from the biology textbook, but on that night, that guy's half-drunk from downing a considerable amount of vodka!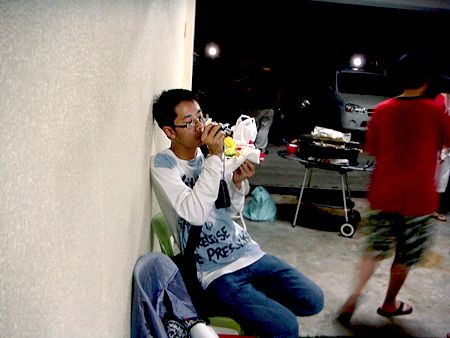 What is he doing??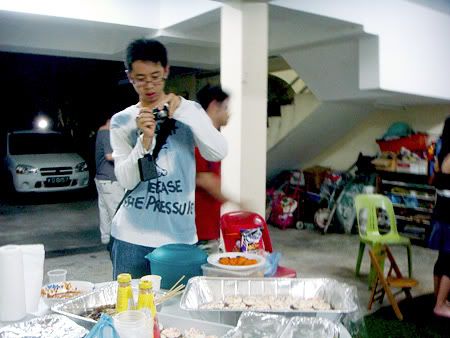 Armed with his digital camera, it is without a doubt that he took the most pictures that night.
Photography so cool, he actually made the foods do a million poses.
And throughout the night, he keeps doing the "peace" sign.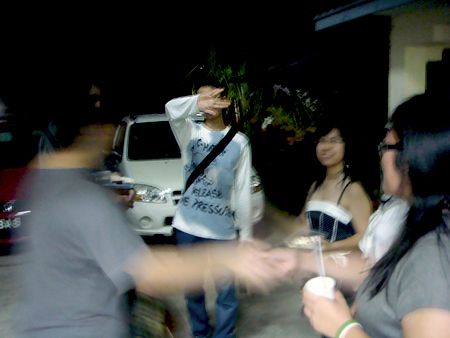 To be honest, I never knew that's the 'peace' sign.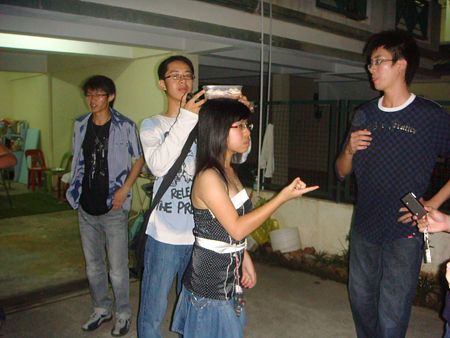 He tried to balance the cupcakes on Gwen's head as well.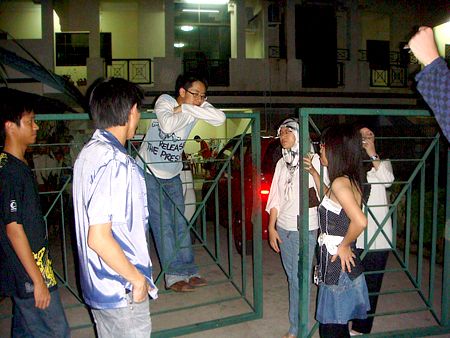 And then he became sleepy as we all prepare to go home..
Moral of the story: Do not get too drunk in a party. ;)
___________________________________________________________________
:: Posted by DENCORPORATION at
11:36 AM
|
<< Home