Saturday, May 23, 2009
Gary Rescues Cats From Captivity
Coming back to school after having lunch at Gadong this afternoon with Guan and Gary, we saw two poor little kittens by the dining hall's corridor.
Attached to plastic chairs, metal wires were tied onto their necks respectively, taking away freedom completely from these two poor little kittens.
When I walk past through that dirty little corridor at first, I did not even notice these two kittens.
It was Gary who became the first to react, that is when I heard him saying "Oh shit..!"
When I then looked at the cats, the cats were meowing in the most pitiful way ever that even no words in the Oxford dictionary can reflect how they felt.
Around the cats were just some plastic baskets, used food containers with some leftover rice, rubbish bin cover, an old monitor and etc.
Gary said, "Should we free them?" looked around, and then proceeded to make a brave decision to set the kittens free!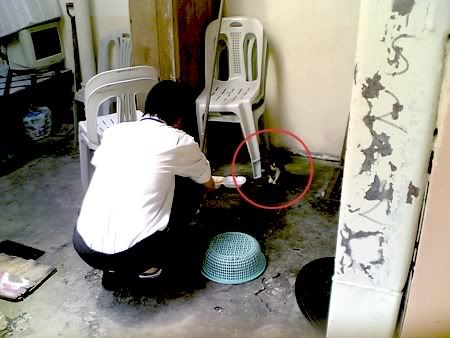 At the same time, I was also trying to be cautious, as I tried to keep an eye out for Gary.
This is done so that at least we can prevent the person who did this from running out of nowhere to come and hantam us.
One of them got freed, and tries to flee!
The second one got freed a short while later too.
It was amazing. I felt so happy for the kittens. It made Gary looked like Gandhi.
The kittens seem to be unable to run far though. Now I'm starting to worry for them. Will the guy who did this return and catch them back again? They were all so fragile.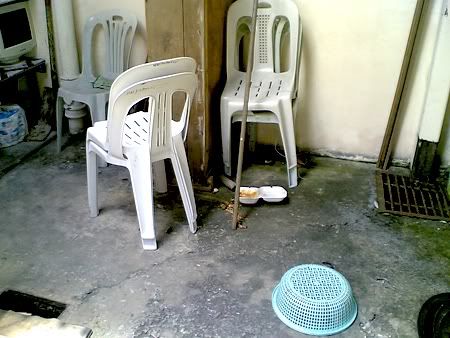 Now the big question is.. who's so stooooopid to tie the cats up?
Guan suggested that the school cleaners were the culprit, but I beg to differ because I'm 100% sure it's Guan who did it! I should've known! The hostellites got nothing better to do!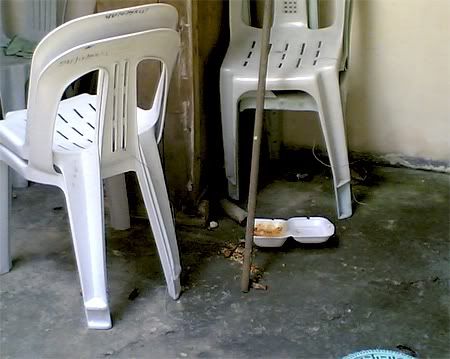 Nah.. Just kidding. So who? Any idea?
___________________________________________________________________
:: Posted by DENCORPORATION at
5:50 PM
|
<< Home