Monday, April 20, 2009
Night At Jerudong Park!
Kevin recently came to Brunei several weeks ago, and hasn't seen a lot out of Brunei yet.
If you're wondering who's Kevin, he is the cousin of Gary and Billy who came all the way from Canada.
So last Saturday night, me, Nazrin, Gary, Billy, Renzo and Huzai brought Kevin to Jerudong Park.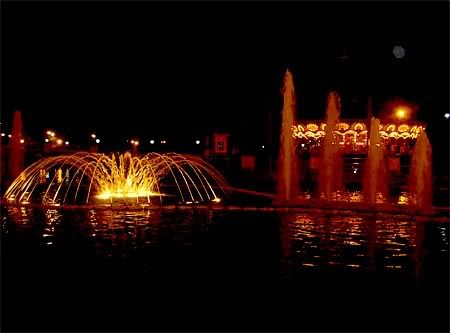 Before I continue this post, I'd like to thank Gary (and maybe Nazrin) for making this trip possible for me.
And had it not been for Renzo, we probably wouldn't even make it to Jerudong Park as the rest of us doesn't seem to recall the way.
He's the only one among us who knows the road, where the parking area is, where to buy the coupons, where the bumper car rides are and so on. And I guess he's not called 'The Man Who Knows Everything' for nothing.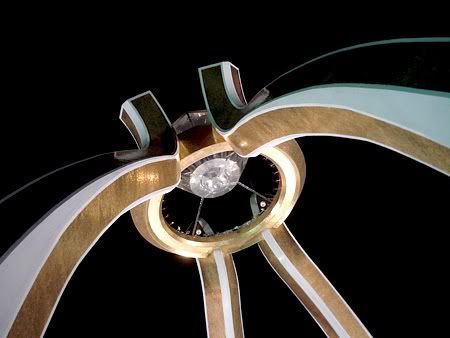 The entrance and parking fee is quite costly, and comes at $1 per person and vehicle. To buy coupons for access to all rides comes at another price of $5 per person.
We only bought 3 tickets, good enough for all of us to share.
We first saw a bench, surrounded by 2 life-sized horse sculptures, and decided to take group photos before continuing our journey.
[From top-left clockwise: Billy, Kevin, Gary, Me (Desmond), Nazrin and Huzai.]
Looking at the above picture, you must be wondering where's Renzo???
[From center: Lorenzo.]
Well, he took the picture too of course. Solo picture. Hehs.
Our first ride of the night was the merry-go-round.
I feel this is perhaps the most beautiful ride for the night because of its 'Venetian Gothic' style.
As I observed, the variety of mounts include horses, zebras, goats, lions, carriages, hares and even chickens!
With only 3 coupons, Renzo, Kevin and Gary took the carousel ride.
Renzo happens to be the one who enjoyed the carousel the most, whereas Kevin seems unfazed by all these circus music.
After a few minutes hopping onto the ride, a couple of kids came and began to laugh at Gary, Renzo and Kevin. The ride was so long, I think it probably took over 5 minutes long.
We then wandered off the area after the merry-go-round till we reached the playground.
I really miss the old times.
When I was kid, I couldn't even climb the net. Now that I've grown, it's different.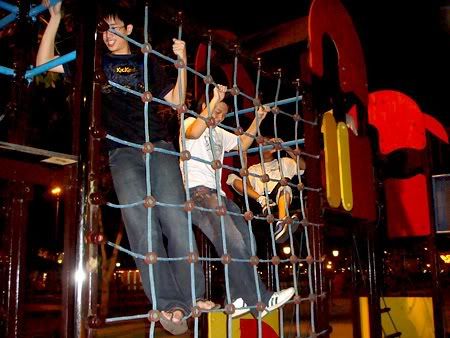 Me, Huzai, Renzo, Gary and Nazrin are the ones who really enjoyed playing in here. I know it sounds childish, but we couldn't help it.
And then, we played the swing.
Lorenzo is crazy.
When I was sitting at the swing, he pushed me with full force.
It was horrifying that the swing could flip 720 degrees and that I would fly out of the swing at any time.
Lorenzo prior to push me with full force.
Gary with 2/3 of the DENcorps.
What is Huzai doing?
This is how Gary would look like with a red helmet.
Renzo and Huzai sliding down a spiral slide.
Replica Triceratops.
Someone that night kept on insisting that the triceratops are rhinoceroses instead of triceratops but I couldn't remember who it was.
And then this is when Renzo refused to take a group picture with the triceratops, whereas Billy was the one who took the picture. Could it be that Renzo's afraid of the triceratops?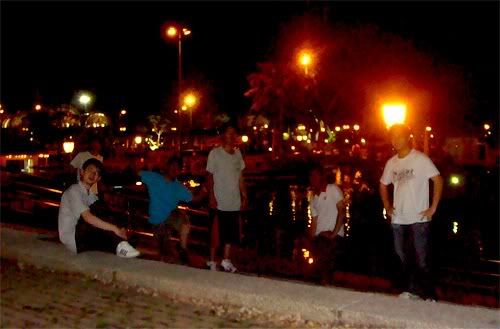 Trying to pose for a boy-band album cover but the light spoiled everything.
I used to avoid playing 'Dead Man's Cove' because of the shooting water. We didn't play this maybe because we're more interested in playing the bumper cars.
After deciding which 3 of us would play the bumper car, we immediately head to the queue.
This time, I finally get to play.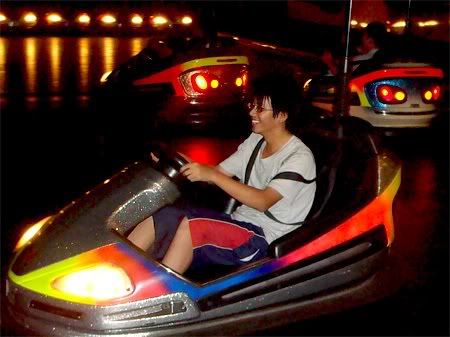 Billy, who keeps on 'bumping' my car whenever he can. So most of the time, I was avoiding him.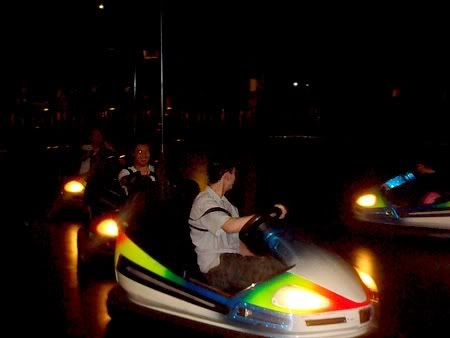 Kevin, also tried to bump my car several times.
There is not much to say about the bumper car as I'm sure most of you have played it at least once.
But one thing's for sure, the steering wheel stinks.
The dark and spooky pirate cove. Gary said he used to be very scared of this.
Open air dome in which echoes can be heard whenever silence is broken.
We tried to find the Go Kart track, and we only found it after we asked some personnels who were at the gate of the park.
It turns out that the Go Kart track is at the other side of the park, just across the road.
There were quite a number of people and we have to wait, of course.
Renzo, Huzai and Kevin in real helmets.
Renzo looks remarkably like someone in this picture, but I couldn't tell. Any suggestion?
Renzo in action!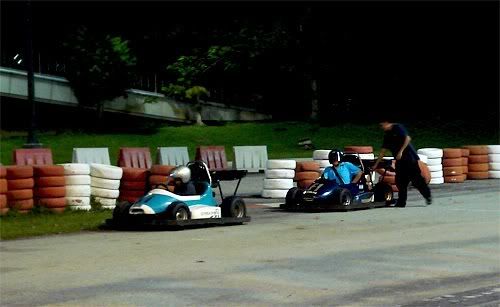 But only after several laps, the round ended for him, and it's time for some supper.
Gary insisted on looking for stalls selling satays, which we found one at the Jerudong Park food court itself.
But turns out, the satays doesn't seem to be that tasty and some of us went to buy Tong Kengs instead.
Potential Food-Hungry Model - Take #1.
Potential Food-Hungry Model - Take #2.
Potential Food-Hungry Model - Take #3!
So all and all, perhaps the happiest person of the night wasn't Kevin.
It was Renzo.
Agree?
___________________________________________________________________
:: Posted by DENCORPORATION at
10:11 PM
|
<< Home