Thursday, April 9, 2009
Disco-Disco Came To Disco.
I should have known.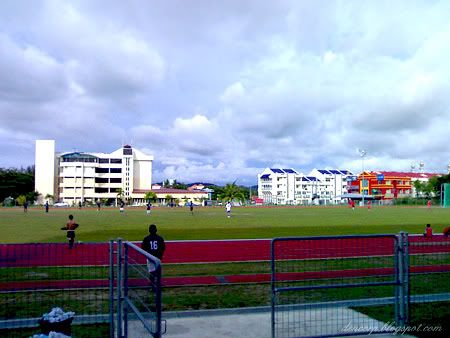 Yesterday's football game between
Inter MD United
and
Disco-Disco
was so hard to predict.
I actually thought the team Disco Disco are newbies, doesn't play football regularly and only knows how to disco. In short, I totally under-estimated them.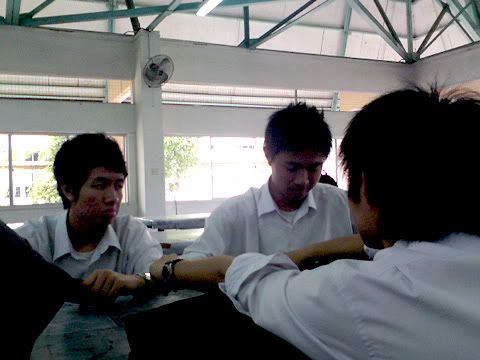 Ayman, Nazrin and Andy talking strategy before the game.
The result was
Inter MD United 1 - 2 Disco Disco
.
We were trailing at first, but we got the equaliser to make it 1-1 at half-time courtesy of an own goal.
It was a tiring game for us. A number of our players wanted to be substituted out even before the half-time whistle.
In the middle of the second-half, I was substituted in to the field, replacing Ayman T.
But shortly after I was substituted in, we conceded another goal. We were so careless. (Not referring to you ah, Vami)
I was standing right there,witnessed the ball going into the back of the net right in front of my eyes. Some claimed it was a hand-ball, but the scoreline remained the same.
We lost with dissatisfaction of course, but I think we need more training. We didn't even train before the game.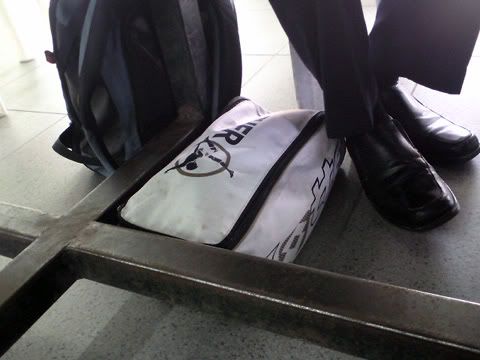 ZulHF's footballing equipment.
Therefore, I hereby propose to have a friendly game with Blitz FC. What do you guys think?
By the way, please bear in mind we do have to prepare ourselves for the next few games:
15th April 2009: Inter MD United vs HB FC
29th April 2009: Inter MD United vs Sportivo
5th May 2000: Inter MD United vs MD Galaxy
~~~

P/S:
What a day it must be for ZulHF to have both his team and beloved team, Liverpool lost on the same day.
This must be his expression for not just one day but the whole week. =P
___________________________________________________________________
:: Posted by DENCORPORATION at
3:48 PM
|
<< Home