Friday, February 20, 2009
Kedewasaan Bernegara
The theme for this year's National Day Silver Jubilee celebrations is "Kedewasaan Bernegara", and it'll be held at the National Stadium.
Many may have thought the National Day should have been celebrated at Taman Sultan Omar Ali Saifuddien at the capital every year but it is not.
"What's so special about the National Stadium anyway?", one may ask.
In case you don't know, the first National Day of Brunei Darussalam on February 23, 1984, was actually celebrated at the Hassanal Bolkiah National Stadium.
More than 25 years ago, the National Stadium was a newly built iconic structure and is also considered as the most modern in the region.
Students and youths performed their displays on the field in front of the huge crowd at the Stadium. There were more than 10,000 students holding coloured umbrellas and flip cards to display various slogans.
Like what I did 3 years ago when I was in Form 4.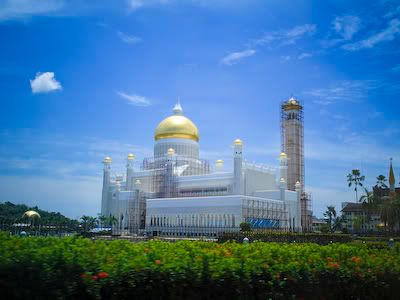 The first national day was marked with 1,984 balloons and 1,404 pigeons being released to mark both the Common Era and Hijra calendars. The first few National Days were held at the stadium before the celebrations were moved to the Taman Sultan Omar Ali Saifuddien at the capital.
The Stadium also witnessed Brunei Darussalam successfully hosting the 20th SEA Games in 1999. The stadium also saw many Malaysia Cup matches being played on its field since 1984 with the greatest crowds during the run up to Brunei Darussalam winning its first ever Malaysia Cup also in 1999.
Besides, English football team Sheffield United has played here before!
Not only that, it is also the home stadium of local football team, DPMM FC, who will play host to Singaporean football team Super Reds on 5th March when they make their debut in the S. League this year.
Brunei Darussalam's Silver Jubilee Anniversary for the National Day will be celebrated at the Hassanal Bolkiah National Stadium on 23rd February 2009.
So, be sure to watch RTB to catch the events on that day!
___________________________________________________________________
:: Posted by DENCORPORATION at
2:27 PM
|
<< Home