Thursday, December 18, 2008
Road Trip To KK
I'm now back from my family trip to KK and I now still feel a bit tired and dizzy from the trip.
The trip was pretty alright actually. The sights and surroundings on the way to KK is awesome.
For people who drives fast, it would normally take just 6 hours to reach KK from Brunei. Driving at normal speed, it would take around 7 - 8 hours. And obviously, slow drivers would take 9 - 10 hours.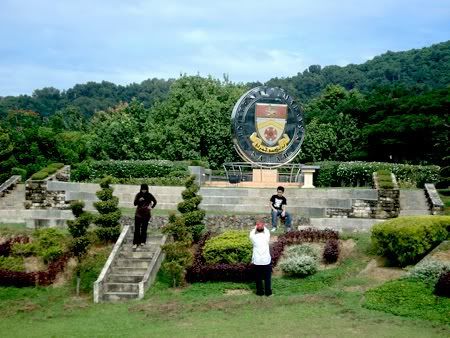 To drive to KK, you need to cross several borders. First being Kuala Lurah, then crossing back into Temburong district, crossing through another finger of Sarawak, and finally entering the Malaysian state of Sabah at Merapok.
Also, there are two rivers along the route which have to be crossed by ferry. Each you have to pay RM10 for using the ferry.
So we woke up early at 5am in the morning, and embarked our journey at 6am.
When we reached Kuala Lurah, we were shocked by the traffic jam.
The queue is that long! The worst thing that could happen in these queues is that some cars may drive all the way from the back directly to the front, cutting the queue.
And if you can see from the pictures, the mist were actually that thick considering it's 7am+ already.
I used to think mists would just disappear when it gets later than 7am, but it's a wonderful sight anyway.
After waiting for more than 1 and a half hour, we were happy to have finally got past the Kuala Lurah immigration station and head to Limbang's bandar for breakfast.
It's so nice to be at Limbang despite it being a heavily undeveloped town. The kolo mee in Limbang is da bomb! Ahh, I love my hometown.
We had our breakfast at Mei Sing Restaurant, and the kolo mee is hands down, one of the best!
Well, not exactly the best, but it's awesome.
After our breakfast, we knew we couldn't afford to waste anymore time, so we had to continue the trip for a ferry ride down to Bangar, Temburong.
Luckily for us, there isn't any traffic jam. We waited only for just a short while and then hop onto the ferry.
There isn't much to say about Temburong. I thought everything would be forestry but it's not. The roads are made of high quality asphalt.
And then, we're also lucky that there's no traffic jam at the Trusan border. There is actually, but just a very very short one.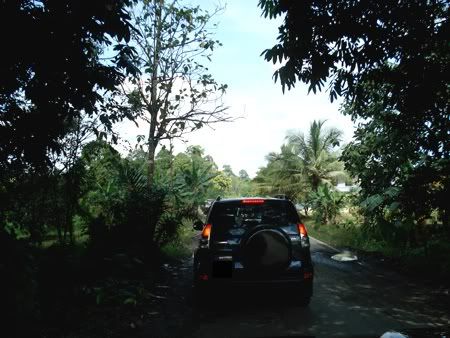 There are actually a lot of Bruneian cars around. Confirm 99.9% go to KK one. I saw a group of 7 or 8 or 9 Bruneian vans convoying to KK. That's really a big family for a trip.
And then, we reached Beaufort.
This is where the views started to get nicer. There are trains, temples, mountains, oil palms and so on.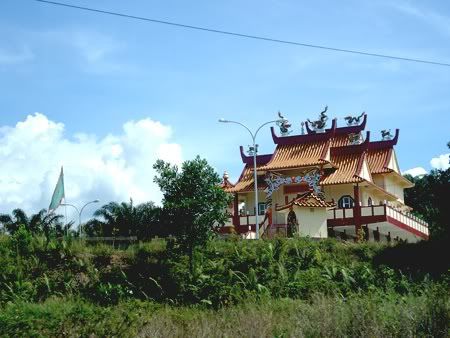 At one point, I saw a land, full of oil palms and it is so ridiculously massive!
If someone were to get lost in the plantation, it would be like an ant trying to find its way out of someone's hairy leg.
After almost 9 hours, we finally reached KK.
We decided to stay at Promenade Hotel after a 3 days-long hunt for hotels with vacant rooms. Next time must book hotels earlier.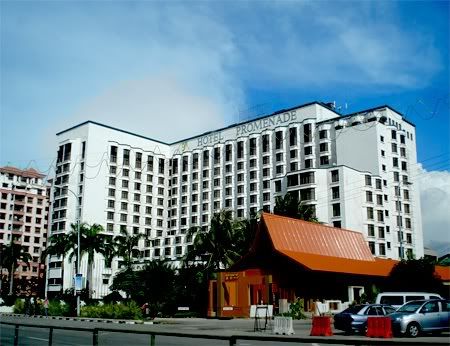 When we reached KK, we couldn't check in to the hotel yet because the check in time is supposed to be 5pm.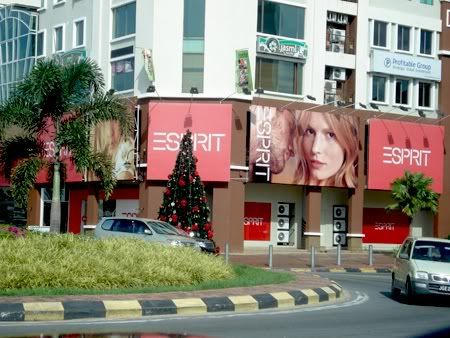 The first christmas tree to be spotted in KK - Esprit.
That left us with no choice but to go Wawasan Plaza which is just close by.
It's 3pm at that time, and that's also the time I had lunch for that day.
I ordered a plate of roasted pork with rice. However, it wasn't very good. Not to my liking, at least.
The shops around Wawasan Plaza aren't that interesting. There are some shops selling local Sabah products and t-shirts which is cool.
The t-shirts can also glow in the dark!
I didn't buy any souvenirs though because I was short on cash.
When it's about time that we should be checking in to our hotel, we left Wawasan Plaza and returned to our hotel.
Back in our room, the view outside the window is fantastic. Overlooking the sea and Sutera Harbour.
At night, my dad decided that we go look for a friend who lives in KK to bring us around for something nice to eat.
The latter then brought us to somewhere very far called Gayang Seafood Restaurant.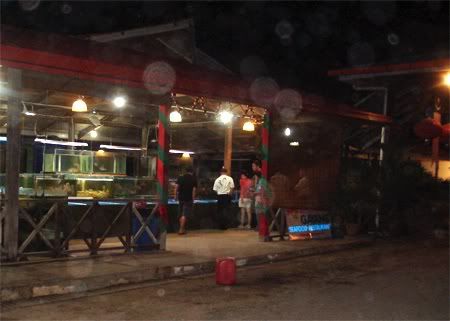 There are so many live fishes, crabs and shrimps, all waiting to be picked by hungry customers and then cooked.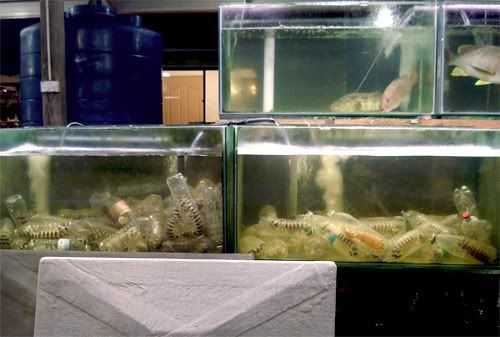 And we saw this.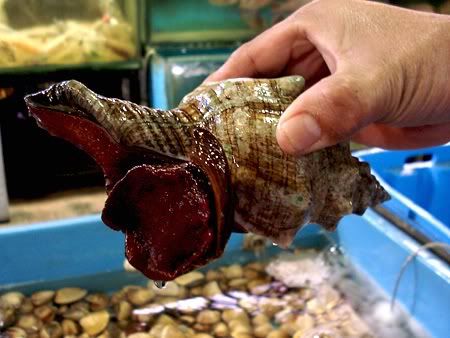 That's a huge b*tch! The shellfish, not my father's hand.
And we ordered some crabs, fishes, prawn and vegies.
I haven't had a seafood night out for so long and all the foods we ordered were nice. Or maybe because I'm hungry?
But that doesn't matter.
The fish we ordered that night is the best fish I've had in such a long time! It's so good that I still drool looking at the picture of the fish until this very day.
[to be continued, more about shopping in KK in my next post..]
___________________________________________________________________
:: Posted by DENCORPORATION at
10:08 PM
|
<< Home