Friday, December 5, 2008
Fishing Experience With Billy
This holiday, I find myself more and more engaged to doing things I've never did before and trying something new.
The most recent new thing I did was fishing! I went to this Jabatan Peranginan Sg. Besar with Billy yesterday afternoon.
Wait, actually I didn't fish.
When I heard that Billy was gonna go fishing, I decided to join the hunt because I thought this might be a good opportunity for me to take pictures and also to understand better how the fishing scene is like.
Before we even reach the place, we bought live shrimps from a man called 'Haji Udang' at the kampong.
These live shrimps are intended to be the bait, and have to be kept inside a container with fresh oxygen air pump to keep them alive for as long as possible.
There weren't much people when we came. Throughout the whole day, there were only a few people around.
The view from here was fantastic.
There were some islands that I don't think anyone has ever stepped foot on.
I felt like swimming over to the island and take a look around, hoping to find Captain Jack Sparrow but who knows the island belong to some tribes that have not eaten for 3 days?
Hopefully, that's not gonna happen.
The pier are divided into three sections. We chose the one in the middle.
The weather was kinda hot at first, but slowly, it became cooler and cooler.
Billy then set up his rod, hooked on a shrimp, and casted the fishing line onto the water.
It was kinda pitiful to see that the live shrimps are being hooked alive.
In this case, they are hooked to the tail. I'm not sure whether the shrimps feel any pain, but it is still pitiful.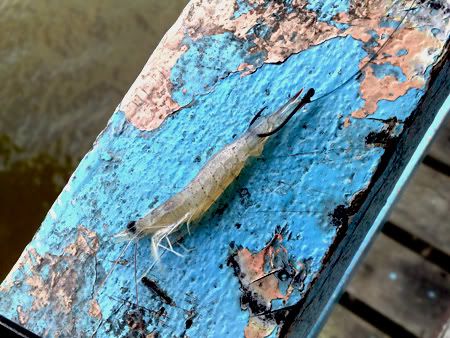 What's next? We wait.
Very patiently wait.
There's a saying that, to fish, you need to have the patience to wait.
Sometimes when you cast the fishing line along with the bait, you get nothing in return. Instead, you might have your shrimp back
cacat
.
Shrimp without legs.
Fishes or crabs underneath the water may have bitten off the legs of the shrimp you casted on. Sometimes, even the eyes of the shrimps could fall off.
Or worse, the whole shrimp could be eaten off completely.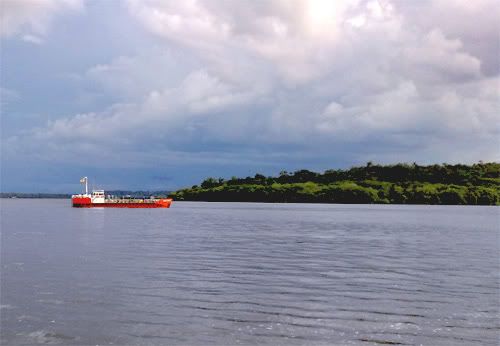 Because fishing needs patience, Billy kept asking me whether I'd feel bored or not. Well, actually I don't.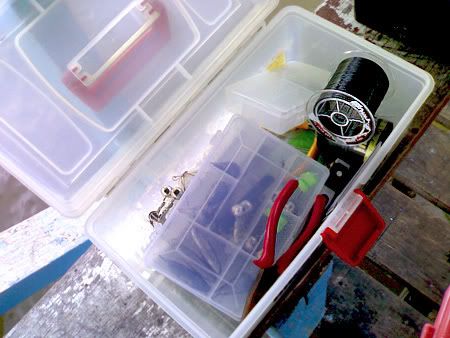 Billy's fishing tools
The scenery there was actually quite peaceful and surreal. But it was all ruined by the buzzing sound of the air pump and sounds of occasional boat engines passing by.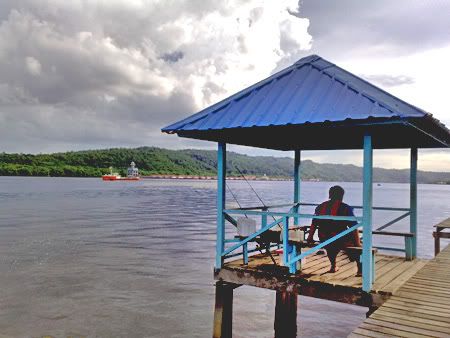 I can actually set up a hammock along the stilts and take a good nap.
At the end of the day, we eventually had to let go all of the remaining live shrimps.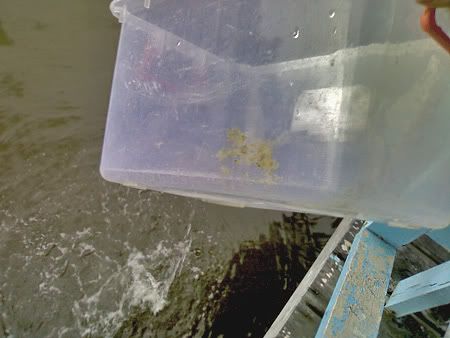 Why?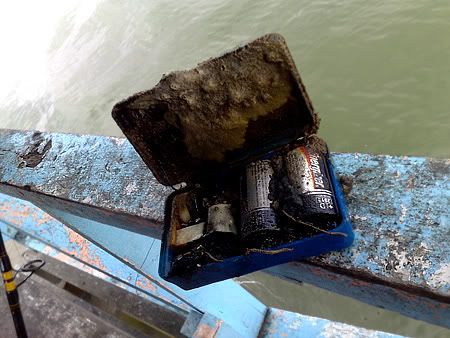 Because the only thing we caught during the day wasn't fish but an
abandoned old broken air pump
!!
___________________________________________________________________
:: Posted by DENCORPORATION at
12:12 AM
|
<< Home