Monday, October 6, 2008
TVXQ Request
Haha I know I'm kinda delayed for this entry, my bad on that part =p
Well anyways, I'm gonna post this entry as requested by one of our fellow taggers, stranger (And yes most of us still don't know who you are so I'm just gonna refer you as it is).

Alright so let me just cut to the chase, this is for those who have no idea or is new to TVXQ (Info Extracted From Wikipedia):

TVXQ (often stylized TVXQ!), an acronym for Tong Vfang Xien Qi (東方神起), is a quintet South Korean boy band formed under SM Entertainment in 2003, and later introduced to Japan under Avex Trax in 2005. Since their debut, TVXQ has become one of the most popular singing groups in East Asia, gaining great popularity in South Korea, Japan, China, Taiwan, and other East Asian countries.
TVXQ is referred to as Dong Bang Shin Ki (동방신기) in South Korea; fans often abbreviate the name to DBSK. The Japanese equivalent of the group's name is Tōhōshinki, which is promotionally only used in Japan. TVXQ, the acronym based on the Chinese counterpart of their name, is the abbreviation officially used on all products and advertisements outside of Japan. TVfXQ is also used, but not often. Their name roughly translates as "Rising gods of the East." (동방의 신이 일어나다).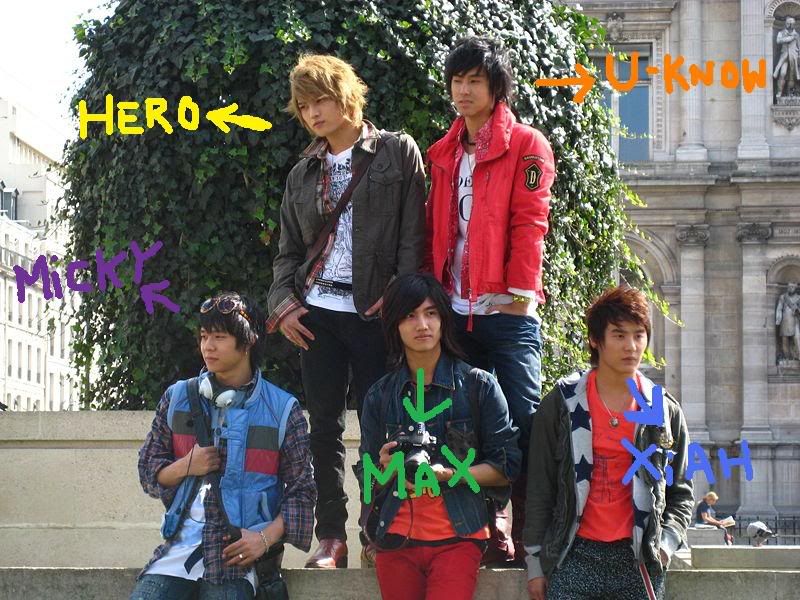 Here is a picture of

5

of the members having their photo taken when they were in Paris, France.
In short, the 5 of 'em can sing and surely they can dance well too. Especially

U-Know

, as he was the only 1 among the 5 to join

TVXQ

through winning 1st place in a dance competition. As

TVXQ

gained alot of popularity, he quickly became 1 of the best dancing singers in the Korean music industry. No sooner than that, he also became the leader of the group. As for the 4 other members,

Xiah

&

Max

gained their spot in the group with their powerful voice.

Hero

had to take on 5000 other people in an audition to get his spot though but he took 1st place both in best looking & best vocals. Last but not least,

Micky

got his shot when he became a winner of a talent show and was given a chance to sign a contract with the group's company.
Recently, they had released their 4th Korean Album entitled "MIROTIC"on 26th September of this year. Two days after its launch in music stores, "Mirotic" rose on music sale charts. According to Hanteo charts, the CD-only version of "Mirotic" has sold 90,000 copies as of September 30. It has risen to #1 on the weekly and monthly charts. The album has also topped Hot Tracks, Yes24, and other music sale charts. A Japanese-language release of the title song is scheduled for release in mid-October.

So here we have "MIROTIC":




The subs really remind me off the series Alias Lolz~


Oh & just for kicks I'm gonna throw in this video as well, U [Mandarin Version] by Super Junior M:




You gotta love the violin solo part XD
To be updated again.........by either of my partners hehe =)
___________________________________________________________________
:: Posted by DENCORPORATION at
6:46 PM
|
<< Home