Friday, October 3, 2008
Cheated by China man?
Some of you might know that going to the gym is what I have been doing all this while to keep myself busy and active during the holidays.
My regular gym partner is Kevin.
So on Monday, when Me and Kevin were about to leave the gym, there were two Chinese men at the counter. They approached and spoke to us with very proper Mandarin to which I think is somewhat similar to mainland Chinese accent.
Between them, the person who did most of the talking is a man who addresses himself as Mr Paul Yong.
Mr Paul Yong, in his 50s, said he's looking for interested candidates to join the weightlifting association of Brunei that has yet to be reformed.
Standing beside Mr Paul Yong is a tough and well built China man, who claims to be one of the National Weightlifting coach of China that has won 8 gold medals and a silver medal in the 2008 Beijing Olympics!
That sounded alright, and we were asked some pretty standard questions like how old we are, which school are we from and stuff like that. The conversation lasted for about 20 minutes.
He also told us that we might even get the chance to participate in prestigious sport events in the future like the SEA Games, Commonwealth Games and even the Summer Olympics!
At that point in time I could not believe my luck. I believed Mr Paul Yong right away. He even gave me his name card.
From L to R:
Kevin, the China National Weightlifting 'coach', Me
That day, I started to daydream about myself being a weightlifter, winning gold medals, turning into a cocky and arrogant bastard, posing and flexing muscles in front of thousands of photographers and so on.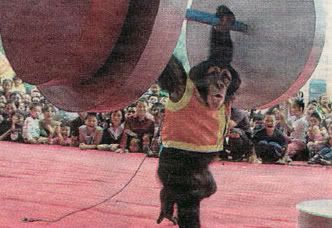 Mr Paul:

We're looking for people around the age of 12 - 14, but I think it should be alright for you both, although for your age, you both will be starting a bit late.

Desmond:
Is there any fees to be paid if we join?
Mr Paul:
No lahh! There is no fee to be paid. This whole thing is backed by the government. So you don't have to worry about paying for anything.
Kevin:
So when do we start this thing?
Mr Paul:
Well, we're not sure yet, we still need to find more people to join. We've only just started.
Kevin:
So how about the foods we eat? Will there be a special diet for us?
Mr Paul:
Well yeah, the coach will tell you what food to eat. He'll handle it.
Desmond:
May I know how should we address you?
Mr Paul:
Oh, okay, call me Mr Yong, my surname is Yong. Oh wait, I got my name card inside my wallet, let me see... Okay, there you go.
*hands me the name card*
Mr Paul:
One thing you must know, I'm a Bruneian. I don't know much about weightlifting, I'm just helping this man around town to look for and 'recruit' people who are interested in weightlifting, so that this man can use his EXPERTISE to teach you all more about weightlifting.
Luckily for me, I even get to secretly record parts of the conversation using my phone. Don't worry if you don't understand Chinese, cause there's subtitles.
Everything he said seems alright, but the problem is, can I believe him?
Meanwhile yesterday, Kevin called Mr Paul's mobile at around 10am in the morning but to his surprise, it says the number dialed is incorrect. Weird. So Kevin called Mr Paul's house, and luckily it rang, only to be picked up by Mr Paul's maid saying Mr Paul is not in. Kevin then asked for Mr Paul's mobile phone number, but the maid said he doesn't have a mobile!
Fishy!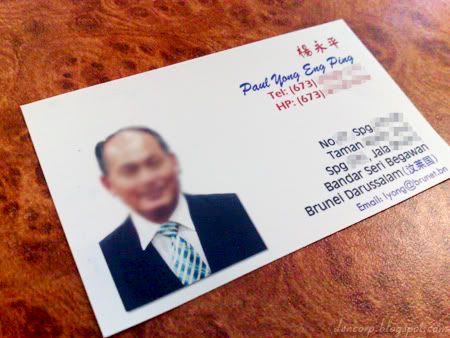 Kevin, being desperate, called Mr Paul's house again at 11.30. Luckily, Mr Paul is the one who picked up this time. Kevin then proceeded to ask him when is the weightlifting thingy gonna start, but Mr Paul replied it won't be so soon, because they still need to wait for full approval of the coach from China by the Bruneian government first. He even added that everything will be up to the government.
Kevin also asked Mr Paul the reason why the operator girl said the number is incorrect when he tried to call his phone but Mr Paul said he did not turn on his mobile phone.
Hmm.. Suspicious..
If this is all true, how is the training like?
Is all this real? Is Paul and the China man just some cheaters or bomohs trying to take our advantage? Is this all a very well rehearsed lie?
Wanna join? Just give me your details and I'll contact Mr Paul for you. =p
___________________________________________________________________
:: Posted by DENCORPORATION at
11:18 PM
|
<< Home