Thursday, June 12, 2008
My Tribute To SOAS College
Since the day I left SOAS, I have never given a proper farewell to the school, in which I spent my 5 years studying in during my secondaries.
After spending my entire kindergarten and primaries in Chung Hwa Middle School, my mum told me that SOAS College will be the place where I'll continue my studies. At that time, I have absolutely no idea of what danger lies ahead in SOAS.
Excited and all ready to go, my first day in SOAS didn't turn out to be a good debut.
There's an extremely heavy rain on my very first day at SOAS. Everywhere around the school is flooded. Even my parents have to ask the prefects and seniors for a route which ain't floody.
After a 3-hours long orientation at the school's auditorium, we moved to our respective classes, with our new form teacher and new classmates! I was in M1A during Form 1.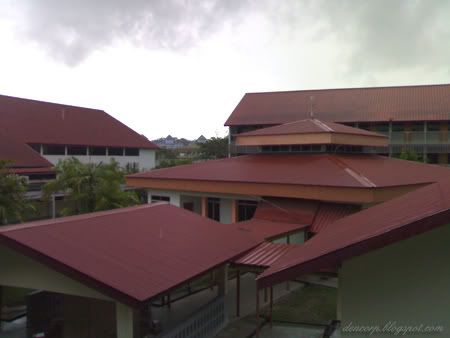 There were lots of new faces. As I look around to see who my new classmates were, I thought Gary was a nerd/bookworm/gig, and I even thought Tiah converted to Islam, because he was wearing a songkok. I knew Tiah way early from Chung Hwa, so SOAS is not a total lonely place for me.
As Tiah saw me, still wearing his songkok, he told me right away:
Tiah:
Woah Desmond! Where's your songkok? You can't avoid it man, you'll surely have to wear it tomorrow.
Desmond:
What? My cousin Ricky has been in SOAS for more than 1 year already and he has never worn a songkok to school before, not even once.
Yes, SOAS doesn't require you to wear songkok. It was a good escape for me, because I look damn weird with a songkok.
After we get to know where our classroom were, and got our free textbooks already, it's about time to go home. Me and Tiah tried to head for the exit gate, but then, we got lost around the school!
Fortunately, Tiah's father went inside the school to look for us, and we were able to go home.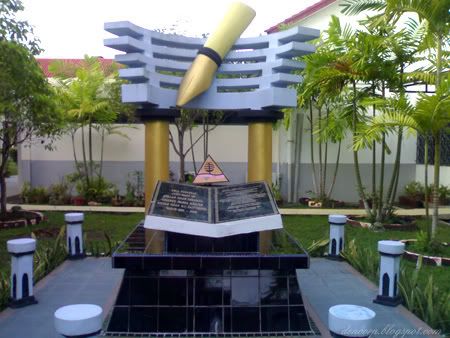 The Golden Jubilee monument.
Nazrin and Huzai are one of my very first few friends in SOAS as they sat right in front of me and Tiah.
On the second day of school, we chose our own table, which we would use it for a long time. For instance, Tiah picked a very long table so that he could put a lot of stuffs on the table. And then we were told to use a table cloth, in which we would write our name and draw something on the table cloth itself. It was fun. At the end of the day, the class monitor were given the duty to collect all the table clothes and place them on our form teacher's desk so that no one would forget to bring it, nor it would be stolen. The same thing goes to the brooms and dustpan.
Form 1 is the time when we were all still very very young, playing with kids stuff and so on. We would play with pens almost everyday in school during recess. We even tried to modify our pens by clipping a lot of rubber grips to the pen and some of us even used big, heavy metal pens enhanced with rubber grips to play. We continued to play with pens for a long time until one day, our form teacher got angry and confiscated all of our rugged and modified pens. I felt sad because my pen was still new.
We also played 'Cara', 'Hide and Seek' and also 'Ice and Water' around the school's compound. Sometimes, it is really tiring because SOAS is not a very small place. I remember I would usually run from my class to the library, through the woodwork classrooms, then the canteen and also basketball court just to not get caught by my friends.
I still remember how often we used to discuss matters about WWE to each other. I told them how much I liked Stone Cold Steve Austin, Nazrin told me where to buy the latest WWE pay-per-view disc, Tiah told me how cool the newest WWE games were and so on.
Someone then brought beyblades to school. This then inspires everyone to play with beyblades and we would always play during recess time too.
We even competed with each other and see whose beyblade would be the last one spinning. And then, someone came up with the rule which requires us to use only original and genuine beyblades.
Some even went as far as bringing the whole gigantic beyblade plate to school.
Beyblade plates.
One day after school, instead of going home, I played beyblade with some friends for quite a while that even my uncle who was waiting in the car to pick me up have to get inside the school and look for me.
Soon, someone introduced us to the card game of Yu-Gi-Oh!. If I'm not mistaken, I think Tiah is the one who started it. And then, everyone began to learn how to play with a miniature sized guide book.
Toon Monsters.
Occasionally, we would also organise a Yu-Gi-Oh! tournament, and at one time, it was held at our school's grandstand in which all the participants have to pay a small fee to contribute for the winning prizes.
The winning prizes are merely a bunch of card protectors. I didn't join the competition because I'm not willing to pay and I don't even know how to play, eventhough I myself have some of these Yu-Gi-Oh! cards. Gary emerged as the winner. I then traded in some of my own card protectors with Gary just to get his newly won rugged metallic blue card protectors.
During Form 2, most of us turned from M1A to M2A, which means, everyone remained at the same class.
Asad came to SOAS in Form 2 and sat somewhere near me in the class.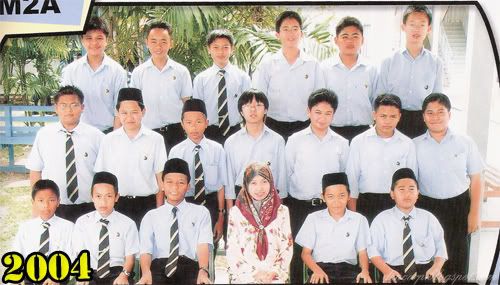 Form 2 - M2A. Asad is not present in the picture.
During form 2, we continued playing with Yu-Gi-Oh! and beyblades, showing no signs of growing up.
In Form 3, things started to change. Again, most of the M2A turned to M3A.
Unfortunately, some of our classmates who didn't get good results were forced to move to other classes whereas students from other classes who got good grades were promoted to M3A.
Hussin and Azmi became express students and advanced to Form 4.
We were still young, but this is the time when we started to learn how to act cool, care about our looks and tried so hard to be ambitious and be a real man.
This is also the time when most of us have our own mobile phones. We would often send SMS to each other and ask about our latest homework and the due dates.
Because we got so smart and tried to leave our hair long, some of us became easy targets for the discipline masters. So far, I got my hair cut twiced and phone confiscated once. It was not funny.
The funniest thing happened during Form 3 is when some guy accidentally "shit-ed" in his own pants inside his classroom! James (aka Lorenzo) was so terrified of the smell that he took someone's bottle of perfume and sprayed the whole place with it.
Time flies. In Form 4, we are no longer sorted in classes of A, B or C. We became the Upper Secondary students. M4Sc1 is the class.
Khairulazmi, arguably the quietest guy with the hardest muscle, Thedoric, Andy and Asnawi joined SOAS.
In Form 4, we no longer talk about kids stuff. Instead, we talk about the 3Cs - Cash, Chicks and Cars.
Form 4 is also the time when we went to the Taman for the National Day Marching practice. We were told to wear in red, and this would continue for a long time until the National Day.
We get to skip classes, and best of all, a small stall selling roti johns and burgers outside our school are selling foods so delicious that I'll buy at least 2 roti johns from them everyday.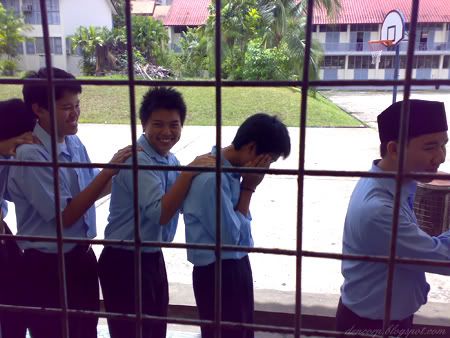 Punishment from MIB teacher for not finishing our homeworks.
Sadly, Form 4 is also the time when Asad left us to Pakistan, and then to Morocco. We held a farewell party for him at Mister Pizza and presented him an Arsenal Jersey bearing his name and favourite number.
His name is Asad Ali, by the way.
Form 5 then came. This is the final evolution of our youth.
Lots of things happened.
The game of bottle caps became popular among us in 2007. Everyone in the class would collect bottle caps and start shooting at people around the class.
Hamid shooting a bottle cap.
The impact of the bottle caps are very painful, especially when it is a direct head-shot.
We would also play futsal inside our classrooms whenever we get the chance to. It is very very risky, and the consequences are deadly if you got caught by the teachers.
Tiah once broke a small window by kicking a high ball. Nobody dared to report the incident and some of us even considered to fix the window by ourself. In the end, we used a manila card to cover the gap.
At once, we were attacked by a special needs student after he suspected us of making fun of him. The whole incident is frightening. I was stucked inside the classroom.
Attacked.
His Majesty the Sultan also visited our school during the year to officially open the new Class of 64 Library. The new high-tech library showcases the amazing history and milestones of His Majesty and his time in SOAS as a student in 1964.
Waiting for His Majesty's arrival.
Students of Victoria School, Singapore also visited SOAS. Those days were fun. There were no classes too, as we were free to walk around the school and entertain the visitors with our Bruneian culture. I bet the Victoria School's principal must have had a bad time trying to swallow the ambuyats.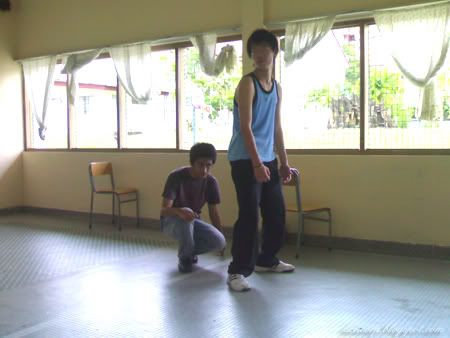 We even tried to make movies, in which Tiah and Wafi would become the lead actors in one of the movies we tried to make.
The final day of school is the most emotional. We took pictures with all of our subject teachers as a memory. All except out P.E. teacher, because he might probably gives us a lecture on how capable he is everything.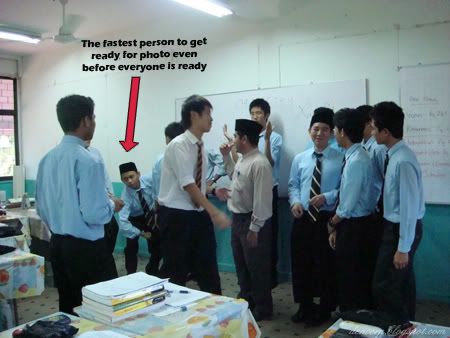 Chemistry teacher was about to give us his final lesson, but all of us insisted on taking pictures with him instead of having any lessons.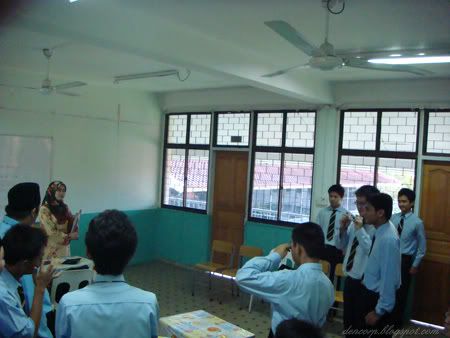 Last words from Biology teacher.
After all this, I have to say, my time in SOAS is one of the moments that I'll surely treasure.
Suffice to say, there are actually still a lot more to talk about during my time in SOAS. But sadly, I don't think I can ever tell you guys all about it in this entry. At times, I just wish I have a pensieve like the ones from Harry Potter, so that I can relive these memories whenever I want.
Throughout my time in SOAS, I have enjoyed and witnessed many funny and weird moments. That is actually more than what I can ask for, although the facilities in the school is like crap.
There are also lots of students who are wannabes, racist, and
kanalan
, but who the hell cares?
My boss, whom I worked for during the post O-Level holidays, is also a SOAS student before in the 1960s and he said SOAS used to serve free breakfast and teas to students everyday, with a monthly fee of only $10. In the past, $10 is like the $100 today.
Today, we pay only $30 for 1-year, and the school loaned us textbooks for free. But this comes also with another price - there's no girls in SOAS!
So whenever there's a hot lady or a beautiful female teacher walking by, it would've turned us into horny devils.
SOAS is also infamous for having lots of pondans and gays. So whenever I tell people that I'm from SOAS, they'll ask me, "So are there really a lot of gays in SOAS?".
SOAS College is no doubt the oldest English medium school in Brunei, and yet, is one of the very few all-male school.
The school has produced many promising students, and even most of the Cabinet Ministers in the Bruneian Government are ex-SOAS students.
So after all the 5 years, I'd say, I'm proud to be a SOAS student.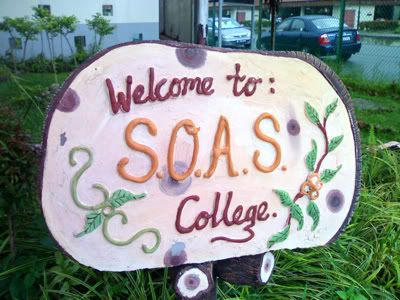 To the SOAS faithfuls, are you proud to be a SOAS student?
___________________________________________________________________
:: Posted by DENCORPORATION at
3:10 PM
|
<< Home