Saturday, June 14, 2008
Kuai Siaw Ahh!
Boon Hui's birthday party last night at
Excapade Sushi Restaurant
was a blast.
Boon Hui's birthday should have been today, which is Saturday, 14th of June, but he chose to celebrate the big day last night, which is a day earlier because he couldn't make it on Saturday.
We were the longest and noisiest table in the whole restaurant.
The guy who turned 18.
The waitresses there were quite annoyed by our behaviour because we tried to do something silly like stacking the sushi plates up high to compete with the other group and see who can stack it up higher.
In the end, the waitresses have to come several times and take those plates away. James even tried to put up the huge black bento set on top. LOL.
The most cheerful moment came when the birthday cake arrives.
Everyone sang the birthday song, so full of energy. But Boon Hui did not even bother to make a wish, so he blew the candles off right away, much to everyone's disappointment.
But then, Boon Hui smelt something fishy.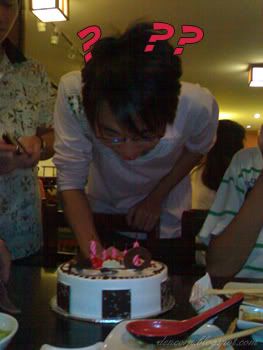 Looking at the cake more closely.
He looked closer at the cake. Something is definitely wrong with it.
Oh why, of course, it's not even his cake!
The cake is should've belonged to this girl named Moi Fen! She must've been looking for her cake everywhere! The candle wax has already dripped half-way down the cake, and now poor little Moi Fen have to enjoy her birthday cake in a most undesired way.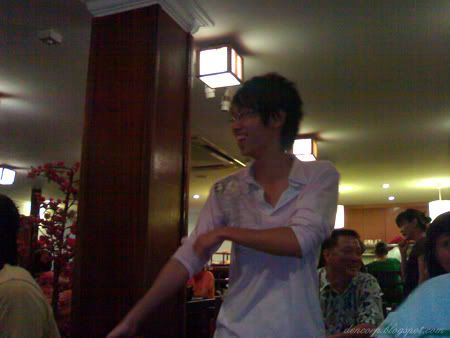 Boon Hui now folding his sleeves, trying to find the person who delivered the cake.
Luckily the rest of the people did not just sit down and watch, it is actually quite good of them to realise the mistake and quickly ask for the cake which should've been Boon Hui's.
And now luckily, Boon Hui took his time, make sure the cake has his name on it, and then blow the candles off.
It was a very good party, but the bill's must've been really thick, considering that there's more than 20 people who went there.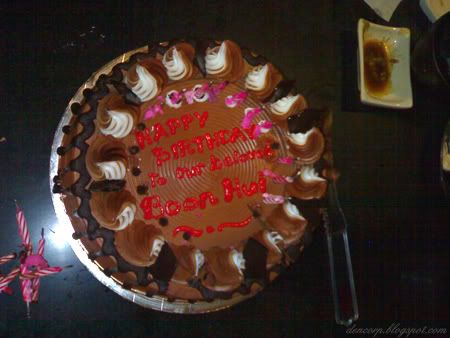 The correct cake.
Nevertheless, thank you Boon Hui so much for inviting me to your birthday dinner. You knew I am supposed going to another wedding ceremony held somewhere else last night, but you insisted on inviting me to your party. I really appreciate every bits of moment at Excapade last night.
I do hope you enjoy the present we gave you, shared between me, Gary and James.
Happy Birthday.
Regards,
Desmond.
___________________________________________________________________
:: Posted by DENCORPORATION at
6:45 PM
|
<< Home