Sunday, June 1, 2008
Bad Name For A Brand
Last night, as I went to my cousin's place for a barbeque dinner, I was told to start the fire on the grill, using this.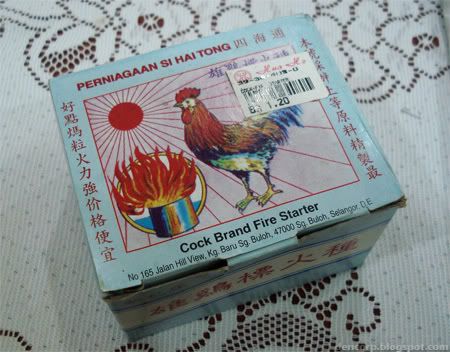 COCK brand!
What the f*ck?? How the hell did the manufacturer came up with the brilliant idea of naming the brand of a fire starter
"Cock"
?
Imagine a situation where a lot of people are gathering at a bbq party and this conversation struck.
Tom:
Oh man, how the hell are we supposed to start this fire? I'm starving already!
Dick:
Quick! Use this cock brand fire starter, it'll be much easier!
Harry:
What brand??
Dick:
COCK brand!

So what do Hokkien people call this thing?
Lan jiao
brand? I have no idea man!
Will you use Cock brand?
P/S:
I've used it, and it works perfectly well.
:p
___________________________________________________________________
:: Posted by DENCORPORATION at
9:17 AM
|
<< Home