Sunday, May 18, 2008
First Rugby Session
Short talk:



It's been a while since I've updated. Very sorry people, I just got my computer fixed recently, and it took me only until a few days ago to get my Photoshop, fonts and everything back in square one.
MD League 2008 is finally over.
The final day of the whole MD League starts with a battle between UBF and TMC for the 3rd and 4th place.
The match was partly spoiled by the heavy rain as the field became muddy and at times, the ball even stopped rolling on the pitch because of the mud.
Not a very clean game as there were vicious tackles and red cards.
Final score: UBF 3 - 2 TMC
SG Hanze and BSG competed in a very tight match, with both teams performing so well that none of the side conceded goals in that match.
The game progressed to Penalty Shootout as the match remained goalless after full-time and extra time.
Hanze became the 2008 MD League Champion after winning 7-6 in the Penalty Shootout.
Final Score: SG Hanze* 0 - 0 BSG

(Hanze win by PK)
My tip for success in MD League. Name your team with acronyms. The top four teams in the MD League have acronyms in their team name -
B.S.G.
,
U.B.F.
,
T.M.C.
,
S.G. Hanze
. So if I were to name my team next year, it'll be called something like
S.T.F.U
. or
M.I.L.F
.
My registration class is in terrible condition as there is a major white ants crisis.
The cabinets of my registration class were ravaged by white ants and it was only until recently that my group tutor sent someone to clear up the place.
Even the papers that were kept in the cabinets have to be thrown away.
Because of the awful smell it produce, the air-conditioners in my class are not turned on.
Even the doors and glass windows have to be kept opened all the time.
I hope somebody can quickly get my class fixed.
Yesterday also marked the first session for Rugby Club.
There were not much people during the session and most of the people who joined are BEs.
During yesterday's session, we were being told the rules, taught how to tackle, and other basic trainings of rugby.
Our performance yesterday were praised by the seniors and the President of the Club.
It wasn't as tiring as expected though, but I regard Rugby as a very tough game and our responses have to be sharp at all times.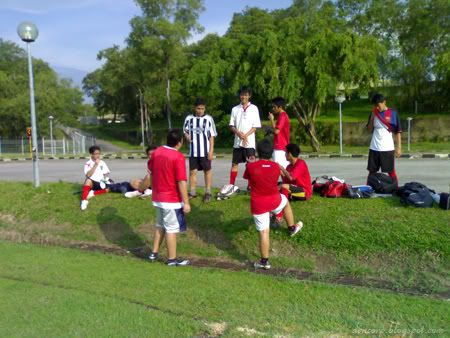 We'll play against Junior Blacks in a friendly match soon, according to Mr. President.
So, interested in joining the Rugby Club?
___________________________________________________________________
:: Posted by DENCORPORATION at
1:51 PM
|
<< Home