Monday, April 7, 2008
Tutong District Chronicles
Short Talk:

I'm glad that I got featured in today's opening match of the MD League, but unfortunately, I have to suffer a torrid 50 minutes of torture as Mia Zui FC got thrashed 5-0 by R.S.K. It wasn't just anyone's fault. It's just a very poor performance by us that even some of us got provoked. Sigh~ Mia Zui ah~
Tutong District, with an approximate population of 35,200, is the second largest district in Brunei.
My weekly family day has brought me to Tutong this time. I have been to Tutong before but it was never a proper visit, even though I have the chance to do so when I'm going to Miri.
I went to Tutong's Hua Ho Department Store yesterday afternoon which is opened last year.
I never got the chance to visit Tutong's Hua Ho because.. it was only recently that I found out there's a Hua Ho in Tutong!
The Hua Ho building over here is painted so colorfully that it looks just like some kinda toy factory.
The building also comprises of many other shop lots such as
Daiso,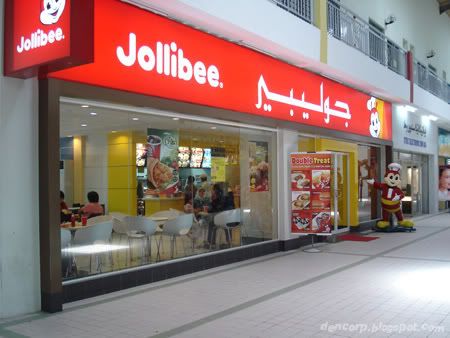 Jollibee,
Vinny Enterprise,
and some other miscellaneous shop like this Syarikat Chaihuisan.
The concept of this building clearly reminds me of the typical "shopping mart" or something like those "shopping warehouse" we would normally see in places like Miri.
Suffice to say, this kinda building is not a very interesting or attractive place at all. Normally in this kind of building, you would see lots of loud aunties, bringing lots of children with each child carrying a plastic toy or plastic bags walking around.
Even an uncle would find this spot easy to sleep.
Sleep.
Tutong's Hua Ho is slightly bigger than the Hua Ho in Kiulap and Delima.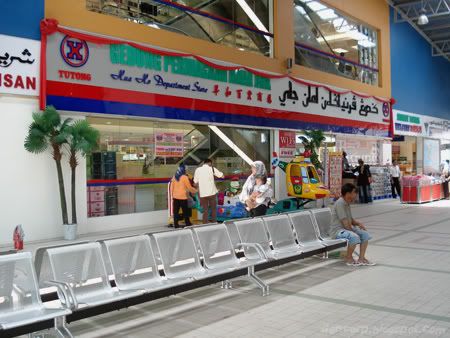 Tutong's Hua Ho is officially opened by the honourable Minister of Home Affairs sometime in 2007.
A small monument gifted by some Chinese organisation or company.
Comparing to Hua Ho Mall in Muara, I think Tutong's Hua Ho lack popularity and is not very attractive, but Tutong's Hua Ho have something which other Hua Ho branches is the whole Brunei don't have.
And that is.. the one and only Hua Ho Funland.
It costs $5 per entry to the Hua Ho Funland and what I can see yesterday is just a number of parents having fun with their children.
Other than that, there isn't much to see left.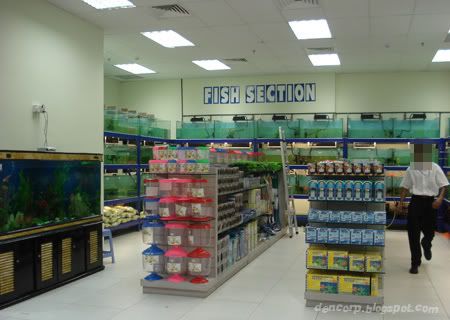 Fish section.
Their supermarket is huge though.
I spent a long time at the sports section and I found out Converse is only a few of their big name branded goods.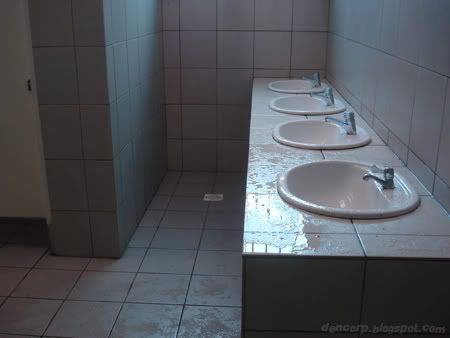 Wild wild wet.
Their toilet here isn't up to my expectations. It was wet all over the toilet and I wonder if the water on the floor is some urine-spillings as a result of some 'not-very-sharp-and-accurate' users of the toilet.
While I was still trying to take more pictures inside Hua Ho, I was stopped by a security guard who warned me,
Security Guard:
Excuse me, you cannot take pictures in here.
Me:
Oh, is it? So does this rule apply in this whole building?
Security Guard:
Yes.
Me:
Oh ok, sorry sorry..
*pretend to look look again and then walk away quickly*
Obviously I walked away right after that. The security guard seems serious, but the funny thing is, the security guard stopped me only after I've already took so many many pictures already!
A lot of pictures, okay.. I've started taking pictures already ever since I stepped foot on the building. Also, I'm quite sure the security guard was around when I've started taking pictures earlier on. Don't tell me he didn't even see me taking pictures?
So blur one.
My journey in Tutong ended just like that yesterday.
Tutong District has been growing very fast now as far as I know.
Tutong's Tamu.
Even their tamu seems like an opera house.
___________________________________________________________________
:: Posted by DENCORPORATION at
4:57 PM
|
<< Home