Friday, March 28, 2008
Sheraton Utama Zodiac Promotion Review
I went to Sheraton's Tasek Brasserie a few nights ago for their 'Zodiac Promotion' buffet dinner which has been going on for quite a while already.
I actually knew about this promotion a long time ago and it takes me just a few nights ago to go and really try out the promotion.
The actual price of the buffet dinner cost B$27 plus 10% service charge per person.
But the catchy thing over here is, you can bring another diner and he/she can eat for free only IF his/her zodiac sign fall on the day where different Zodiacs are assigned to according to their "diagram".
Their 'diagram'.
Every free diner also has to present a valid IC to enjoy the privilege.
Getting to eat good food at a well-known international hotel is always good. So good that I have to dine there twice at two separate occasions.
There are Grilling station, Appetizers, Soup, Main Course and Soup Noodles, all in different stations.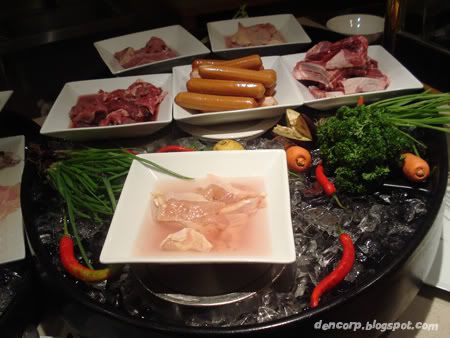 Their main courses could've been better. I had their main course in the first place because I know grilling takes time, and because of this, I felt half-full already, before I even get to eat from the grilling station. On the second time I went there, I went straight for the grilling station.
On my first occasion, their main course include Fried Kueh Teow, Pasta, Cauliflowers, Pandan Rice, Potatoes and so on. On my second occasion, there's not much difference either, just that Fried Mee is in place of Fried Kueh Teow.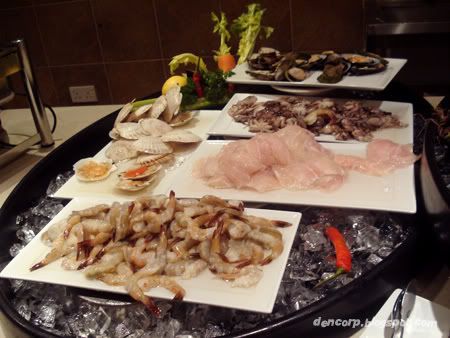 At the grilling area, there are lamb shoulders, chicken meat, fish, baby
"sotongs"
, prawns, beef, mussels, scallops and other seafoods to choose from.
Chef giving the thumbs up.
After I've chosen which foods to be grilled, I present the chef my plate, and he'll be more than happy to deliver it to our table after he's done grilling it.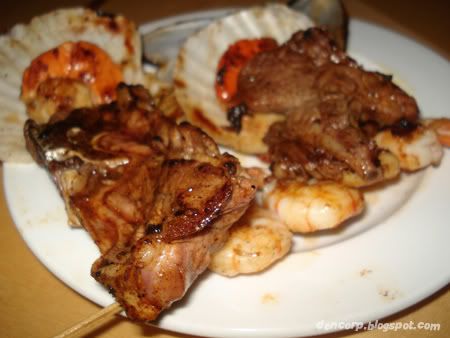 To say the truth, I don't even know how to eat some of the foods that night.
I mean, I'd try not to eat beef for religious reasons. Even some of their salad seemed so strange to me that I won't even waste more than 1 second looking at them.
I didn't take much food as I'm afraid they might charge me for any unfinished food. So all that night, I was taking most of my time trying to bite off the excess meat from the bone of the lamb chop.
Mussels on Ice.

The best part of the whole buffet dinner still has to be the desserts.
My favourite still has to be their ice-cream. The usual vanilla, strawberry and chocolate flavor.
I didn't get to eat the rest of the desserts such as cakes and some other fruits because I felt so full already after eating so much.

I won't say this is the best buffet dining experience ever, but after all, this experience is still worth it.

Their service is so good that their staffs treated me like they owe me millions of dollar.

Sadly, the promotion ends on 31st March.
So, grab the chance to dine there if you can. How often do you find Sheraton giving such a good promotion?

___________________________________________________________________
:: Posted by DENCORPORATION at
7:12 PM
|
<< Home