Sunday, February 3, 2008
Huzai's Testimonial Match Report
Me, Nazrin & Wafi went to Bandar as early as 6.30am yesterday morning. As long as there is a futsal match, me and Nazrin would always go Bandar early. I just like the fresh air at Bandar in the early morning.
After coming to Bandar so many times recently, it is almost impossible not to recognize some of the people who always frequent around in Bandar. Sitting right in front of TFC everytime, we always see the same faces walking around in Bandar.
For instance, I always see an elderly man who carries his walking stick whenever he is walking around in Bandar.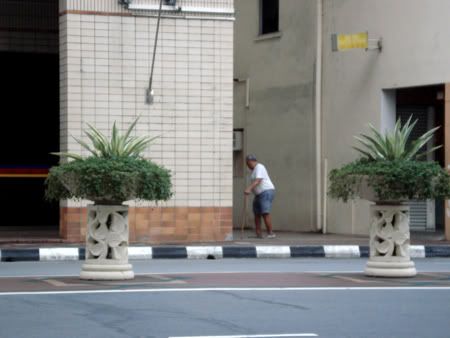 The elderly man seems to be unable to walk properly, and is always relying on his walking stick.
Sometimes I even wonder if I have to help him cross the road, but since the road in Bandar is so empty in the morning, I guess he might just be able to help himself.
There is also another mentally retarded man who is always walking barefooted in the streets of Bandar. I was quite afraid of him actually.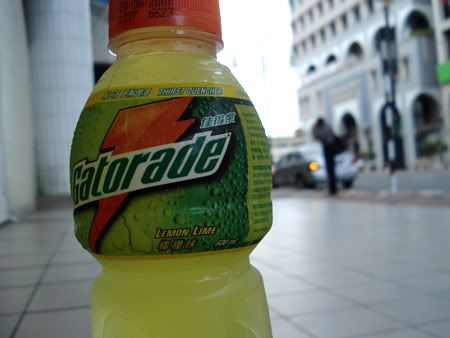 I also brought along a bottle of Gatorade that I bought last week to help quench my thirst after the game. But seriously, I think 100 Plus is very much more effective than Gatorade and 100 Plus costs much much cheaper.
I don't even know why did I bought Gatorade in the first place. Maybe it's because it's the influence of NBA players. Damn, $1.90 gone without full satisfaction.
Then, me, Nazrin & Wafi decided to go to Mei Kuang Cafe to have a nice breakfast.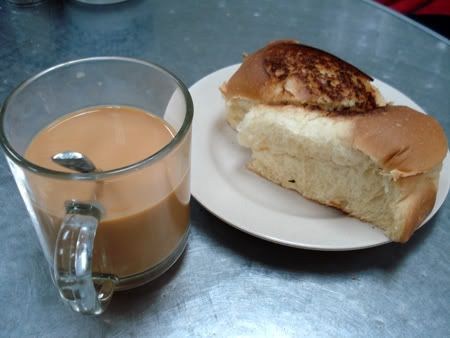 Their roti kuning can seriously compete with Jing Chew's. I always asks for 1 whenever I come here, but yesterday morning was a different case. I only ordered Teh C as to not trouble my stomach before the testimonial game.
Right after that, we met up with others who arrived and then went to Harun's Gym.
We didn't waste much time, and went onto the futsal court to have a little kick-arounds.
The match started with Edison being the goalkeeper for Ukatrats FC and Gary as the opposing goalkeeper.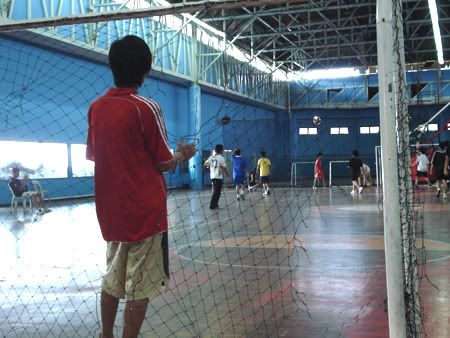 It was only after a short while that Haziq scored the first goal of the game for the opposing team...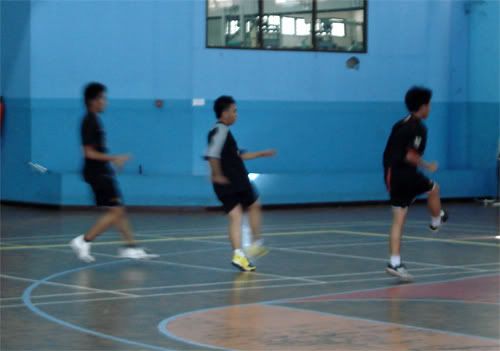 and showed us his fabulous goal celebration!
The opposing team were very strong in the game and went as far as leading us by 6-0 in the beginning of the game.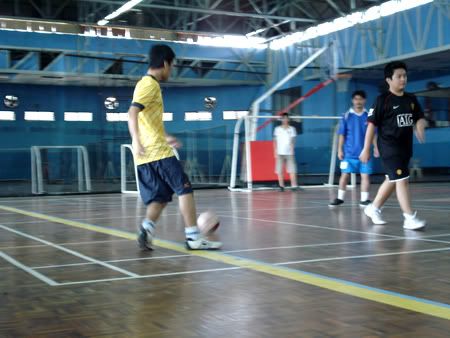 Our team has got a lot chances missed, shots wide, inaccurate passes and shaky defence. Ukatrats FC frontman Asnawi has several powerful far shots, but just couldn't find the back of the net.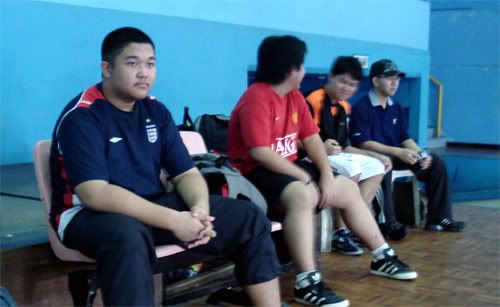 At this point of the game, the benchwarmers can do absolutely nothing but watch the game whilst feeling very tulan.
There were several quick feet movements in the game. So quick that even my camera cannot capture it.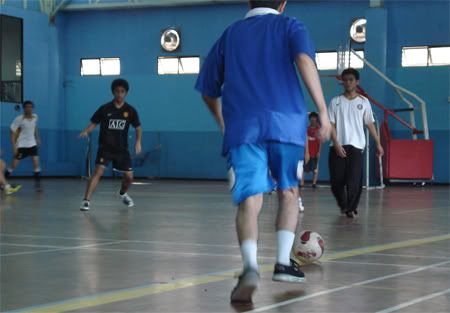 Not only the Huzai Bros are leaving, fellow Malaysian, Nazmi, is also leaving Brunei to continue study in KL.
So it's such a good thing that the people who are leaving Brunei to study somewhere else is able to play the last futsal game with us.
We lost the game in the end. We were able to catch up, but the opposing team deserved the win.
The match ended with us losing 10-11.
We then took group photos.
Luckily the founding members of DENcorp were able to take a special photo with Huzai. This surely will be the picture we're gonna treasure a lot.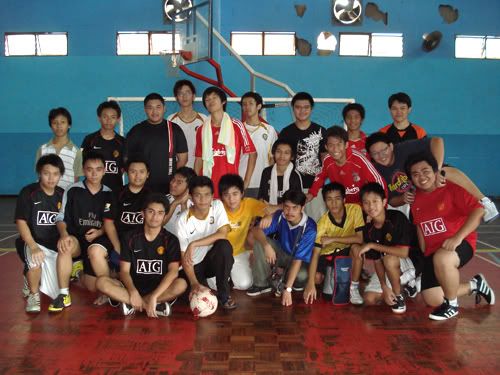 I had a hard time grouping everyone together as they took a very long time to pose for the picture.
It was a very tiring day.
___________________________________________________________________
:: Posted by DENCORPORATION at
2:05 PM
|
<< Home