Friday, January 11, 2008
Chinese New Year decors
How many of you are anxious about the upcoming Chinese New Year?
I, for one, is very anxious about Chinese New Year! That's when we get to wear new clothings, receive tons of red packets, make new-year visits to close relatives, having open houses at people's house, having reunion dinner, listening to the neighbours playing the Chinese New Year songs on the radio loudly, play firecrackers, and watching lion dance!
The atmosphere during Chinese New Year is just so good. That is why I love Chinese New Year so much.
But Chinese New Year doesn't seem so interesting without Chinese New Year decorations. And already, Hua Ho Kiulap has already started selling Chinese New Year decors and other related products! Don't play play!
As the year of rats will be coming in this Chinese New Year, there are so many rats figures out for sale.
Lots and lots of 'em.
And they only go for B$2.50 each.
Miniature lion dance costume are also available here. I used to fancy those back when I was a little kid, but I think I didn't make good use of it and probably my aunt or uncle has thrown it away. It was old and dusty though.
I remember I also used to have these masks which we called it "Lao Kay Poh". I don't know why though.
These masks can hardly be seen nowadays during lion dance performance. But I'm happy enough to see these masks available for sale.
Wide range of artificial plum trees can also be found here. I'm not sure how much these trees cost, but these are surely a good addition to your Chinese New Year home decors.
And there is also one section where you can buy lots of red packets with different patterns and designs. These red packets are getting more and more trendy as years passed. I wonder how will red packets look like in, let's say 50 years later?
Some of these red packets with pictures of cartoons are quite cute. Maybe you can get free red packets from banks and supermarkets, but you may also want to consider buying these "cute-looking" red packets.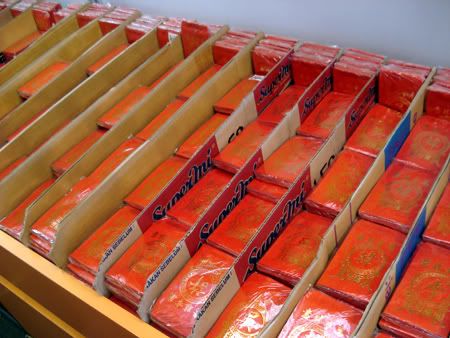 And you may even buy red packets with your surname written on the red packets itself, but these red packets doesn't seem so big. It would be rather obvious if someone tries to put a B$50 note or a B$100 note in it.
So Chinese New Year is coming in less than a month from now. I hope Chinese New Year this year would be better and grander than before.
Now I really can't wait for Chinese New Year. I have yet to buy more new clothings and shoes though.
Will I be able to receive more red packets than last year? We shall see.
___________________________________________________________________
:: Posted by DENCORPORATION at
10:07 AM
|
<< Home