Saturday, January 5, 2008
Calling It Quits
...........................................................................................................................................................................................
Short talk:
I think I found a new part-time job working in an office, probably doing what a clerk usually does. Should I apply for it? I actually prefer wearing formal, office suit than normal t-shirts and jeans!

..........................................................................................................................................................................................

How many of you have been taking part time jobs lately?
For me, I did. Yes, I'm not joking. I did work, but my first day working is surprisingly, also my last day working.
Recently, one of my friend introduced me to the job, that is, being a sales attendant at a small stall which they usually have during exhibitions in The Mall, Gadong. As the stall is being rented by a kid's store, there is no doubt that the place I worked is selling toys and children's apparel intended to attract kids. The pay was $16 for 12 and a half hours. Yep, no kidding. And I have to work everyday until their exhibition ends.
A typical exhibition at The Mall, Gadong.
I have to say, I'm not used to this. They expect me to work everyday! But I was reluctant to do so as every Sunday is my family day, like a family outing every week. It would probably put me to tears if I weren't able to spend time with my family on a Sunday.
As I was about to have my break that day, I was disappointed to be told by my supervisor that my break time have been reduced from 1-hour to just 45-minutes, and it's only my first day of work. -_-" The reason she gave me for that was, "Oh, I'm afraid there might be a lot of customers later, so 45-minutes,".
To me, that was just some hell of a lame ass excuse. I was very unhappy with that, of course. And so I spend my 45-minutes at the food court, drinking only coffee to keep myself awake. However, I got bored in the whole afternoon. Apart from my main responsibility of arranging the stocks and issuing bills, what I did most of the day was standing and waiting for customers!
Coffee is what I had for lunch that day.
You have no idea how long I stood. I feel very fatigued, especially my feet!
At that time, I was already starting to sing to myself
Michael Buble
's hit
"Home"
.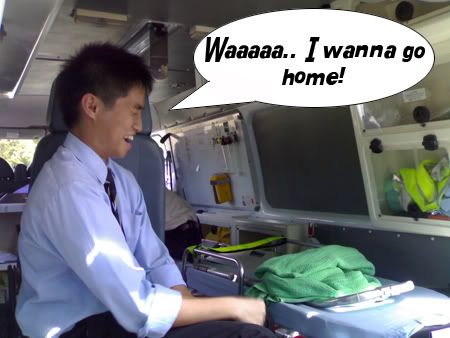 Let me go hooooome~!
Then finally came my 2nd break time of the day. I've decided to be a little more economical, so I tried to find the cheapest food around Gadong.
This then brought me to Netzone. As I looked through their menu, I saw a $2.50 fried rice, and thus decided to order it.
NETzone, if you think their food is nice then you would've been caught in the NET, and hence the name.
I thought I would like what I've ordered but turns out, it doesn't taste like how I expected it to be! It tastes pretty bland actually. It may seem delicious, but it was not tasty at all. I couldn't even finish the whole plate. I guess that's what I get for the price I pay.
Just as I got back from my break, I was told by another supervisor that one of us has to be transferred to their main store in Kiulap as the stall is packed with too many male staffs. As I'm the only one to have had my break, I guess I'll go Kiulap then.
I then followed the supervisor down to the basement and hopped into her car. I was hoping to sit at the back of the car but instead, she cleared everything off the passenger's seat and then told me to sit in front. I was shell shocked. That put me in a
very
awkward position. Besides, it was only me and the supervisor in the car that time.
When we reached the Kiulap store, I was then told to wait for another supervisor who was having her break. That wait leads me to another 45-minutes doing absolutely nothing! So of course, I was already very unhappy then, and there's nothing I can do.
Walking into the store, I can see almost all of the staffs there wearing santa hats. I was actually very afraid that they might ask me to wear one of them.
This is the place where I was transferred to. You'd probably know where the shop is now anyway, but just pretend that you don't know, will you?
In that 45-minutes, I was constantly walking in and out of the store to see if the supervisor's back not. At one point, I was being giggled at by two of the female staffs and it seems like they are either talking about me or laughing at me.
One of the female staff then looked at me and said,
Staff
: You're waiting for the supervisor right?
Me
: Yes.
Staff
: Oh, are you non-local or what?
Me
: What? No, no, I'm Bruneian!
Staff
: Oh oh, so you're Muslim lah?
Me
: Me? No... I'm Buddhist..
Staff
: Oh... *laugh* I see..
Me
: Yeah..
Staff
: While working, you're also waiting your examination results?
Me
: Uh-huh.
I have no idea how she came up with the "not local" thing. In fact, she's actually the one who's not local. Not joking here.
So when the supervisor came, she asked me a few questions related to the job. The conversation went almost positively for me. The supervisor actually seems really kind. Very easy-going person. Having barely worked there for 8 hours, she has already asked if I wanted any day off. I wanted my off day to be on Sunday but it was full, so I can't. Bad luck, I guess.
Kids nowadays play something extraordinary compared to what we have in our time.
To say the truth, my job in Kiulap is actually far easier than my job in The Mall. In Kiulap, I'm able to have a full 1-hour break time, but the bad thing is that I have to work until late 12am as they have some midnight sale going on.
But of course, how would I be able to stand this??? That means I have to listen the song they play on their radio like the
Bob the Builder
song, the Christmas songs and their lullabies everyday? No shit.
As it was Christmas eve that day, the supervisor even asked if I wanted to dress in Santa Claus's attire on the Christmas Day itself and distribute candies to kids. -_-" That seems like heck of a
brilliant
idea but no thanks. I won't even wear Santa hats and now they want me to wear Santa's shirt? I'm grateful.
The following day, I didn't even go to work. Heck, I didn't even want to but I did send a sms to "my friend" who introduced me the job, telling him that I wanted to quit the job for some "urgent" matters, and help spread the message to their supervisor and manager. In fact, I don't think my friend even told the manager himself. But that's okay anyway, I never received any phone calls from them too.
Right now, mentioning the shop's name would traumatize me. I didn't even get my pay of working for one full day ($16). But still, I'd prefer not to take the wages than to go over to that store again.
A lot of people asked why. Well, the main reasons that I've quited the job was:
1) I didn't enjoy the job.
2) I feel very bored and tired of the job.
3) I was lonely.
4) I don't even know if a particular stock is available.
5) I accidentally gave wrong information to customers. And it does not happen just once!
6) I couldn't make Sunday my off day.
7) Working for almost 12 hours (9m - 9.30pm) is sickening. Working for 15 hours (9am - 12am) will make me feel my life is almost over.
True, I now fully believe what Mr. Peter Rose said. I can remember it very well. He told us that we should pick a job that we fully enjoy doing, not for the amount we are paid to do so.
Reason #4 is, like for example, a customer called up to me and asked me if they got size 8 for the shoe they want for their kids. I don't even know if they have it! So I have to ask the other sales assistants every time! Then at one point, I was told to go to their store room to look for another shoe of a particular size. That search made me looked for their whole store room and in the end, I found nothing they wanted. Even their other worker have to come up to the store personally and find the shoe himself. I feel I really looked like a fool here.
I was really scared on the following day when I didn't went to work, because I was terribly scared that they would find my picture over the whole internet and announce what I did on the newspaper?
Let's say, this?
You have no idea what people in these days are capable of doing.
___________________________________________________________________
:: Posted by DENCORPORATION at
4:42 PM
|
<< Home