Friday, December 21, 2007
A Weird Ass Phone call
I received a weird phone call yesterday afternoon, just before I was going out for lunch.
The caller was a lady and she spoke with mainland China accent. She's said she's from some company and wanted to conduct a survey and ask me a few questions. The conversation goes like this:
Me:
Hello?
Caller:
Hello sir? May I know if you understand and speak Mandarin?
Me:
Erm.. Yeah, I speak Mandarin.
Caller:
Ok sir, I'm from some company and I wanted to know which part of Brunei is an ideal place for tourists?
Me:
Erm... Maybe.. the Capital?
Caller:
Oh, you mean the Bandar Capital?
Me:
Uh huh, yeah..
Caller:
Ok sir, then may I please know your name?
Me:
Erm.. My surname is 'Chen'.
Caller:
Ok, and may I know your English name too?
Me:
Jerry.
Caller:
And how do you spell that?
Me:
J-E-R-R-Y.
Caller:
Oh ok, and sir, from your voice, I can tell that you're still very young. You must be in your 20s right?
Me:
Erm.. I'm only 17 years of age.
Caller:
Oh.. So you're still school bound?
Me:
Yes.
Caller:
Ok, may I know your parents' name too?
Me:
Erm.... *think for a while* I think there's no need for that, sorry. And erm.. I'm sorry, I'm in a hurry now, so if you don't mind, I'll hang up for now.
Caller:
Ok sir, I guess it's good bye then.
Me:
Oh ok, thank you.
I don't understand why did I say 'Thank You' in the end. Maybe thank her for speaking with me? The whole thing just raises my suspicion towards them.
I have no idea how the lady reached my home's telephone number. It could be that she simply dialed any 6-digits number and called. If she wanted to know where is a good place for sightseeing in Brunei, she would've called a travel agent, NOT by simply dialing any 6-digits number.
I suggested her that the Capital might be a good place, since we got the wonderful SOAS Mosque and Kampung Ayer at the Capital. The Venice of the East.
Mai siaw..
Initially, I wanted to suggest Empire Hotel, but changed my mind instead. Maybe they don't even know Empire. Also, Gadong is also a good place, but I don't know how do to say 'Gadong' in Mandarin.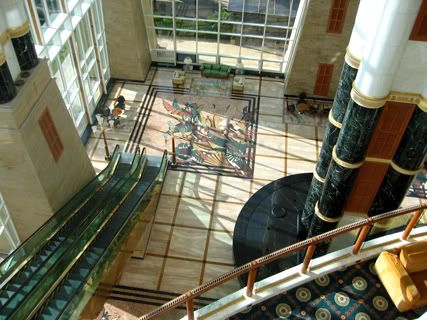 I have to say, throughout the whole conversation, I have been very careful not to say something which I shouldn't. My first thought to all of this was a scam probably from China or HK.
And at this moment, it absolutely feels like when someone keeps telling and asking you something which you don't feel really comfortable about and all you can do is by thinking 'What the f*ck?' continuously.
But the lady didn't ask for any money, maybe because I'm still a youth, although she thinks I'm like 20+ or older.
In the whole afternoon yesterday, I was waiting to see if the lady might call again. Maybe I can record the whole conversation. But she never called again.
What do this lady have in mind? What could she be up to?
___________________________________________________________________
:: Posted by DENCORPORATION at
1:37 PM
|
<< Home