Tuesday, December 18, 2007
Siam Discovery
Continuing my journey in Thailand..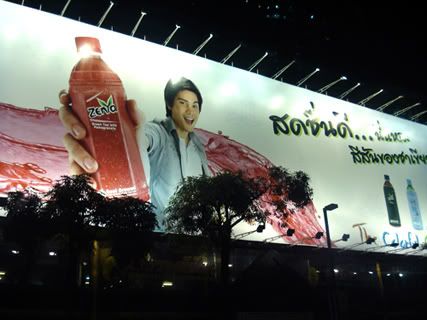 Standing on one of the very top floors of my hotel may be cool, being able to stand so many hundred feet above people, overlooking them like ants, but the view has been badly polluted by haze.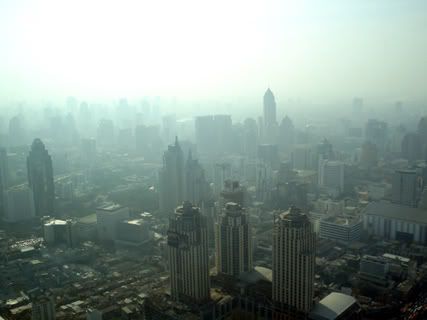 To say the truth, the Thai Phrase Book I bought how many months ago seems quite useless. I didn't even try to speak Thai by referring to the book 'cause if I did, I would've looked like an idiot on the streets.
It would've been better if I'd used that money to buy some Lonely Planets travel guide.
Three things I've discovered in Bangkok:
1. The public toilets are very clean.
Almost all of the toilets I've been to in Bangkok are very clean indeed. Air fresheners have been constantly sprayed overtime in the toilets so that it won't stink, so, eventhough the toilet's full of people who's suffered from diarrhea, the toilet might still smell like heaven.
2. Thailand have colorful public phones and cars.
As soon as I've landed in Thailand, I've already seen hundreds of colorful taxis especially in pink, yellow and light blue.
If that's not enough, their public phone comes in these colors too.
3. Thai people drives VERY recklessly.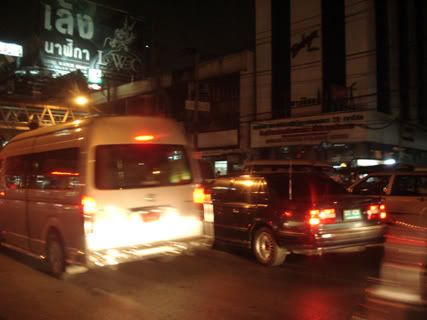 Thai people, no matter they are young or old, and no matter what type of transport they drive, be it cars, taxis, buses, tuk tuks, motorbikes, scooters, lorries or even bicycles, they drive very very recklessly. Anywhere on the road can be a U-turn. The drivers steps on the gas very hard. Ridiculous.
And, on two occasions, I've been mistaken as Thai. The first experience was when I was at the century old market in Suphanburi.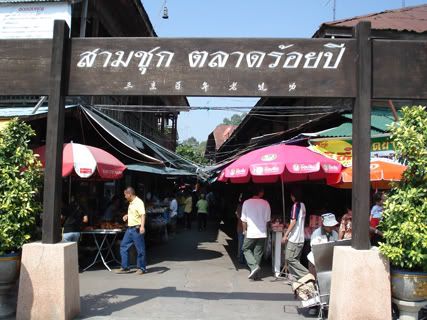 I was walking into the market until somebody strongly grabbed my arm and pulled me over. The guy spoke in very fast Thai and I wasn't even able to catch any ball. I gave a very puzzled and awkward face and it was only then he realized I'm not a local.
While speaking in Thai, he handed me his digital camera and then I realized that he wanted me to help him take some photos of him and his party. I then helped him take some photos, and returned his digital camera like a good boy. =)
Another occasion was at MBK Centre.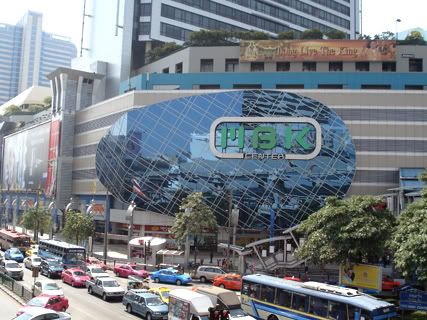 I was waiting for my mum and sister outside a handbag store while they're still busy choosing handbags. Then, an Indian women came to the store, looked around, and then approached me, how many Bahts for these?
I was thinking, "Walau eh auntie, do I really look like a worker here?" I wore as casual as I can and she thought I'm a worker. Ridiculous.
Also on the same day, as we were tired after shopping, we went to Swensens to treat ourselves some desserts.
Teenagers in Thailand hanging out at Swensens
The business seems really good here that the place is almost full.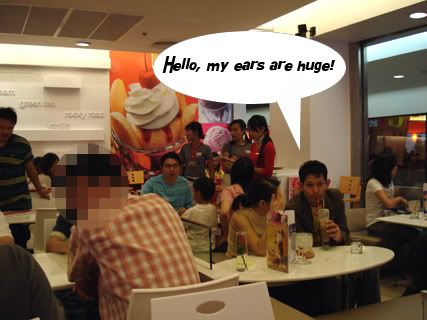 But what I'm disappointed is, the huge price difference between Swensens of Thailand and Swensens of Brunei.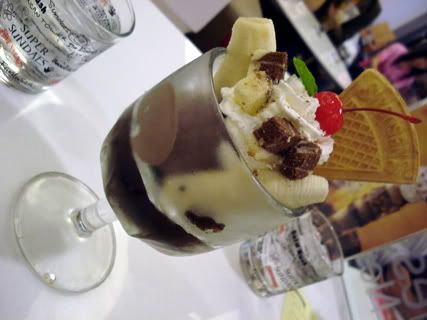 They both tastes equally delicious, but we paid nearly half the price in Thailand compared to in Brunei.
Nevertheless, I was also able to taste Thailand's Pineapple Rice.
Tastes better than normal white rice with a slight taste of pineapple.
___________________________________________________________________
:: Posted by DENCORPORATION at
8:00 PM
|
<< Home