Monday, December 17, 2007
The Loy Krathong Festival
My days in Thailand coincides with one of Thailand's festival - Loy Krathong.
So, one evening, as me and my family are about to leave the hotel for dinner and shopping at Central World, we saw a group of people, especially the press and a group of women wearing Thai traditional clothes with each of them holding a raft.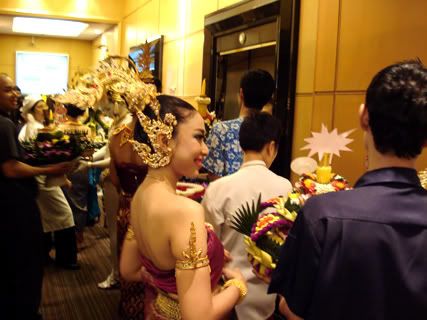 These rafts are made and decorated with leaves, flowers, candles and incense sticks. People then release these rafts onto the Chap Phraya River and making their wishes at the same time. I saw a lot of these rafts for sale on the streets but I didn't buy any of them. A simple, small raft would cost as cheap as 90 baht I think.
These women who carry the raft with them are waiting for the elevator, and seems like they are going to one of the very top floors.
Well, I can't really say the women are good looking here..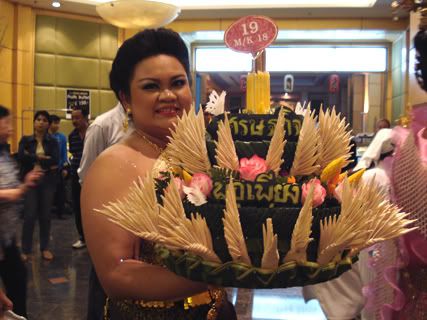 OHMYGOD.
Seems like unemployment isn't a problem for aunties here in Thailand.
I was also quite surprised to see that there's a guy, half-naked, among the women and his body is fully covered with powder. At my first glance, I thought it's a woman. But it wouldn't be very nice also if it's a woman, and, bare chested?
After that, I went off, without waiting for them to get on the elevator (what for?).
Anyways, I've managed to get some pictures of the best decorated raft? I don't know much about it, but when I came back from Central World, there are these rafts being put on display at the lobby.
The first place goes to Administrative and Public Relations Dept.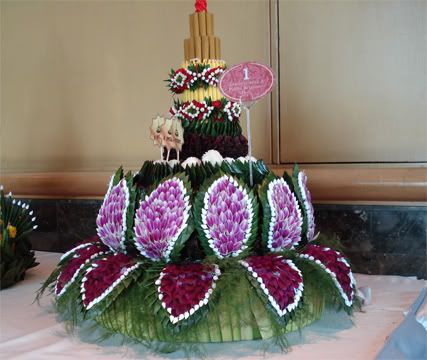 The second goes to Engineer Dept.
The third Catering Sales Dept.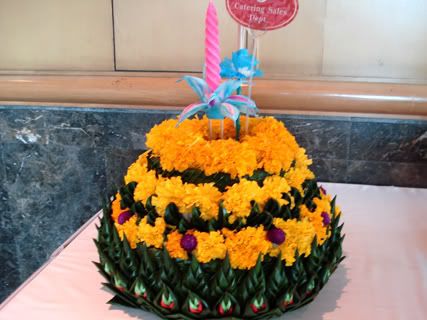 The tenth goes to the Bakery!
The End.
PS: I might update tomorrow and will try to finish about my trip in Thailand before Nazrin came back from Malaysia (21st Dec). Don't stop visiting.
___________________________________________________________________
:: Posted by DENCORPORATION at
6:02 PM
|
<< Home